People are complicated. Every person deals with their own set of complications. Some are more serious than others. A person who suffers from crippling addiction doesn't face the same challenges as someone who has an extreme fear of clowns. Both require different approaches to deal with it and not every person is going to handle it the same way.
I suspect that most people would agree with everything I just stated. Most have probably endured their share of possible complications or dealt with someone who has. It's one of those basic, but understated facts of life. However, when it comes to complicated problems like addiction and depression, popular media tends to do a lousy job of portraying those problems.
It's not just that issues like addiction, drug abuse, or depression are overly simplified. The characters involved rarely reflect the complexities surrounding this issue. Look a most TV shows, movies, or books and you tend to get a stripped-down version of these issues. It usually plays out like this.
A character starts the story happy and healthy, but vulnerable and foolish.
Said character makes a few bad choices that triggers the problem.
That character goes through upheavals, losses, and setbacks.
The character hits rock bottom, realizes they have a problem, and decides to get help.
Whatever help they get magically works, the character's issue is solved, and the credits roll to some upbeat song meant to sell the soundtrack.
I understand most people don't expect the complex struggles of real people to be boiled down into a half-hour TV show or a two-hour movie. To some extent, these stories sell the fantasy that difficult problems have simple solutions. It's comforting, but it can be dangerous to those who need help that doesn't involve magical solutions that leave time for commercial breaks.
Very few TV shows or movies have the time to get into all the nuance surrounding these issues, especially for problems such as addiction. More than any other issue, TV and movies tend to get the nature of addiction very wrong. Addiction, itself, is already subject to all sorts of myths and misunderstandings. That's even more troubling in the middle of a serious opioid epidemic.
For that very reason, it's genuinely refreshing to see a popular TV show handle the subject in a more balanced manner. Even if that show involves anthropomorphic horse men that sound like Will Arnett, a little balance goes a long way, especially when dealing with real issues that impact real people.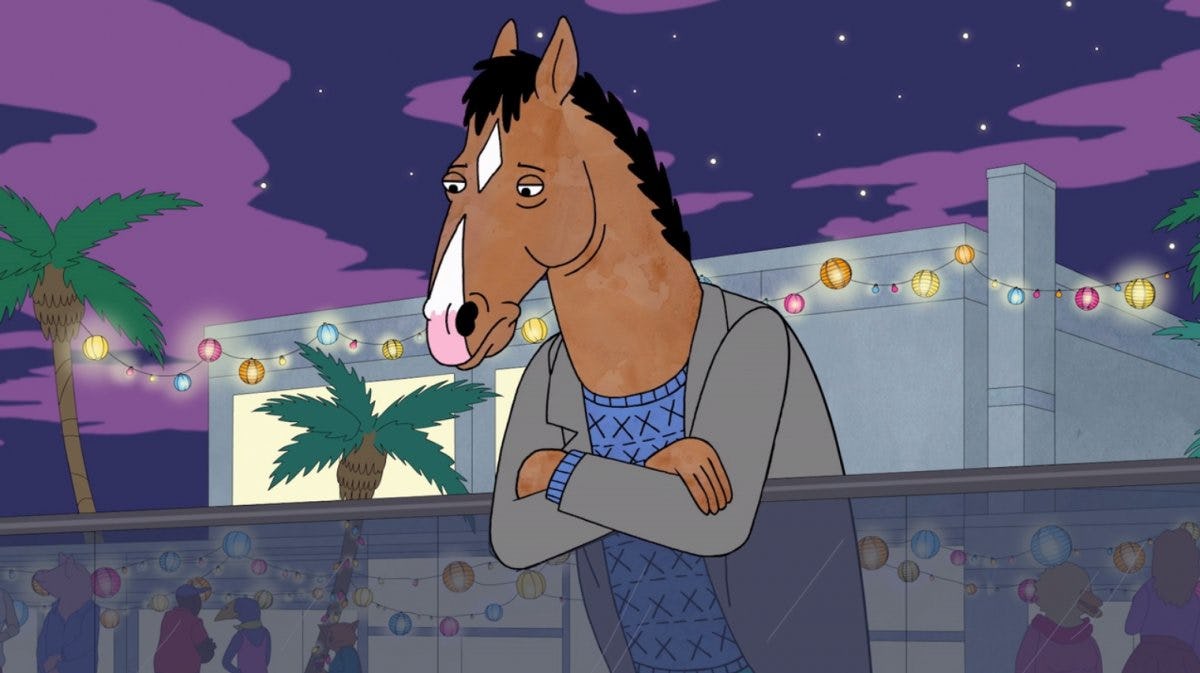 That show, of course, is "Bojack Horseman." It's a show I've mentioned and praised before for how it confronts the myth of happy endings. It's also a show that sets itself apart by lampooning and deconstructing the world of celebrities, happiness, politics, popular culture, and injustice. The fact the show can do this while also being funny, entertaining, and genuine is a testament to the show's quality and brilliance.
I've been following this show since it aired. I've watched it grow through several seasons, following a unique path to acclaim and success. I was among those disappointed to hear that the show will be ending after Season 6. I don't know if there will ever be another show that tackled so many sensitive issues in such a balanced way, but that makes it's handling of addiction in Season 6 even more impressive.
Since the show's first season, addiction has been both a common theme and a volatile catalyst. In fact, the very first scene of the first episode makes clear that Bojack has a drinking problem. It's not subtle in the slightest. When he's not melting down or mentally torturing himself, he's drinking heavily or ingesting copious amounts of drugs.
Throughout the course of the show, this has caused more than a few problems to say the least. People have died. Hearts of been broken. Souls have been crushed, regardless of whether you're a man, woman, or horseman. These moments have helped give the show a level of dramatic impact that few others have matched.
It has also portrayed addiction with more tact, nuance, and understanding than any show I've seen to date. If you or anyone you know have dealt with addiction, then this show "Bojack Horseman" offers a compelling message that's worth heeding.
Bojack's addiction issues started off simple, but over the course of five seasons, it has become clear that there's much more to his self-destructive behavior. It's not just that he's a celebrity and celebrities tend to get away with more than most, which the show touches on in some hilariously memorable moments. His life, his upbringing, and his choices have created a complex web of influences that fuel his addiction.
It's not just that he's depressed.
It's not just that his parents were neglectful, hateful, and downright cruel.
It's not just that he betrayed his best friend, who helped make him a success.
It's not just that he slept with his best friend's girlfriend.
There are many other gross misdeeds I could list. A lot happens over course of five seasons and it gets very dark. However, the show never attempts to pin Bojack's problems with addiction on a singular cause. In Season 6, he attempts to finally confront those problems, but doing so doesn't mean finding simple solutions. In fact, the solutions are prone to complications of their own.
The first three episodes of Season 6 has Bojack doing something important in the context of treating addiction. It has him look at his life, as a whole, and not just focus on the triggers that inspire his self-destructive behavior. Like addicts in the real world, Bojack learns that there's no one thing that caused his problems. It's not a single choice, either. Unlike the light-hearted show that made him famous, life is more complicated than that.
In some respects, drinking gave him the comfort and warmth that his parents never gave him. In others, it allowed him to overcome crippling social anxieties, which only got elevated when he became a celebrity. It wasn't just that he was dependent on the alcohol to give him a quick dopamine hit to his brain. He came to rely on it, so much so that it incurred more and more complications.
Another part of what makes this portrayal feel balanced is that Bojack's addictions are never framed as the sole source of his problems. Some of his most regrettable choices in the show happened without the aid of alcohol or drugs. He can't use addiction as an excuse. Even though he tried to in earlier seasons, he's not making those same excuses in Season 6.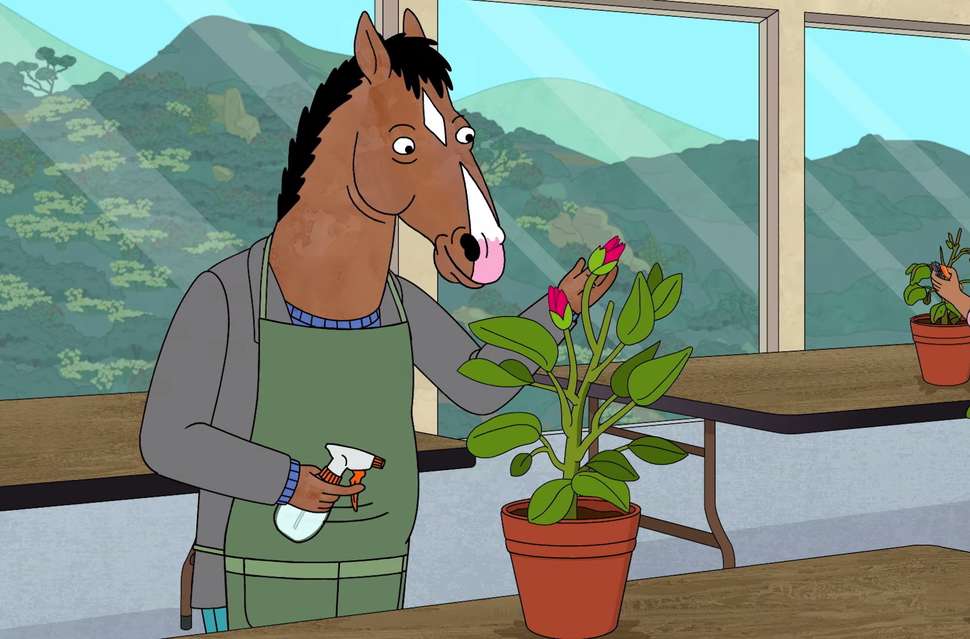 It's not a smooth process. Few plots in "Bojack Horseman" play out that way. Bojack struggles with his treatment, which is a novel concept for most shows that tackle the issue. Even when he's not drinking, it still haunts him. That's another thing addicts in TV shows rarely show. Once they get treatment, it becomes an afterthought. In real life, treating addiction is an ongoing struggle and always will be.
That's a tough message for any show to depict, let alone one that needs to resolve things within 22 minutes or 26 episodes. On top of that, the act of not resolving serious issues, such as addiction, means the show can't have a happy ending. That's something most shows avoid, but "Bojack Horseman" is different.
On multiple occasions, the show points out how flawed the idea of happy endings are, often in depressing ways. At the same time, though, this is necessary context with which to frame addiction. For someone who has as many issues as Bojack, a happy ending just wouldn't make sense.
He can't just come to a profound realization in the backdrop of sad music and suddenly be cured. His story and his struggles keep unfolding. Like real addiction, confronting and treating it is a complicated process that can often last a lifetime. It's frustrating and depressing, but that's the nature of life and "Bojack Horseman" doesn't run from that.
With the second part of Season 6 scheduled for release in January, 2020, the end of "Bojack Horseman" is near. What this means for Bojack, his addiction, and the consequences of his choices remains to be seen. No matter how it ends, the show has achieved a great deal by daring to confront the complications of life that most avoid.
The fact this show can achieve this through a cartoon horse voiced by Will Arnett is an even greater accomplishment. While most people will never be able to relate to a half-man/half-horse former sitcom star, they might be able to relate to his struggles with addiction. Sometimes, being able to deal with things in a quirky, animated show helps make those things less daunting in the real world.