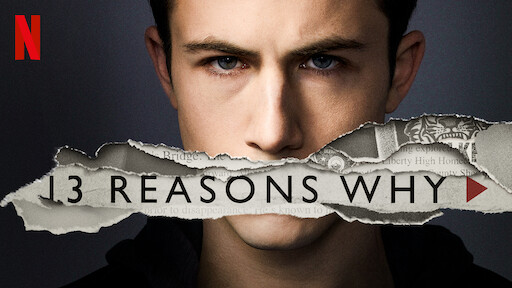 The following is an article submitted by my good friend, DC-MarvelGirl 1997. We'd both been working on pieces about "13 Reasons Why" and she was generous enough to submit this. She tackles an issue that I was very hesitant to write about and for that, I thank you. She does great work on her website, which I encourage everyone to visit.
---
We live in a world filled with double standards. It's by far one of the biggest diseases we have in society. I'm not putting this to the same standards of COVID 19, which is by far the deadliest pandemic we've ever faced in worldwide. Double standards are a different kind of disease, meaning they breed this false sense of contentment. And no, I'm not just referring to the Theon Greyjoy memes, which are truly sad and pathetic. I'll admit it. When I look up those memes, I at first chuckle. But then I remember why they were made, and it is to point out that Theon no longer has his penis. Suddenly, those memes are no longer funny.
As much as I wish this article is about those Theon Greyjoy memes, it's not. That's what's painful for me. This article is about the frankly piss-poor representations of male sexual assault in entertainment. And no, I am not referring to Burt Reynolds' "Deliverance," which was one of the first movies to put rape of a man into a scene. At least with that movie, it was done well. Even made for TV films like "The Rape of Richard Beck" did it better, because with "The Rape of Richard Beck," now known as "Deadly Justice," they blacked it out before the rape happened.
What I'm referring to is the rape scene from the season 2 finale of "13 Reasons Why." It was the scene that made many people throw up watching it. For those of you who watched it, you know what I am talking about.
Now, I'll admit it. I never watched "13 Reasons Why," because it was banned from my household by my mother. And after hearing about how the show got progressively worse, I'm glad I didn't watch any other episodes beyond the pilot. It's a show that psychiatrists cautioned teenagers from watching, because it could be triggering to those thinking about suicide. Not only does it send the contrived message that you can use suicide to get revenge, but it handled male sexual assault in one of the worst ways possible. Because I've never watched the show for myself, I had to do a little bit of research on the "13 Reasons Why" wiki pages, and look up articles critiquing it. The male rape scene centers around the character of Tyler, who gets sodomized with a mop handle by a character named Montgomery. Not only was the scene unnecessarily graphic, triggering, and disturbing leaving many either crying, getting sick, or feeling disgusted, but the aftermath of it all is what I'm most critical of.
I understand that "13 Reasons Why" wanted to show that men can be raped as well. But their delivery was terrible. Like I said, the scene was downright disgusting and stomach-churning. But they didn't bother showing Tyler doing something effective to get the bullying to stop. It doesn't help that the teachers in the show are portrayed as incompetent of seeing what's right in front of them, giving this sense that you cannot even trust your teachers to keep you safe. But the show didn't bother giving us scenes of Tyler handling the aftermath with maturity. They just cut to him wanting to shoot up a school dance, mirroring the Columbine massacre which is one of the most devastating tragedies in US history.
Let's just say, I would have handled this rape scene and aftereffects a lot differently.
If I were to write out that rape scene between Tyler and Montgomery, I would have shown the graphic violence of Tyler being drowned in the toilet and having his head slammed against the mirror. Then, I would have an extreme close-up of Montgomery's hand reaching for the mop handle as the camera shakily backs away to display him leaning over Tyler's back. Then, the scene would fade to black, signifying what's to come. After that, I would have it fade into Tyler sitting on the bathroom floor with his pants down. That to me is more than enough to let the viewer know what happened, without giving you every, horrible detail of what happens. Then, there would be other scenes I'd add in.
How about having Tyler go to a hospital to be examined by a doctor? All the signs could be there, showing he'd been raped, but the doctor neglects to acknowledge this and that's one of the things that pushes him.

How about showing Tyler being interviewed by police, but an officer telling him he was asking for it? That would also give him a reason to want revenge.
The reason why I put those two suggestions above, is because male rape isn't given the same consideration as female rape. When a female is raped, it becomes a world-wide news story. When a man is raped, it's not treated the same way. I tried to research cases of male rape in the recent years, and you wouldn't know if there was, because the news doesn't talk about it. Look at cases such as Corey Feldman and Brent Jeffs. Brent Jeffs I'm just mentioning, because his story is downright heartbreaking. He was raped by his own uncle, Warren Jeffs, the head of the FLDS. Jeffs' story is one that many do not consider at all. Of course, people have the knowledge that Warren Jeffs raped and molested boys and girls alike, but they often forget to acknowledge that boys in that "church" were raped. They're blinded by how horrifically the women and girls in that "church" are treated, that they forget about the boys. That to me is the saddest thing.
If "13 Reasons Why" bothered displaying how the criminal justice system fails to acknowledge male rape victims, then that would have been a much more powerful impact than Tyler trying to shoot up a school.
Overall, "13 Reasons Why" failed in a major way to display consequences of male sexual assault. They neglected important details with the character of Tyler, and didn't even bother showing Tyler going to the authorities until season 3. And the fact that Montgomery was just arrested on the spot for raping Tyler, when there's no rape kit having been done? I don't buy that for one second.
However, keep in mind, they did the same thing with Hannah Baker in season 1. She didn't go to the police reporting teachers' negligence. She didn't go to a hospital to be examined by a doctor. She just blamed everyone for her suicide with tape recordings, claiming it to be all their fault when she didn't bother going to higher authority for help. And the fact that they display her mother blaming everyone as well? To me, that's even more pathetic. I understand that you are hurting because your daughter took her own life and that she was raped. But she also failed to get help beyond going to a guidance counselor, who clearly wasn't doing his job.
Therefore, do yourself a huge favor, and do not watch "13 Reasons Why."
DC-MarvelGirl 1997