It's been a rough summer for fans of romance, superheroes, and superhero weddings. In fact, in all the years I've been reading comics and following romantic sub-plots, I can't remember a time when there was this much melodrama and heartbreak. I understand that any epic romance is going to involve a healthy bit of emotional strain, especially when it involves superheroes. There comes a point when it just becomes too much.After the deconstruction and denigration of superhero romance that unfolded in X-men Gold #30, I feel like we're dangerously close to that point. It's as though everyone involved in making superhero comics is admitting that superheroes can't get married. They can't have a functional, compelling romance and still be interesting.That sort of sentiment is basically an affirmation of Marvel's justification for undoing Spider-Man's marriage to Mary Jane Watson in the infamous One More Day story. Given the relative infamy of that story line and the recent upheaval with the X-men, many fans of both superheroes and romance were placing a lot of hope that the wedding of Batman and Catwoman could help stop the bleeding in Batman #50.
I certainly counted myself among those who was very excited about this event. I even admit I really wanted this to make up for the disheartening outcome of X-men Gold #30. The romantic in me wanted at least one superhero wedding this summer that didn't end in heartbreak or tragedy.Well, if you saw the same spoilers in the New York Times that I did just two days before Batman #50 came out, you already know that's not what happened. Bruce Wayne and Selina Kyle did not get married. That means in terms of superhero weddings, the summer of 2018 is now 0 for 2.However, that outcome did not compound my lingering disappointment from X-men Gold #30. I'll even go so far as to say that Batman #50 didn't send the state of superhero romance past the point of no return. It didn't improve the state of affairs. It was disappointing, but not to the point where it damaged a story or a romance beyond repair.
Before I explain, I want to establish that many of the details beyond this point are heavy spoilers. Seeing as how this comic was already spoiled a couple days prior to its release, much to the chagrin of comic retailers, I don't think I need to place too many warnings. I still recommend that people buy the comic, but there's more going on here than a wedding that didn't happen, much more so than what we saw in X-men Gold #30.By nearly every measure, Batman #50 approaches the concept of a superhero wedding differently than X-men Gold #30. The wedding of Kitty Pryde and Colossus was set up as this big, momentous affair between an established couple that overcame a lot just to have the opportunity to get married. They brought in friends, family, and fellow superheroes from across the X-men comics.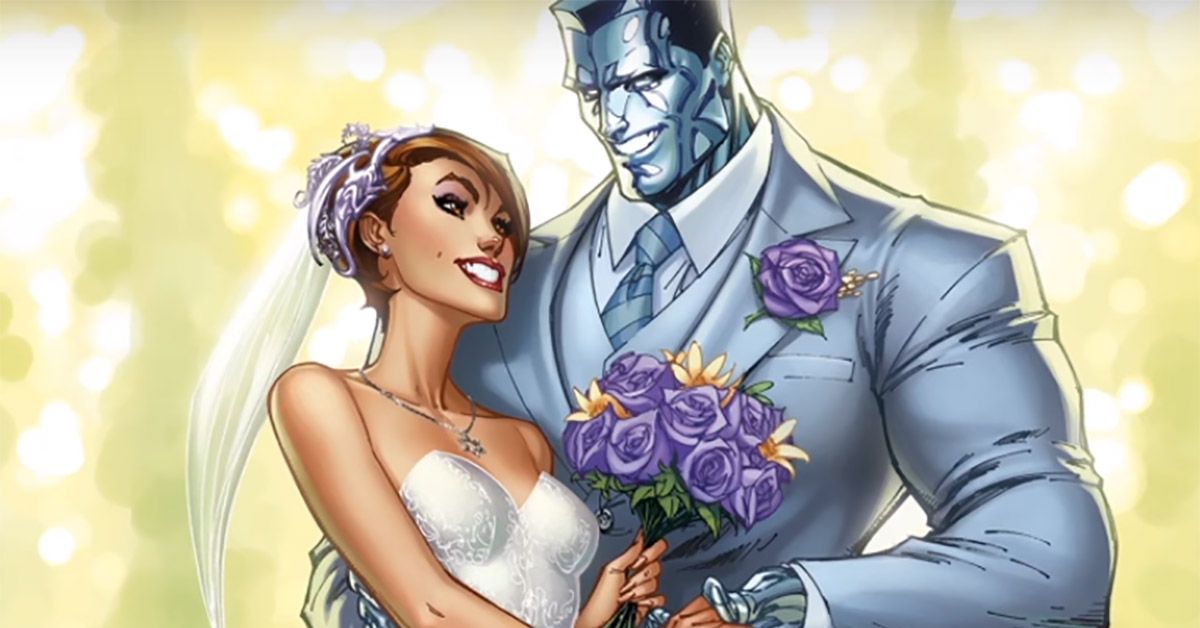 In contrast, the ceremony in Batman #50 was very small. In fact, there wasn't much of a ceremony to speak of. The only ones who were present besides Batman and Catwoman were Aflred, Bruce Wayne's butler and long-time confidante, and a lone judge who was already drunk so that he wouldn't remember his or Catwoman's identity. Batman always has a plan for that sort of thing. That's why he's Batman.On top of that, Batman is the one who proposed to Catwoman back in Batman #24. He's the one who pitched the idea of getting married in the first place. That's critical because Kitty Pryde was the one who proposed to Colossus in X-men Gold #20. That matters because she's also the one who broke it off and at the last second, no less. Things were a bit less cruel in Batman #50 and that's saying something for a Batman comic.
At one point in the story, Batman makes clear that he still wants to marry Catwoman. He's not having second thoughts. It's Catwoman who makes the fateful decision to break it off and she doesn't wait until half-way through the ceremony, either. To put that another way, an admitted jewel thief who enjoys having sex on rooftops showed more decency than Kitty Pryde on her failed wedding day.It's not a public spectacle that turns into an equally public debacle. It's a private affair that simply doesn't pan out. There's no awkward reception. There's no attempt to salvage it by shoehorning another romance into the mix just so someone gets married, as though such romances can be swapped out like batteries. It just doesn't happen.Moreover, Catwoman actually gives a reason for not going through with the wedding and, unlike Kitty Pryde, it's not a wholly contrived. She establishes throughout Batman #50, through a series of montages documenting their romance over the years, why she loves him and why he's such an effective hero. In the process, she reveals something profound about Batman.
What makes Batman both effective and iconic is how he takes the pain of a tragedy, namely the death of his parents, and turns it into strength. The same pain that would break a lesser man drives him to do so much more. He's the Dark Knight who defends Gotham. He's a hero who deserves to fight alongside demigods and aliens on the Justice League. For him to be Batman, he needs that pain to fuel him.From Catwoman's perspective, Batman finding happiness means denying him the fuel he needs to be Batman. That's not a realization that just randomly pops into her mind at the last second, though. This is something the Joker actually points out to her in Batman #49. It has less to do with whether or not she loves him and more to do with him being the hero that Gotham needs.
That doesn't make Catwoman's decision any less disappointing, but it's still nowhere near as callous or selfish as Kitty Pryde's decision in X-men Gold #30. I know it's somewhat unfair to keep comparing the two, given the different circumstances of their relationship, but those distinctions highlight an important element that the failed Batman/Catwoman wedding has that the Colossus/Kitty Pryde wedding didn't.What happens in Batman #50 is definitely a setback for Batman and Catwoman's relationship, but it doesn't fundamentally destroy it. In fact, there's a very critical detail at the end of the issue that leaves the door open for this romance to keep evolving. I won't spoil it, but it unfolds in such a way that makes romance fans like me want to root for this relationship.The same definitely cannot be said for the Colossus/Kitty Pryde relationship. After the way things played out during their wedding, it really feels as though their romance is damaged beyond repair. It's no longer a love story. It's an outright tragedy, one that would need an even greater contrivance to repair at this point. In a universe with shape-shifting aliens, though, that's not wholly unfeasible.
In the grand scheme of things, Batman #50 is still disappointing in the sense that it doesn't let Batman and Catwoman take their love story to another level. In fact, not a whole lot changes. The way it plays out feels more like a setback rather than a tragedy. The writer of the comic, Tom King, even claims it's just part of a much larger narrative between Batman and Catwoman.How that story will play out remains to be seen. Given how long it took Batman and Catwoman to get to a point where they try to get married, Batman #50 already gives the impression that their romance is being dragged out. For a couple who has been off and on again since the 1940s, that's saying something.
If I had to score Batman #50, as both a comic book fan and a romance fan, I'd give it a 6 out of 10. It's a bit of a letdown, but it's not nearly as soul-crushing as X-men Gold #30. It still leaves the state of superhero romance in a very precarious state, but at the very least, this book gives me reason for hope.I'll still be very skeptical of any future superhero wedding for the foreseeable future, though.