We all love to dream about it. We all love to build an elaborate fantasy in our minds. It's right up there with our fantasies involving Channing Tatum, Kate Hudson, and a pool full of premium lube. It's that tantalizing idea that we, despite our unremarkable physical traits, limited talents, and lack of opportunities, could be a celebrity.
It's not an unreasonable fantasy to entertain. Celebrities are constantly showing off how awesome their lives are. They live in big, opulent mansions. They have more money than most of us could ever spend in a lifetime. They're surrounded by servants and assistants who cater to their every whim,  be it a sandwich or a threesome with a couple of Swedish bikini models.
Whether they're a movie star, a TV star, or a rock star, we all envy their extraordinary lives. That's why it's always so shocking and confusing when we hear that a famous, accomplished celebrity has taken their own life. It's a tragedy and one that evokes an outpouring of mourning.
It was just hard to imagine someone as beloved and cherished as Robin Williams taking his own life. Just recently, it was hard to imagine someone like Chester Bennington from Linkin Park doing the same. These men achieved a level of success that even other celebrities envy. Why would they make such a terrible decision to end their lives?
It's a question that we find ourselves asking way too often. Celebrities have been taking their own lives with alarming frequency in the 21st century. Some, like Kurt Cobain and John Belushi, had well-documented issues with substance abuse. Some, like Corey Haim or Freddie Prinze, saw their fame and fortune fall over time.
Whatever the circumstances, the shock still resonates. The question still remains. Why would someone who achieved something so few achieve choose to end their lives? Some of these people came from poor, impoverished backgrounds. Why would they end it after achieving the kind of success that most only dream of?
These are impossible questions to answer because we can never know what goes on in someone's mind when they decide to take their own lives. We can speculate, but we can never truly know. I certainly won't claim to know what was going on inside Chester Bennington's mind. That would be wrong, especially as his family, friends, and fans mourn him.
However, even if we can't know, there is one way to gain some insight into this tragedy. It requires another thought experiment, albeit one of the more uncomfortable variety. Considering how uncomfortable some of these experiments have gotten, that's saying something. Even so, I think it's an important insight to have, especially when you're trying to make sense of celebrity culture.
Picture, for a moment, that you wake up in an alternate universe of the world you know. Everything is the same, from the shape of the planet to the laws of physics to the annoying video ads you see before YouTube videos. The main difference is that in this world, you have none of the friends or family that you know and love.
Instead, you're in a world surrounded by total strangers. Most act nice. Some even try to be your friend. However, you don't know for sure whether you can trust them. These people and this world may seem familiar, but it might as well be totally alien, complete with little green men and anal probes.
Then, throw in another huge complication. Imagine you're rich and famous. Everybody wants a piece of you. Everybody envies what you have. People you don't know and never would've known in your old life just throw themselves at you. They want to be with you physically, emotionally, and often sexually, as is often the case with rock stars. They even claim to love you with all their heart, sometimes excessively.
Therein lies the problem, though. How can you be sure they actually love you? How can you even trust them when they make such bold proclamations? You're rich and famous. They're not. You have a lot. They don't. They also don't know you on a truly intimate level. They know the image of you, be it in the movies or on a stage, but they don't know the kind of person you are when the cameras go off and the lights fade.
Maybe these people want some of your money. That does happen, especially with women looking to hook up with athletes and rock stars. Maybe these people want a piece of your fame. That's where you get some of the crazy fans who will throw themselves at their celebrity crushes in a frenzy. Maybe they really just want to have sex with you because they get a huge thrill out of having sex with famous people.
There are way more possibilities I can list, but at the end of the day, you can never know for sure. You can never truly trust someone who claims to love you. You can't even just walk down the street, make some new friends, and build new bonds from there. You're a celebrity.
Your entire life is overly scrutinized. People only know the character that is you, but not you on a truly intimate level. It means that, even among those who claim to be your friends, you end up feeling alone. Add on top of that the everyday stresses of being a celebrity and your caveman brains will start to strain.
Could you really function with that kind of mentality? Could you live the rest of your life not being able to trust anyone around you? Could you handle being in a world where nobody truly knows the real you?
Many think they can. Why else would there be lines around the block to participate in the next American Idol rip-off? I don't doubt these people are sincere, but I doubt they've actually thought about the implications of celebrity life. I doubt anyone does, even if they were born into it.
There is a price for fame and fortune. It's downright Faustian in its cost. Sure, you might be able to live in luxury, your every whim and desired pampered to at every hour of the day. However, you'll still be isolated and alone. You'll be stuck in a world where you can never be sure of who to trust. You can never know whether someone actually cares about you or the celebrity version of you.
That kind of loneliness and isolation can be pretty debilitating. It's also completely incompatible with the default settings of our caveman brains. We are very social creatures. We crave connection and bonding. I'm not just talking about the sexy kind either. Take that away from us and it really screws us up. That's why solitary confinement is rightly considered torture.
When you feel things like that, you naturally want them to go away. This isn't a headache, a broken bone, or chipped tooth, though. This is a very different kind of pain, one for which you can't fix with a band aid and an aspirin. That's why many celebrities will turn to drugs and vices.
I'm not just talking about heroin, cocaine, and orgies either. Some celebrities will go so far to alleviate that isolation that they'll effectively cut ties with reality and try to live in their own fantasy world. We saw that happen with Michael Jackson. We're seeing that with celebrities like Tom Cruise, who uses a sci-fi cult religion that's famous for legal extortion to deal with these feelings.
At the end of the day, no matter how successful or glamorous they may be, celebrities are still human. They're still wired like our caveman ancestors, even if they believe weird things. If they struggle to meet these very basic human needs, then it's going to cause problems and some of them will end in tragedy.
That's not to say it's impossible to manage. There are plenty of celebrities who do an excellent job handling the fame, fortune, and attention. Celebrities like Hugh Jackman, George Clooney, Jennifer Anniston, Bruce Springstein, and even Weird Al Yanckovic regularly show that it is possible to survive that lonely world.
While these celebrities show it is possible for some to function, it doesn't make the tragedies of those like Chester Bennington any less painful. It also wrongly convinces many that they can handle that world too. Nobody aspires to be a celebrity if they aren't convinced they can't handle it.
The hard truth is, though, that precious few people can pay the price that comes with fame and fortune. Fame and fortune may make for an eventful life, but it doesn't make us any less human. It doesn't make loneliness and isolation any less debilitating.
Chester Bennington, Robin Williams, and countless others struggled with that loneliness. They endured that struggle on top of whatever personal pain they also carried with them. No amount of fame and fortune can make that struggle less agonizing. For some, it's just too much.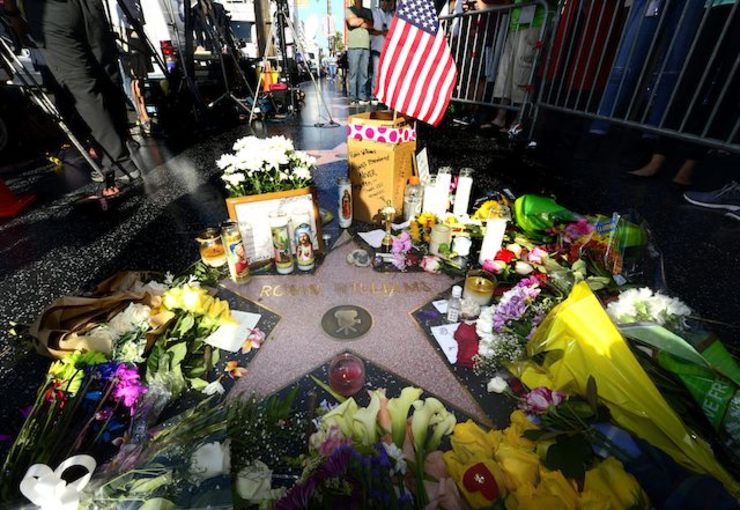 It's a feeling that few outside the celebrity world can understand. When everyone wants a piece of you and everyone wants to tell you what you think you want to hear, there's no way to know for sure who you can trust. In the end, it leaves even the most talented and gifted among us feeling lost. In a sense, that only doubles the tragedy when a celebrity takes their own life.