If you're reading this, then there's a good chance you drank milk at some point this year. You probably drank a lot more of it when you were a kid. The fact that you're reading this proves that you didn't die, as a result. That may not seem like a big deal, but compared to 100 years ago, it counts as a noteworthy feat.
Between 1850 and 1950, approximately a half-million infants died due to diseases contracted by drinking milk. If you do the math, that's about 5,000 deaths a year, just from drinking milk. Keep in mind, these are children. That's a lot of death and suffering for drinking one of the most basic substances the animal kingdom.
These days, death by drinking milk is exceedingly rare. Thanks to processes like pasteurization, milk is one of the safest substances you can drink. If anyone does get sick, it's usually from drinking raw or unpasteurized milk. However, it's so rare that most people don't think about it. It's just a normal part of how we manage our food and nourish ourselves.
I bring up milk because it nicely demonstrates what happens when we apply technology to improve the quality, safety, and abundance of our food. Despite what certain misguided critics may say, many of which probably haven't experienced extreme starvation, this has been an objective good for humanity, civilization, and the world, as a whole.
Modern medicine and the Green Revolution, championed by the likes of Norman Borlaug, helped give us more efficient ways of producing massive quantities of food. Now, there's another technological advancement brewing that might end up being more impactful. You've probably seen commercials for it already. It has many names, but for now, I'm just going to call it synthetic meat.
It's almost exactly what it sounds like. It's the process of producing meat through artificial processes, none of which involve the slaughtering of animals. For those concerned about animal welfare and environmental impacts, it's the ultimate solution. At most, the animals contribute a few cells. The rest is grown in a laboratory. Nobody has to get hurt. Nobody has to go vegan, either.
It seems too good to be true and there are certainly aspects of synthetic meats that are overhyped. However, unlike other advancements like Neuralink or nanobots, this is already an evolving market. The first synthetic burger was made and consumed in 2013. It was the culmination of a long, laborious effort that cost upwards of $300,000.
Those costs soon came down and they came down considerably. By 2017, the cost of that same meat patty was around $11. People have paid much more for expensive caviar. That's impressive progress for something that's still a maturing technology with many unresolved challenges. With major fast food companies getting in on the game, the technology is likely to progress even more.
It's here where I want to make an important point about this technology. Regardless of how you feel about it or why it's being developed, there's one aspect to it that's worth belaboring.
We should embrace synthetic meat.
In fact, we should embrace this technology faster than others because the benefits of doing so will only compound.
I say this as someone who has tried an impossible meat burger. It's not terrible. I wouldn't mind eating them regularly if they were the only option available. That said, you can still tell it's not traditional beef. That's because this meat isn't exactly the kind of cultured meat that's grown in a lab. It's assembled from plant proteins and various other well-known substances.
Ideally, synthetic meat wouldn't just be indistinguishable from traditional beef. It would actually be safer than anything you could get naturally. Meat grown in a lab under controlled conditions can ensure it's free of food-born illnesses, which are still a problem with meat production. It can also more effectively remove harmful byproducts, like trans fats.
In theory, it might also be possible to produce meat with more nutrients. Imagine a burger that's as healthy as a bowl of kale. Picture a T-bone steak that has the same amount of nutrients as a plate of fresh vegetables. That's not possible to do through natural means, but in a lab where the meat is cultured at the cellular level, it's simply a matter of chemistry and palatability.
Meat like that wouldn't just be good for our collective health. It would be good for both the environment and the economy, two issues that are rarely aligned. Even if you don't care at all about animal welfare, synthetic meats has the potential to produce more product with less resources. On a planet of over 7.6 billion, that's not just beneficial. It's critical.
At the moment, approximately 70 percent of the agricultural land in the world is dedicated to the meat production. In terms of raw energy requirements, meat requires considerably more energy than plants. That includes water consumption, as well. Making meat in its current form requires a lot of resources and with a growing population, the math is working against us.
Say what you want about vegetarians and vegans when they rant about the meat industry. From a math and resources standpoint, they have a point. However, getting rid of meat altogether just isn't feasible. It tastes too good and it has too many benefits. We can't make people hate the taste of burgers, but we can improve the processes on how those burgers are made.
Instead of industrial farms where animals are raised in cramped quarters, pumped full of hormones, and raised to be slaughtered, we could have factories that produce only the best quality meat from the best animal cells. It wouldn't require vast fields or huge quantities of feed. It would just need electricity, cells, and the assorted cellular nutrients.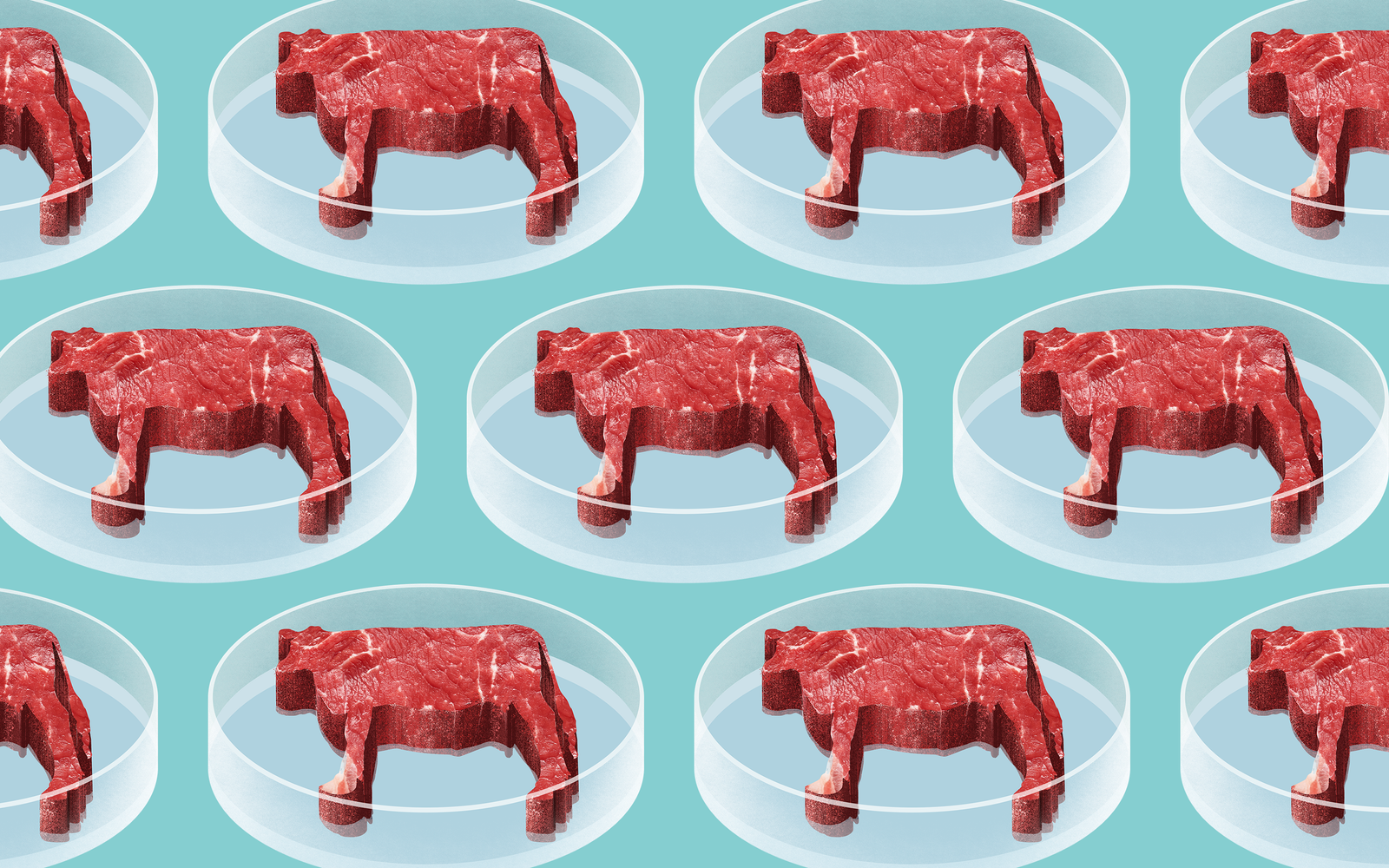 Perhaps 3D printing advances to a point where specific cuts of meat could be produced the same way we produce specific parts for a car. Aside from producing meat without having to care for than slaughter animals, such a system would be able to increase the overall supply with a smaller overall footprint.
Needing less land to produce meat means more land for environmental preservation or economic development. Farming, both for crops and for meat, is a major contributor to deforestation. Being able to do more with less helps improve how we utilize resources, in general. Even greedy corporations, of which the food industry has plenty, will improve their margins by utilizing this technology.
Increased supply also means cheaper prices and if the taste is indistinguishable from traditional meat, then most people are going to go with it, regardless of how they feel about it. There will still be a market for traditional, farm-raised meats from animals, just as there's a market for non-GMO foods. However, as we saw with the Green Revolution in the early 20th century, economics tends to win out in the long run.
It's a promising future for many reasons. There are many more I could list relating to helping the environment, combating starvation, and improving nutrition. Alone, they're all valid reasons to embrace this technology and seek greater improvements. If I had to pick only one, though, it's this.
If we don't develop this technology, then these delicious meats that we love could be exceedingly scarce or prohibitively expensive in the future.
Like I said earlier, the way we currently produce meat is grossly inefficient. At some point, the demand for meat is going to exceed the current system's capacity to produce it in an economical way. At that point, this delicious food that we take for granted might not be so readily available and the substitutes might not be nearly as appetizing.
The issue becomes even more pressing if we wish to become a space-faring civilization, which will be necessary at some point. If we still want to enjoy burgers, chicken wings, and bacon at that point, we'll need to know how to make it without the vast fields and facilities we currently use. Otherwise, we might be stuck dining on potatoes like Matt Damon in "The Martian."
While the situation isn't currently that urgent, this is one instance where a new technology is the extra push. You don't have to be a major investor in companies like Beyond Meat or Impossible Foods. Just go out of your way to try one of these new synthetic meat products. Let the market know that there's demand for it and the machinations of capitalism will do the rest.
I understand that our inner Ron Swanson will always have a craving for old fashioned burgers, steaks, and bacon. Those things don't have to go away completely, just as traditional farming hasn't gone away completely. However, when a particular technology already exists and has so many potential benefits, it's worth pursuing with extra vigor.
The planet will benefit.
The people will benefit.
The animals will benefit.
Our society, as a whole, will benefit.