Whenever someone says love is stupid, they're usually getting over having their heart broken or upset that other people aren't lining up to fuck them. It's a cynical, jaded position on one of the most fundamental and powerful emotions there is in the human experience. As an aspiring erotica/romance writer, I'm often reminded of its power.
Sometimes, though, you need other kinds of reminders to appreciate the breadth of love. In a sense, it is stupid, but not in the way ex-lovers, recent divorcees, and Evanescence fans often claim. It is an inherently irrational, exceedingly overwhelming emotion that drives us to do some pretty crazy things. However, that's exactly what makes it beautiful.
That beauty isn't easy to see. Sometimes, it manifests in subtle ways. Other times, though, it's front and center in a Batman comic. No, that's not some colorful aside. I'm dead serious. The stupidity of love has actually manifested itself in a Batman comic and it's beautiful to a level that only Batman can achieve.
This beauty was on full display in Batman #35, which picks right up from the huge development that occurred a few issues back when Catwoman accepted Batman's marriage proposal. It has little to do with wedding plans, overpriced engagement rings, or how good Catwoman looks in skin-tight outfits. It actually goes out of the way to highlight the stupidity of love and all its uncanny beauty.
The context of the issue is secondary. If you really want to know the particulars, I highly recommend you read Batman #35 to get the full context of the situation. With respect to the topic at hand, namely the stupidity of love, all you need to know is that Catwoman has a chance to confront one of Batman's other famous flames, Talia Al Ghul.
That's a big deal for anyone who dares to get involved with Batman's personal life. Talia Al Ghul isn't just someone that both Batman and Bruce Wayne were fond of seeing naked. She's also the mother of Damien Wayne, but not in the classic sense. He wasn't conceived in the classic, fun sort of way.
The creation of Damien Wayne, much like Baman's relationship with Talia, was largely a byproduct of a cold, unfeeling agenda. It had a specific purpose, a defined goal, and very little passion involved. It's even less sexy than it sounds. It's basically the antithesis of the stupidity of love.
That's very much who Talia Al Ghul is. Sure, she looks almost as good as Catwoman in skin-tight outfits, but she's not much of a romantic. She's a cold, calculating bitch who sees love as an asset at best and an inconvenience at worst. She's also the one Catwoman has to deal with in Batman #35 and not just because she's marrying her baby daddy.
The clash between these two women may not be as sexy as nude oil wrestling at the Playboy mansion. It may not even be as epic as a battle between Superman and Doomsday. However, the way this fight plays out perfectly highlights both the stupidity and the beauty of love. Catwoman herself articulates it perfectly.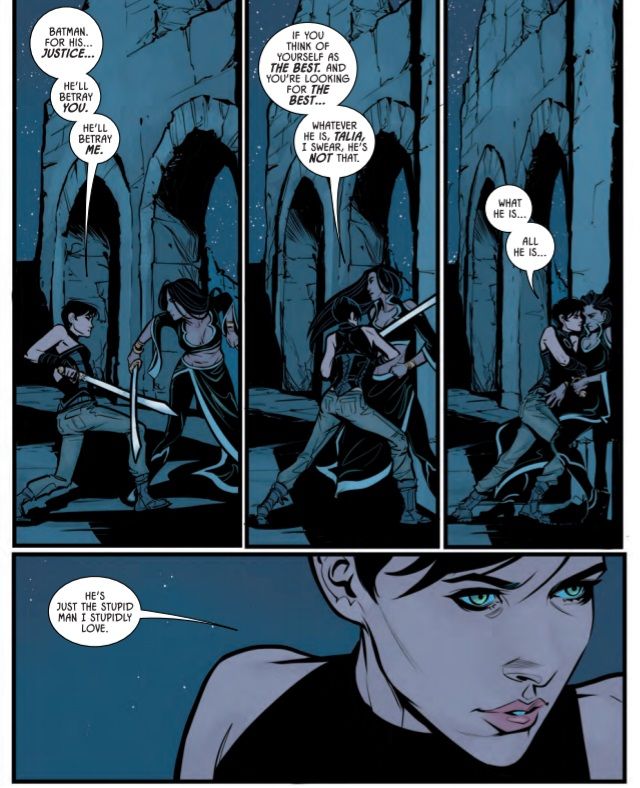 It's not just that loving Batman carries with it a lot of baggage. It's not just that being involved with the goddamn Batman is overwhelming and not just because he tends to attract homicidal clowns. To love someone like Batman is not to ignore the sheer stupidity of being involved with him in the first place. It's to embrace it.
It's a message that fans of romance and aspiring erotica/romance writer alike can get behind. Instead of scrutinizing or overthinking why someone loves another person, you just focus on the love itself. Sure, it's stupid in the sense that it ignores the logistics. Sometimes, though, that's the key to making love work.
When you're in love with a complex person with loads of baggage, like Batman, there's a lot to think about and scrutinize. It's one of the many reasons that Batman has had such a colorful history with women. Between being a costumed crime fighter and a billionaire playboy, he's a complicated man with a lot of moving parts.
It's because of those complications that many of those women who may genuinely love him find plenty of reasons to walk away. Talia Al Ghul is a perfect example of this because she approaches her love with Batman in a way that's cold and calculated.
To love him, in her mind, isn't to embrace his baggage. It's to re-shape and re-mold it into something she sees as greater. What she tries to do with Batman is very similar to what many people try to do with their lovers in the sense that they try to change and mold them into the person they want them to be, even if it means undermining the person they are.
That's not just a losing battle that only leads to greater heartache. It goes against the very principles of love. You don't love someone for who you want them to be. You love them for who they are.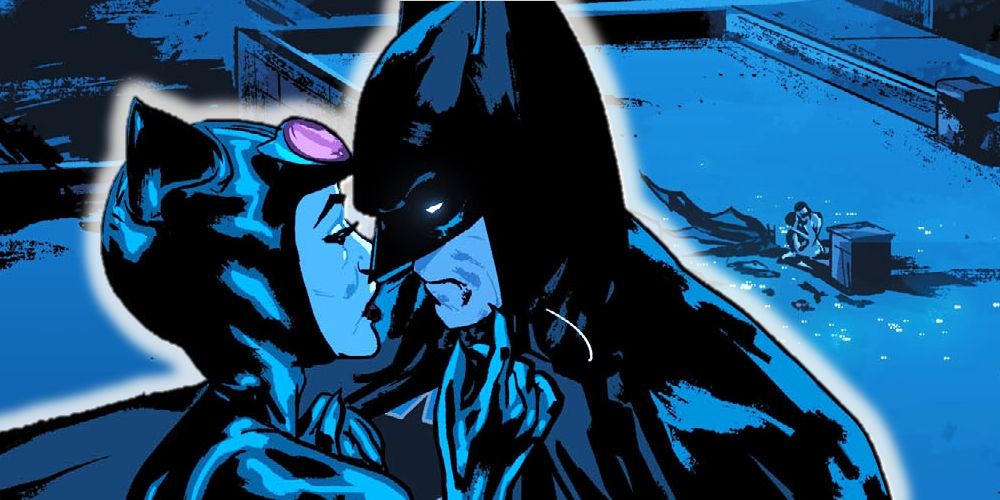 Talia Al Ghul wants Batman to be a certain way for her. She feels she knows what's best for him, their future, and their family. She's also willing to lie, cheat, and manipulate him into achieving those goals. She may leave his balls intact, but she'll make sure his soul is hers to guide. Even Regina George isn't quite that ambitious.
Catwoman does the exact opposite. She doesn't try to change Batman into some ideal version of a man that she has in her head. She loves him for who he is and doesn't want to mold him into something else. On paper, that's still kind of stupid in the sense that it basically permits him to keep doing the crazy things he does. However, it's probably the most sincere and honest love anyone can offer.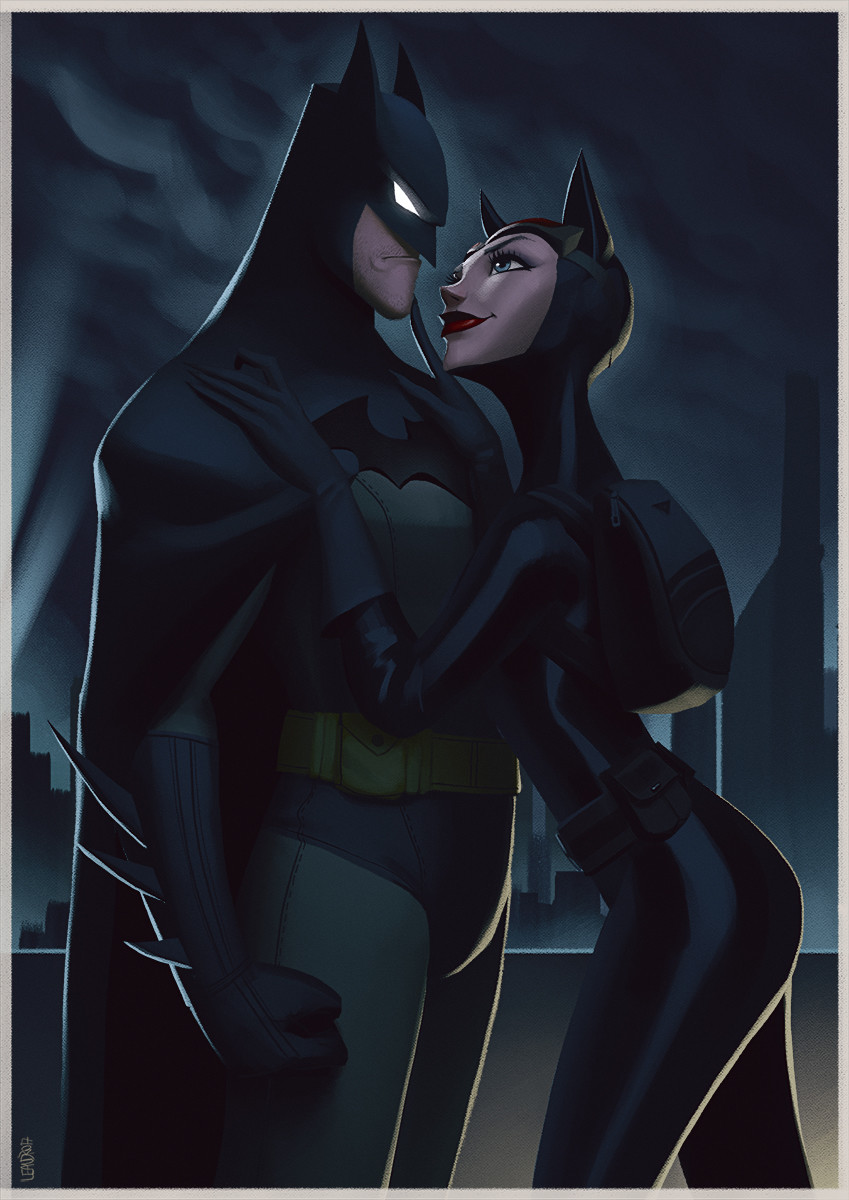 That does more than contrast Catwoman's love for Batman from that of Talia Al Ghul. It shows how genuine love compares to the shallow brand of love that comes with caveats. Some people build their relationships around an agenda, much like Talia Al Ghul. They see it as a means to an end. Love, in that context, is indistinguishable from a mortgage application.
Loving someone honestly means loving their flaws as much as their strengths. Catwoman doesn't overlook or deny those flaws in Batman. Batman himself doesn't try to hide them either. That honesty, making themselves so vulnerable to one another, is stupid from a purely logistical point of view.
However, that's exactly what makes their love so sincere. Even if you're not a comic book fan or a fan of beautiful women in skin-tight outfits, it's still a love that's worth celebrating.