As someone who hasn't been a teenager for many years, I admit I have some unflattering perceptions of that demographic. Ask anyone over the age of 30 what they think of teenagers today and chances are you'll hear more than a few complaints.
They're too obsessed with their phones.
They're too emotionally fragile and prone to outrage.
They're too entitled, coddled, and sheltered from the real world.
You've probably heard those rants before and not just from Fox News. With those stereotypes in mind, imagine what would happen if a large collection of teenagers were left unsupervised and isolated in a large area for long stretches of time. What do you think would happen? How do you see that playing out?
I don't deny that I'd make some unflattering assumptions such a scenario. I would fully expect that they act erratically and irresponsibly. I would also expect for them to falter emotionally if left alone for too long. Having lived their whole lives within some system of authority and supervision, I wouldn't expect them to function for very long on their own.
It's those very assumptions that that "The Society," a very binge-worthy Netflix show, dares to challenge. This thriller/mystery/drama is one of those shows that has all the right ingredients to play up every tired trope that teen-centered television show has explored for years. That was certainly what I expected when I discovered the show. I freely admit that those expectations were wrong.
The premise of "The Society" is built around a strange mystery that "Lost" fans should appreciate. One day, a large contingent of high school students get on a bus and leave the affluent New England town of West Ham for a 10-day camping trip. For reasons not yet revealed, the buses turn around and drop them off exactly where they picked them up.
Upon returning, these teenagers find out that all the adults in their town are gone. Near as they can tell, everyone just picked up and left. To further compound the mystery, they find out that all the paths leading out of the town have become dead ends. There are no neighboring towns to visit. As far as they know, there's nothing but endless forests in every direction.
It's genuine mystery with distressing implications. While the specifics are only partially explored in the first season, the mystery is only part of what makes the "The Society" such a compelling show. It doesn't just put a bunch of hormonal, irrational teenagers in an enclosed area and let the drama tell the story. The show dares to humanize teenagers in a way that is exceedingly rare in a TV show.
By that, I'm not just referring to a handful of character that are well-developed and fleshed out. While there are certainly plenty of those in this show, it approaches how teenagers conduct themselves with more balance and nuance. It even makes the case that, in dire situations, they can come together and cooperate as well as full-fledged adults.
In the beginning, that's not immediately apparent. When they all return to West Ham and find out the adults are gone, they react the way most would expect of decadent, hormonal teenagers if they were left unsupervised all night. However, the extent of their decadence never goes beyond a certain point.
Sure, many drink, they dance, and they hook up. A few just go home and turn in for the night, thinking nothing is amiss. They don't do anything too outrageous, though. In essence, they conduct themselves the same way most single adults would if they knew there were no police or authority figures to stop them.
After that first night, though, things start getting serious. These teenagers, who still come off as kids in the first few episodes, realizes that something has gone very wrong. Their parents are gone. The adults are gone. Their entire town is completely cut off. They have no connection to the world beyond their town. They have a finite supply of food and little experience in terms of governing themselves.
It's a scary situation. Some handle it better than others, but a few start to crack under the pressure. For some, especially Campbell Eliot and Lexie, the situation reveals sides of their personality that probably wouldn't have otherwise emerged. That tends to happen with most people in extreme circumstances, but being a teenager tends to raise the stakes even more.
The fun and games quickly end. People start getting hurt. There are even a few deaths, which has a significant impact on everyone in the town. It sends a clear, unambiguous message. This isn't just about hanging in there until their parents find them. They have to survive and they can't do that unless they work together.
On paper, it sounds like it can only end in disaster and it certainly comes close, especially towards the end of the first season. Again, these are teenagers. Most people don't expect them to function beyond a certain point. While "The Society" doesn't strip away everything in the mold of "Lord of the Flies," it removes enough to make the situation dire.
They still have electricity, running water, and shelter. However, their food supply is finite and there's a distressing lack of expertise in everything from basic medical care to fixing a car. In order to survive, they must create a system of governance to keep the peace. If they don't, then everybody suffers.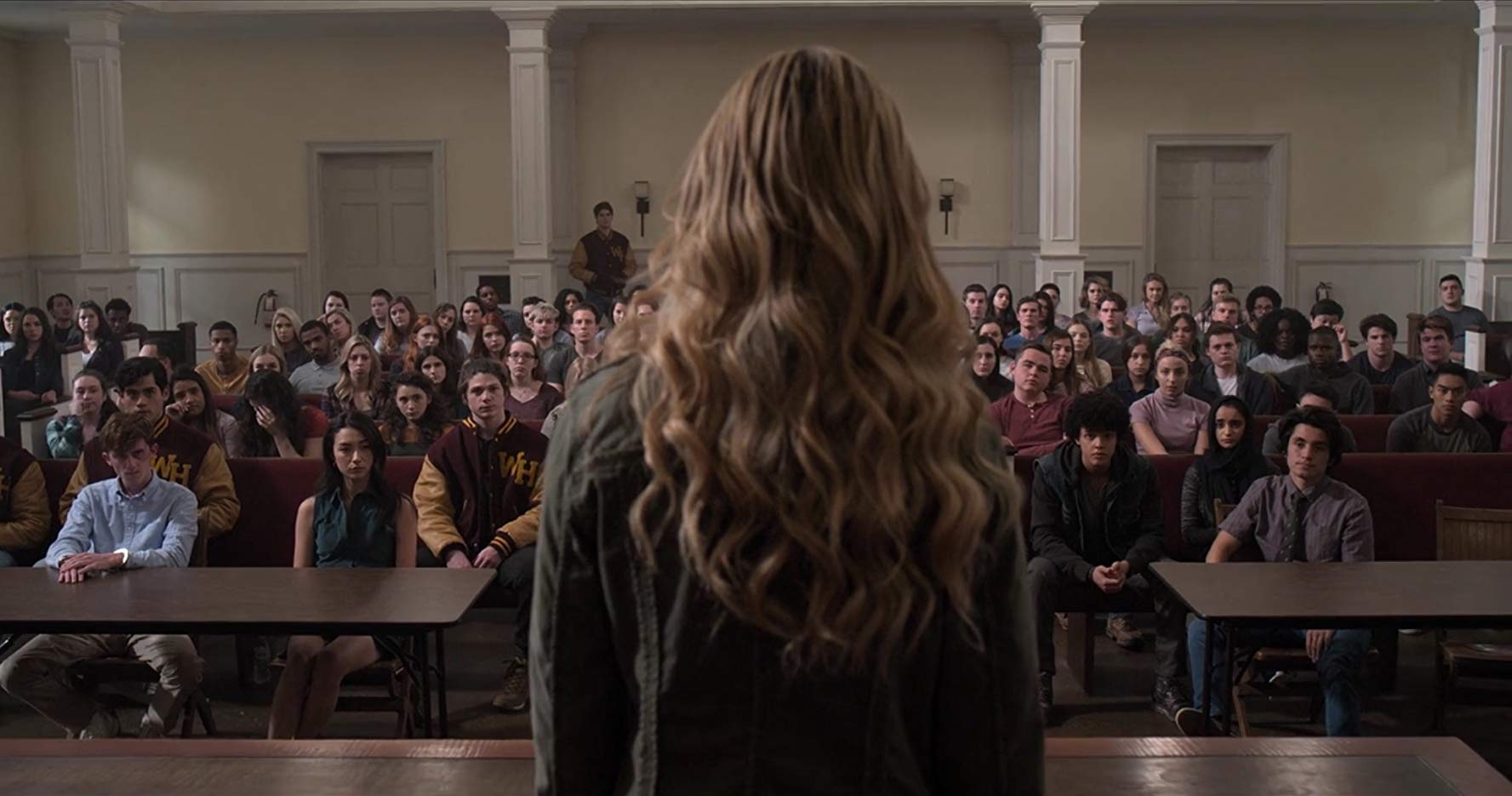 This is where "The Society" really shines, both as a story and as a concept. It's also where it explores how teenagers, despite their maturity and lack of experience, can come together when they have to. They're not perfect, but neither are experienced adults. They do find themselves in painful, heart-wrenching situations that include murder, illness, and despair. However, things never totally fall apart.
To anyone who has ever tried to explain student loan debt to a teenager, it almost seems absurd. The idea that a bunch of unsupervised teenagers can somehow form a functioning society just doesn't fit with the common narrative surrounding teenagers.
In that narrative, things always tend to devolve until the adults return to impart the proper amount of discipline. Look at any movie, sitcom, or rowdy music video and the themes often come back to teenagers being out of control and needing the discipline of responsible adults. "The Society" makes the case that teenagers can become responsible on their own, albeit after some setbacks.
There are still many factors working against them. We've yet to see what happens to the citizens of New Ham, as they dubbed it, when the food runs out and they have to start farming the land. We also haven't seen them endure a harsh New England winter. However, "The Society" never gives the impression that these young people are incapable of overcoming these challenges.
By the end of the first season, it's easy to root for them. The emotional toll is palpable and so are the difficult decisions that many end up facing. Over the course of the show, however, it's easy to see the progression that they all experience. It's hard to even see them as teenagers anymore. Some conduct themselves as true, full-fledged adults.
While the mystery surrounding "The Society" is still unfolding, complete with fan theories and potential clues, the show's approach to depicting teenagers is its greatest accomplishment in my opinion. If there is a second season, I'm definitely interested in seeing how these characters and their over-arching story progresses.
I doubt "The Society" will change anyone's current attitudes of teenagers. There will surely be other shows and movies that double down on the many stereotypes surrounding them. If nothing else, "The Society" shows that teenagers are capable of carrying a story without adults complaining about them.