When it comes to telling a good love story, there are many ways to go about it. I've certainly learned that from the novels and short stories I've written. The nature of romance is constantly evolving. What constitutes quality romance today might seem strange or downright flawed by the standards of the past.
There are many examples of quality, well-developed romances in popular culture today, as well as a few that are downright toxic. However, there's one particular love story that seems to break all the rules, yet still functions in its own eccentric way. Fittingly enough, that utterly unromantic love story plays out in "Rick and Morty," a show often defined by its various eccentricities.
I know it's been a while since I've talked about "Rick and Morty." Like so many others, I've been anxiously awaiting news about the fourth season. Ever since the show was renewed for 70 episodes, details have been scares. There have been some occasional teases, but nothing of substance as of yet.
While waiting for those details, I think it's worth revisiting an issue that has been evolving and devolving since the very first episode. That issue is the less-than-ideal relationship between Beth and Jerry Smith, the parents of Morty and his sister, Summer. Like everything else in the world of "Rick and Morty," the relationship of Morty's parents is subject to many issues, flaws, and mishaps.
In essence, the relationship between Jerry and Beth is the antithesis of romantic love. This isn't a case of two people falling in love and facing challenges when kids enter the picture. It's not even a case of two people not being in love initially, but falling in love over time as they raise a family. In fact, the most defining aspect of Beth and Jerry's love story is the complete absence of traditional romance.
That lack of romance doesn't just stem from the show's over-arching themes surrounding nihilism and meaning. By nearly every measure, Beth and Jerry aren't the least bit compatible. Beth, like her eccentric father, is a very smart and capable, as shown in more than one episode. She's a skilled horse surgeon and can hold her own when wielding advanced sci-fi weapons.
In contrast, Jerry is a case study in mediocrity. He's not a complete idiot, but he certainly walks a fine line between laughably inept and downright pathetic. He's unemployed for a good chunk of the first three seasons and is so oblivious that he doesn't even realize when he's in a poorly-rendered simulation. At times, he can be a lovable loser, but most of the times, he's just a loser.
How he and Beth ended up together is neither romantic, nor glamorous. It's established in Season 1 that Jerry got Beth pregnant on their prom night in high school. The reason they stayed together was for the sake of their child, which isn't saying much because they almost got an abortion. The only reason they didn't was because they blew a tire on the way to the clinic.
That may sound dark, but it's perfectly in line with how "Rick and Morty" handles serious issues like teen pregnancy and abortion. It doesn't attempt to romanticize the situation, nor does it send the message that having the child and getting married was in any way rewarded. Their always at odds and arguing about everything. There's rarely a sense that their marriage is loving, stable, or anything romantic.
At one point in Season 3, Rick calls Jerry out on how he ended up with Beth. Despite what he claims, it wasn't an act of romance that brought him and Beth together. It was little more than pity.
Jerry, being so inept at everything, has little more going for him than pity. It's the only real skill he has, but it was enough to get him an ill-fated prom date with Beth. Rick sums it up nicely in one of his many memorable speeches.
You act like prey but you're a predator. You use pity to lure in your victims. It's how you survive. I survive because I know everything, that snake survives because children wander off, and you survive because people think, "Oh, this poor piece of shit, he never gets a break. I can't stand the deafening silent wails of his wilting soul. I guess I'll hire him or marry him."
This moment is revealing in that it reinforces how little romance was involved in the development of Beth and Jerry's relationship. Their entire lives together are built around Beth feeling sorry for Jerry. Then, once she got pregnant and failed to get an abortion, circumstances did the rest.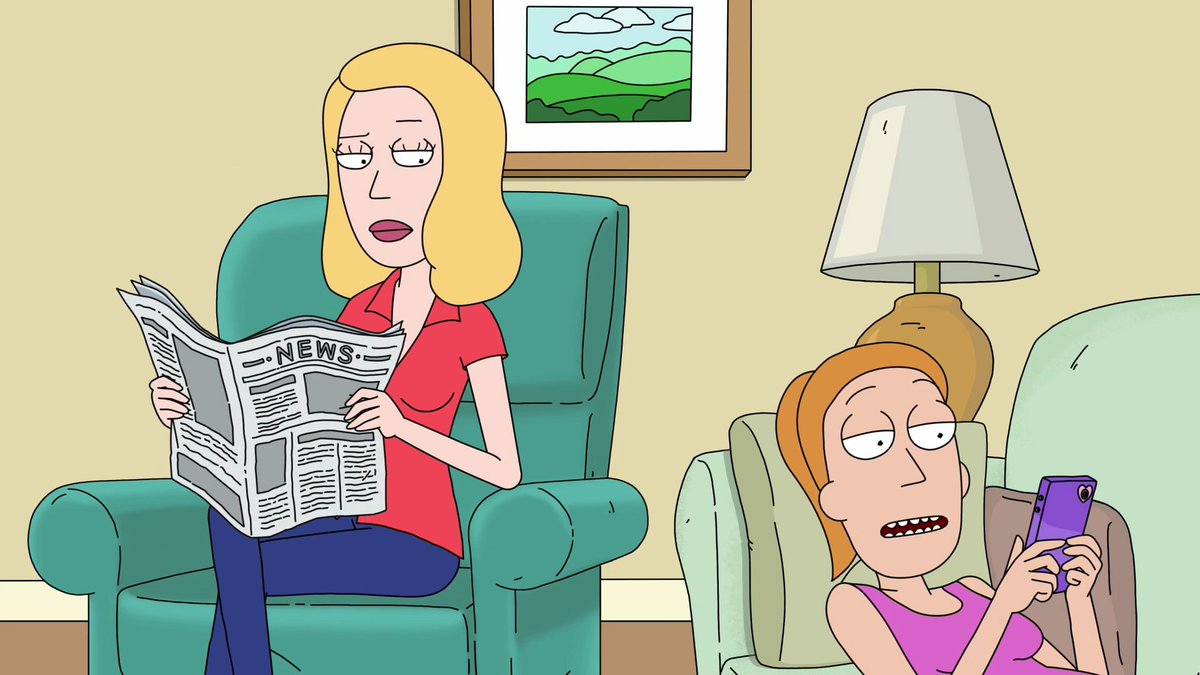 It's not romantic. It's not tragic, either. They just ended up in a lousy situation and made the most of it. That's not a love story. That's basic survival for anyone who isn't a super-genius with access to a portal gun.
That's not to say there aren't some moments of sincerity. Jerry, being the least capable member of the family, tends to remember fondly the early days of their relationship. He's the only one who sees the relationship in a romantic context. The only time anyone else sees it, Beth included, is when they're facing a crisis, be it an identity crisis or the end of the world.
When it comes to the day-to-day logistics of the relationship, it's never that functional. Jerry can't hold down a job or handle himself whenever he gets caught up in Rick and Morty's adventures. Beth drowns herself in bottles of wine and episodes of "The Bachelor." Even when they try to do something romantic, like a Titanic-themed get-away, it often fails spectacularly.
This dysfunction eventually culminates in the first episode of Season 3, "The Rickshank Redemption." Jerry, in a rare moment of assertiveness, tells Beth that she has to choose between him or her father. In his unintelligent mind, he believes the romance they have will win out. He ends up being wrong. Beth chooses her father and Jerry gets kicked out of the house.
In most shows, that would be the end of a relationship that's so inherently flawed. However, "Rick and Morty" isn't most shows and not just because it has characters like Mr. Poopybutthole. In this world of infinite realities and bird people, even love stories devoid of romance find a way to gain meaning in a show steeped in nihilistic undertones.
That meaning emerges at the end of Season 3 in "The Rickchurian Mortydate" in which Beth has a chance to make another choice. This time, she's at odds with her father, who had revealed some harsh truths about who she was as a kid and what it means to be smart. Unlike before, she chooses Jerry over Rick and he gets to move back in.
This, through the twisted logic of "Rick and Morty," affirms Beth and Jerry as a genuine love story, but one that is still devoid of romance. Beth didn't choose Jerry out of love. She chose him because she that's what she wanted. That's all there is to it. In a show where Rick once described love as "a chemical reaction that compels animals to breed," that might be the greatest act of love anyone can offer.
It also mirrors the inherent value of having a choice. Episodes like "Pickle Rick" and "The Ricks Must Be Crazy" all emphasize the importance of choice, especially for those of near infinite capabilities. Both Rick and Beth are endowed and burdened with intelligence, abilities, and options. Their choices are, ultimately, the only actions that truly matter in a meaningless universe.
In the case of Beth and Jerry, the choice doesn't have to involve romance. In fact, romance would only complicate things. Just choosing to be together, despite all the flaws in their relationship, is the only thing they need to make their love work. They're together because they want to be together. That's all there is to it and that's all they need.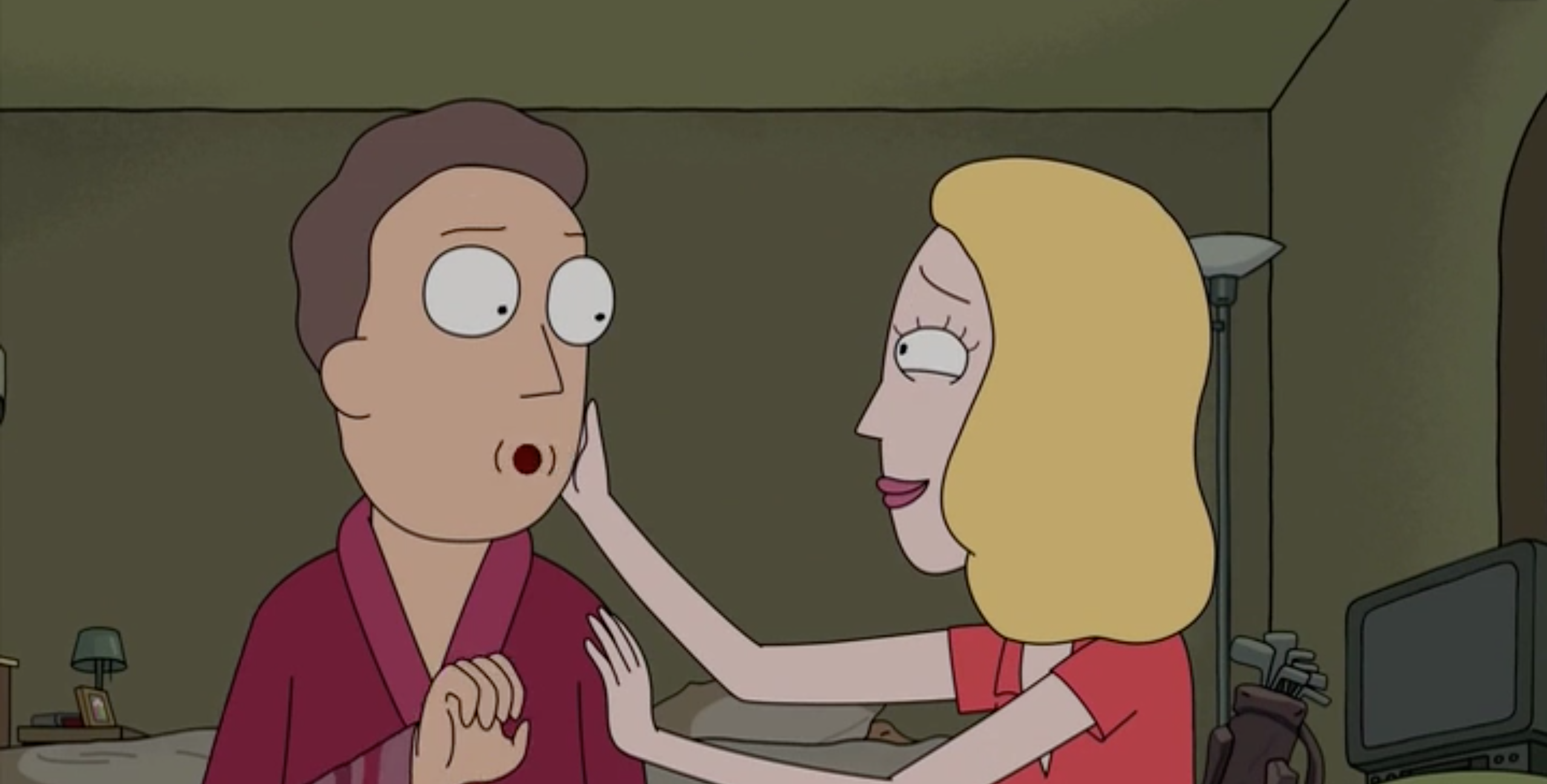 In that sense, Beth and Jerry's story still qualifies as a love story, despite the utter lack of romance. It's hard to say where their relationship will go in the coming seasons of "Rick and Morty." Maybe it will develop some amount of romance. Maybe it'll only become more flawed and less romantic, as the series progresses.
Whatever ends up happening, it still doesn't matter, as is often the case in "Rick and Morty." As long as Beth chooses Jerry and Jerry chooses Beth, their story will still be a love story in its own unique way. Regardless of whether love is real or just a chemical reaction in their brains, it's still their choice and that's as meaningful as love can get in a meaningless universe.