By now, most people have heard the news surrounding the latest round of scandals involving the Catholic Church. Once again, it involves the systematic abuse of children, the elaborate efforts to cover it up, and the religious dogma that is used to protect such behavior. It's certainly not the first time the Catholic Church has been embroiled in such a scandal, but that doesn't make it any less distressing.
There's a lot I can say about the Catholic Church and how badly they've handled this issue. There's even more I can say about how this famous institution's policies have caused genuine harm in societies that remain devoted to Catholic traditions. However, I would only be repeating what others have already pointed out and I'd rather not do that.
For me, personally, these scandals cut deep because I have family who identify as devout Catholics. They see these same scandals too and I can confirm that it hurts them on a personal level. Whenever someone brings it up, they don't make excuses. They despise those priests for what they did and those who covered it up. It doesn't shake their faith, though. To some extent, I admire that.
At the same time, however, I often wonder whether they see the same flaws in that dogmatic theology that I see. I try not to bring it up with family members, out of respect for their faith. I still believe that even they are bothered by those flaws. When children are being sexually abused, how could it not?
There are a lot of factors in play with this latest scandal, from the nature of religious dogma to the corruption of powerful institutions. The one that few want to confront, though, involves the cumulative impact of sexual repression with rigid theology.
There's no way around it. Religious dogma and sexual repression often go together. The Catholic Church is hardly the only institution that encourages strict repression of sexual behavior. Anyone living in Saudi Arabia or Iran can attest to that. With a billion adherents and nearly 2,000 years of history, though, the Catholic Church is one of the largest and most vocal proponents of this dogma.
The reasons for that are many and I don't want to get into all the issues surrounding its effects. Instead, I want to focus solely on the celibacy of the priests. That practice represents a true extreme of sexual repression. It's one thing to champion monogamy to the point of murdering adulterers. It's quite another to have an entire class of people who have to completely repress their basic urges.
It's not like trying to quit smoking, which is hard enough. This involves denying a basic, fundamental drive that is hardwired into people at birth. Trying to turn that off is like trying make sugar taste bad. It goes against fundamental biological wiring. The idea that someone can repress those force without incurring psychological damage is flawed, at best.
To get an idea of why, think about a time when you were really hungry. Maybe you were sick for a while, trapped on a long road trip, or went on a crash diet. That feeling of intense hunger is not something you can turn off. It's uncomfortable for a reason. Your body isn't getting something it's been hardwired to seek. It's going to make you feel uncomfortable until you do something about it.
The human sex drive is not like hunger, but it's similar in that it's a biological drive. For every living thing, be it a human or an insect, sustenance and reproduction are the two most basic drives. It is possible to survive without reproducing, but the fundamental forces of nature are going to push you to try.
When you push back too hard, it's like trying to patch a faulty dam with scotch tape and chewing gum. From a psychological standpoint, your brain and your body are deprived. As a result, it's going to do whatever it can to alleviate this deprivation.
It doesn't matter if that act is extreme. It doesn't matter if it's illogical, illegal, or outright immoral. Your brain and your body will find a way to justify it if it ends the deprivation. For most, it's just a never-ending battle that requires an individual to fill that missing need with something, which in this case is religious fervor.
It's debatable as to how much this fills that fundamental need, but a lot of that assumes that celibate priests don't do something in their private time to relieve the tension. Historically speaking, many in the Catholic Church and other powerful institutions were pretty blatant about how they circumvented the issues of celibacy.
Some priests had lovers on the side. Some employed prostitutes and concubines, but still claimed to be "celibate" because they weren't married. More often than not, priests were only celibate in the most technical sense and the church often tolerated this. Even St. Thomas Aquinas, a man not known for liberal attitudes, even acknowledged the futility of suppressing the human sex drive when he said this about prostitution.
"If prostitution were to be suppressed, careless lusts would overthrow society."
For a select few, though, that effort to maintain celibacy manifests in a truly horrific way. I think it's safe to conclude that the priests who abused these children were not mentally well. Many might have been unwell before they entered the priesthood, but celibacy certainly didn't help. Repression, especially the kind that's taboo to even talk about, tends to make things worse.
That's how people end up with mentalities that are poorly equipped to handle basic urges. Instead of a healthy expression of sexual desire, someone may react with anger or self-hate. When people are angry and hateful, they tend to take it out on someone. It's not always sexual, but when someone has all their sexual desires pent up over the years, sometimes it seeps in.
That's how simple desire becomes disturbing fetishes, including those that harm children. That's how unthinkable behaviors are rationalized. When religious dogma tells someone they face divine retribution for feeling these intrinsic desires, that's causes serious distress and efforts to mitigate it can make for some pretty unholy behaviors
While it's hard to study the sex lives of celibate priests, the occurrence of these scandals along with the historical documentation of other lurid scandals reveal plenty about the effects of celibacy. When there's no outlet for sexual expression, other emotions get caught up in the efforts to cope with that fundamental drive. Add religiously-motivated guilt to the mix and the impact only compounds over time.
None of this is an excuse for what those priests did to these children. They still committed an atrocity and no amount of divine excuses can mitigate the suffering of the victims. The Vatican will do what it has to do in order to maintain its power and influence. However, the reconsideration of extreme practices celibacy is unlikely.
Some media figures will mention it, but never to the point of encouraging serious reforms. That's a dirty word in both the Catholic Church and any other religious institution. Historically speaking, the rate at which major religion institutions undergo sweeping reforms is nothing short of glacial.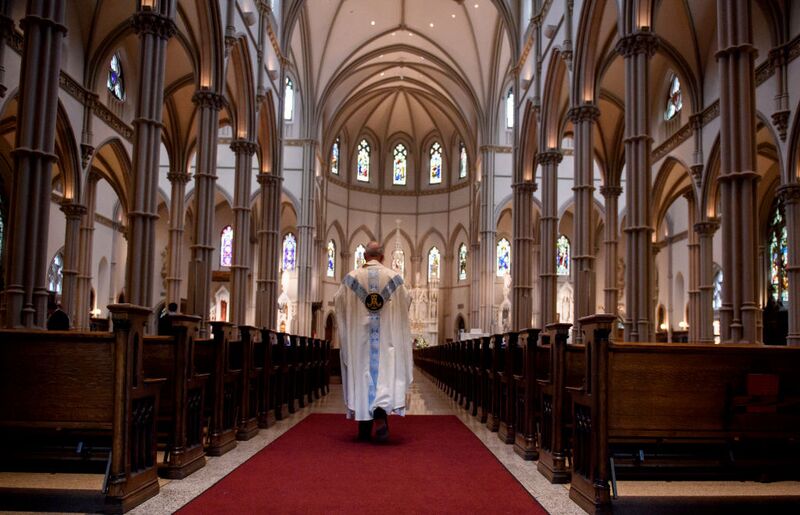 I sincerely hope this latest scandal gives those in the Vatican serious pause, but I have a feeling that even this won't do it. Religious dogma is notoriously uncompromising. People, especially within powerful institutions, make any excuse to avoid changing it. While the Vatican has made some strides, the fundamental issue remains. As long as basic human nature is suppressed, more will suffer and not in a holy sort of way.