Every TV show, from sitcoms to talk shows to adult cartoons featuring dimension-hopping super-genius, attempts to capture a certain theme and hone it to the utmost. They try to craft the right kind of characters who exhibit the necessary traits to convey those themes while still being memorable, likable, and endearing. On top of that, they have to do it for multiple seasons, at least until they achieve syndication.
It's an enormous challenge. Few shows succeed and even fewer do so consistently. Even among those select few, there's a risk that the characters and stories will get stale. Due to the nature of half-hour TV shows, there's only so much you can do before Archie Bunker's casual bigotry becomes more pathetic than funny. That doesn't even get into shows that end up crashing and burning in the series finale.
Then, there's a little show called "It's Always Sunny In Philadelphia." In the annuls of TV history, this show is basically a unicorn wrapped in gold, covered in diamonds, and encoded with the browser history of every active politician.
Pragmatically speaking, this is a show that should not have lasted 13 seasons. For one, it airs on FX, a network most people probably don't know they have, if they actually have it. In addition, the show's budget is incredibly limited. The pilot was allegedly shot for less than $100 by a cast of aspiring actors who had zero name recognition, at the time.
On top of that, there's the premise of the show. In its simplest form, "It's Always Sunny In Philadelphia" follows the shameless misadventures "the Gang." This crew consisting of Charlie Kelly, Ronald "Mac" McDonald, Frank Reynolds, Dennis Reynolds, and Deandra "Sweet Dee" Reynolds basically take every traditional approach to making an enduring TV show and punches it in the kidneys.
This is a show where the characters will buy a boat with the intention of entrapping women.
This is a show where the cast will make an unauthorized Lethal Weapon sequel, complete with blackface, homoerotic subtext, and gratuitous sex scenes featuring Danny DeVito.
This is a show where two people are tricked into digging up the body of their dead mother.
This is a show where you'll see people hold a funeral for a baby to get out of a tax audit by the IRS.
These are not the activities of lovable characters. Even Shelden Cooper had moments in "The Big Bang Theory" where he came off as genuinely compassionate. With the Gang, there are none of those moments. Sometimes, they'll be teased. In some episodes, the Gang will give the impression that they're about to finally realize just how deplorable they are.
Ultimately, they don't just revert back to their less-than-reputable selves. They demonstrate that they never had any intention of changing their ways. Anyone who believed otherwise either hasn't watched more than two episodes of the show or are deluding themselves. As antithetical as this is for crafting a compelling TV show might be, it doesn't change one inescapable fact.
"It's Always Sunny In Philadelphia" is funny, enjoyable, and obscenely entertaining.
It almost sounds like a paradox. As someone who only recently became a fan of the show, I have hard time explaining that appeal to most people in a way that doesn't sound weird. It takes a moment to appreciate the appeal of watching a cast of self-absorbed, narcissistic alcoholics. However, within the tone and context of the show, it doesn't just work. It achieves something profound.
Specifically, "It's Always Sunny In Philadelphia" is the perfect manifestation of dark comedy at its finest.
Comedy, in any form, can be difficult. Jokes, gags, and bits can become overplayed and stale. There's only so many times you can watch Charlie Brown fail to kick a football and still laugh. Dark comedy is even more difficult. It involves taking distressing, taboo subjects and trying to make them funny. Some, like George Carlin, can pull it off masterfully.
I like to think that if George Carlin were still alive, he would be a fan of "It's Always Sunny In Philadelphia." The show's approach to dark comedy isn't overly complex. It's just exceedingly overt. It doesn't try to balance out those dark themes with something serious or nuanced. It blatantly takes things to an extreme and dares to laugh at the absurdities.
Take, for instance, the funeral for the dead baby that I mentioned earlier. There are only so many ways you can make funerals and dead babies funny, but this show never shies away from a challenge. It also helps that every character in the Gang has the moral fiber of a Big Tobacco lobbyist on crack. They won't just cross lines. They'll make it a spectacle.
In this particular case, Sweet Dee is getting audited and for good reason. She acted as a surrogate to carry the child of a transgender woman that Mac used to date. Trust me, it's more absurd that I can ever put into words. However, Dee didn't do this out of the goodness of her heart. Nobody in the Gang is ever that altruistic. She did it because she got paid. Then, she decided to list the kid she gave up as a dependent for the tax benefits.
Naturally, this put her at odds with the IRS. Like every problem the Gang faces, she tries to run away from it or pass off the problem to somebody else. However, the problem only escalates. In most TV shows, especially half-hour sitcoms, this is the point where the characters face the consequences of their actions and try to learn from it. Instead, the Gang tries to resolve the problem by holding a baby funeral.
It's undeniably dark, but the way it plays out is still funny. The way Dee and the rest of the Gang conducts themselves is so irreverent that the inherent darkness of the issue only makes it funnier. It shows just how far the Gang is willing to go to shirk responsibility and avoid consequences. It gets bad and it belabors just how irredeemable these characters are, but it's still funny.
A big part of what makes that approach funny is how blatant this show is when it comes to the time-tested tropes that TV shows have relied on for decades. Take any show, from "Breaking Bad" to "Friends," and you'll see a concerted effort to develop and progress the characters over time. Ideally, they achieve some sort of ultimate goal by the end.
Instead of growth, the Gang actively avoids any effort at growth. Their only goal is to continue being the unapologetic assholes they've always been, drink heavily, and recklessly pursue whatever crazy ideas they come up with. Who they are in the first few seasons of "It's Always Sunny In Philadelphia" aren't considerably different than who they are in the latest season.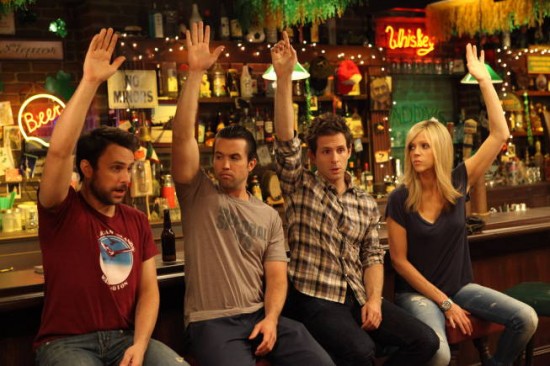 In any other show, characters who don't grow and progress usually derail the underlying themes. Sometimes, that's unavoidable. The very structure of a TV show, especially a half-hour sitcom, ensures that the characters can only grow so much. Even after the show achieves syndication, it tries to stick to a formula, even if doing so undermines the very process the characters need to evolve.
By going out of their way to not evolve, the Gang insures "It's Always Sunny In Philadelphia" never deviates too far from the qualities that make it funny. It even channels its use of dark comedy to poke fun at the same tropes that other shows heavily rely on. From the frustrating use of clip shows to turning romantic sub-plots into a case study for excessive stalking, the show seems to revel in spitting on these time-tested methods.
What makes that comedy even more potent is that after 13 seasons, "It's Always Sunny In Philadelphia" has lasted longer than some of the most iconic TV shows in history. It has outlasted the likes of "Cheers," "Mash," "Friends," and "Frasier." Moreover, it keeps finding a way to be funny and relevant. I think a non-insignificant part of that is how it uses dark humor.
There's plenty more to be said about the show and why it has lasted so long. Even some of the show's cast members have a hard time explaining why the show is still on the air. Even more likely wonder how the show can keep getting away with being so brazen about using dark comedy to tackle issues surrounding race, religion, gender, sexuality, mental health, and bird law.
There are likely many factors that have contributed to the success and longevity of "It's Always Sunny In Philadelphia." It helps that the actors and crew of the show really enjoy working together. There's something to be said about a show in which the original cast have a genuine passion for their work. It's well-documented how a toxic environment behind the scenes can derail successful shows.
At the end of the day, though, "It's Always Sunny In Philadelphia" works because it's funny and entertaining. It found a way to take the best aspects of dark comedy and run with it. As long as it can keep doing that, the show will have an audience. If it can include more episodes that involve Mac dancing or Danny DeVito getting naked, then that's just a bonus.