How much would you be willing to pay for perfect health, perfect beauty, and a greater capacity to enjoy life as you see fit? This is not a rhetorical question. I would even argue that it's an increasingly relevant question. In the coming years, answering it might even become more urgent.
I've talked about the prospects of human enhancement through emerging technology before. From its impact on our concept of beauty to how our society will function, there are many impacts to consider. Some of those impacts are already manifesting before our eyes. Just last year, the first genetically modified babies were born in China. Like it or not, this is happening.
It's impossible to overstate the benefits, risks, and upheavals that human enhancement will have on our species and our world. Nobody knows for sure what's going to happen as this technology matures or how societies, economies, and governments will react to it. Even so, it's worth contemplating. It's even worth imagining elaborate scenarios in fictional worlds.
While plenty of noteworthy stories have imagined such scenarios, some more dystopian than others, there's one in particular I'd like to single out. It's not entirely dystopian, but it does offer some distressing lessons about the larger economics of human enhancement. It also helps that those lessons come through a forgotten, but criminally underrated Iron Man comic.
Given the rapid rise of Iron Man's star power over the past decade, his character is uniquely qualified to explore these difficult questions surrounding technology and how we use it. He is, at his core, a visionary who uses technology to solve problems, save lives, and occasionally fight invading aliens. In the series, "Superior Iron Man," he takes that vision several steps further and cross many lines along the way.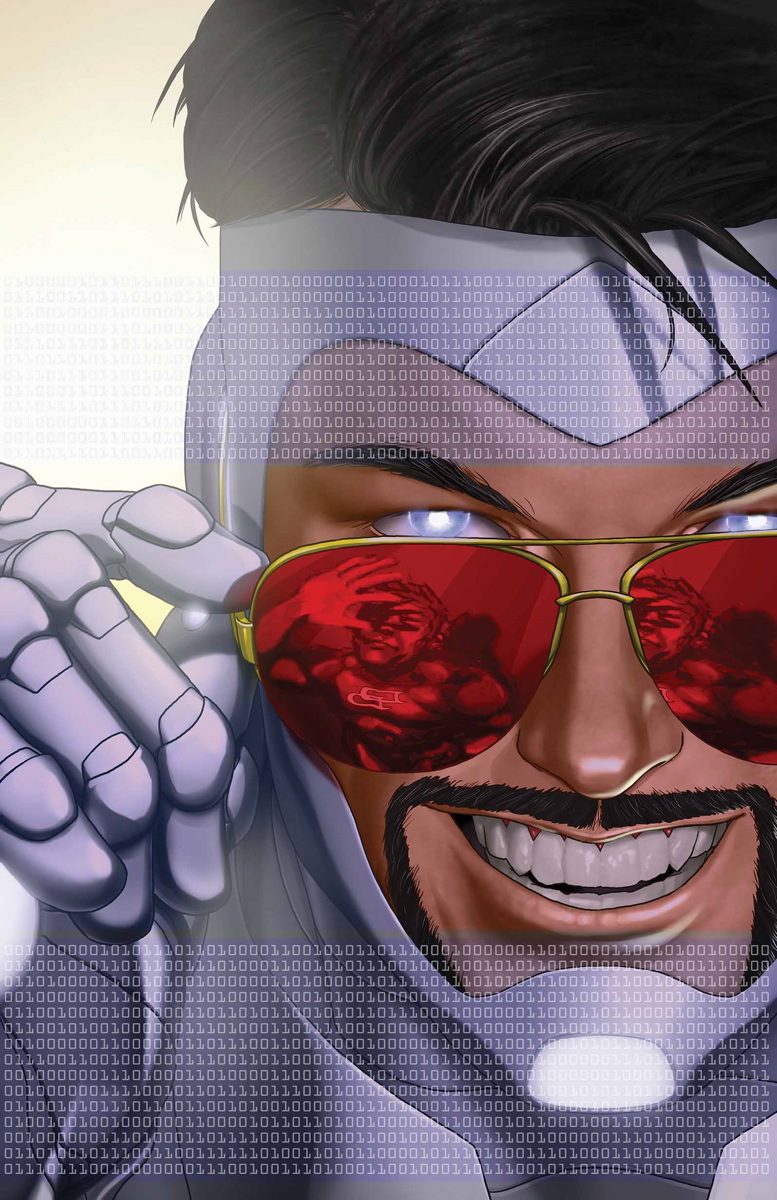 While there are some convoluted circumstances surrounding this series, the ideas it explores are profound, even by the standards of superhero comics. You don't need to know the specifics of those circumstances. They involve forces like magic and inversion spells, which are far too complicated to explain to those who haven't followed Marvel comics for more than two decades.
The only detail anyone needs to know about "Superior Iron Man" is that the Tony Stark in this story is not the same lovable character that helped make Robert Downy Jr. one of the most lovable stars in Hollywood. This version of Tony is less bound by concepts of heroism, selflessness, and sobriety. That's not to say he's evil, but he's definitely no hero.
Within this ethically bankrupt state, Tony embarks on a new initiative that's as selfish as it is lucrative. It revolves around Extremis, an exotic cocktail of nanotechnology and biotechnology that effectively rewrites the blueprint of the entire human body into something better, stronger, and more robust. In essence, it is the ultimate tool for human enhancement.
While the initial version of Extremis was lethal to most people who used it, Tony creates a more commercialized version in "Superior Iron Man" that gives everyone a chance to enjoy its benefits. He calls it Extremis 3.0 and people can access it through a simple smartphone app. With it, people can achieve what Tony describes as physical perfection.
Everyone can be perfectly healthy.
Everyone can be young and beautiful.
Everyone can be functionally immortal.
It sounds like a miracle drug and by every measure, it is. This isn't some Dr. Oz wannabe pitching vitamins that do nothing other than give you false hope. This technology actually works. With it, Tony gives the entire city of San Francisco a chance to experience the fruits of human enhancement.
Understandably, once people get a taste of what Extremis 3.0 has to offer, they love it. They also take full advantage of it. At one point in the story, Pepper Potts says it's turning the streets of San Francisco into a non-stop parade of debauchery and self-indulgence. Tony does not see this as a bad thing. If anything, it perfectly complements his plans and his renewed appetite for self-indulgence.
This is where "Superior Iron Man" attempts to answer that question about putting a price on physical perfection. Writer Tom Taylor, alongside artist Yildiray Çinar, doesn't hide from the disturbing parts of that answer. By the end of the first issue, Tony puts a literal price on that perfection. Needless to say, it causes plenty of conflict and it escalates quickly.
When he initially released Extremis 3.0 onto San Francisco, he gives ordinary people a taste of what it's like to be as fit as Captain America, as beautiful as Emma Frost, and as physically endowed as Thor. It's not a drug that just attempts to match that feeling. It physically changes their bodies and their capacity for using them. That taste, however, was just a free sample. To keep enjoying it, they must pay $99 a day.
It's crude trick right out of the playbook of subscription apps. People get a free trial period that's just long enough to get them hooked. Then, before they even realize they have to pay anything, they get hit with a paywall. It's a cruel bait-and-switch, but this isn't just another streaming video service. This is physical perfection and unlimited self-indulgence. Is $99 a day really that unreasonable?
It certainly rubs plenty of people the wrong way, including many of Tony's long-time friends and allies. Both Daredevil and Pepper Potts turn against him for such devious tactic. It also has some noticeable effects on the people who use it. By the end of the first issue, a stark class divide emerges between those who can afford Extremis 3.0 and those who can't.
Naturally, it causes crime and conflict among the residents of San Francisco. Tony, now both feared and beloved by these people, takes it upon himself to manage it. He gains power, wealth, status, and an endless supply of eager party guests for whenever he seeks to indulge. It's a perfect cocktail of recklessness and irresponsibility.
Without spoiling the rest of the story, which ended too soon, I think it's worth taking a step back and looking at the bigger picture that "Superior Iron Man" presented. If you take away the iconic characters and the superhero themes, you get a story about a selfish business tycoon who has sole possession of the ultimate biotech product.
The goal isn't to heal the sick, ease suffering, or evolve the human species. The goal is simply to make a lot of money, feed an inflated ego, and indulge in every conceivable vice without consequences. It's a worst-case scenario for liberals and conservatives, alike. At the same time, it makes a compelling case that our current system can't handle the impacts of large-scale human enhancement.
That doesn't mean it can't succeed in our current system. The size of the current biotech industry is already measured in the hundreds of billions. Overpriced drugs are nothing new, either. Just this past year, the FDA approved a drug called Zolgensma, which costs $425,000 a year for five years to treat a rare genetic disorder called spinal muscular atrophy.
By comparison, Extremis 3.0 is a bargain with far greater value. Even at $99 a day, the yearly cost of enjoying that physical perfection amounts to around $36,500 a year. That still takes up a good chunk of the average income for most Americans, but considering all the benefits of having a perfect body, is it still a bargain?
For anyone who has overpaid for inflated medical expenses, I suspect they would gladly pay that high price for Extremis 3.0. Tony Stark banked on that in "Superior Iron Man" and he was right. People did pay and it was very lucrative for him. The population of the San Francisco Bay Area in which he unleashed Extremis 3.0 is around 4.6 million. At $99 a day, that's a potential annual revenue of $167 billion.
In terms of business ranking, that would put Tony's venture in the top 20 in terms of largest companies by revenue. If he were to unleash Extremis on the entire United States, the potential annual revenue would be near $11.8 trillion. That's a little more than half of the entire US economy.
Imagine one company, let alone one person, having that much money and influence over a population. Tony was already a billionaire before "Superior Iron Man," but Extremis 3.0 rewarded him with more than just money. Tony, being the sole provider, held a great deal of power and influence over San Francisco. As is often the case in superhero stories, that power goes to his head.
That story plays out in the real world just as often. In some cases, it brings out the worst in people. For a product like Extremis 3.0, which provides human enhancement into a simple commercial package that anyone can access through an app, the potential for abuse is much worse.
Beyond the greed it would inspire and the recklessness it fosters, it would also widen and solidify a gap in society that might be impossible to close. The wealth gap is in the non-superhero world is already egregious. Adding something like Extremis 3.0 to the mix would only make it immeasurably worse.
More than a few people has expressed concern about the prospects of such an enormous societal divide. "Superior Iron Man" showed just how bad it could get and how quickly it could escalate. While the series only managed to explore this conflict to a point before it got canceled, Tom Taylor did enough to get a powerful point across.
In a world where human enhancement is real and commercially available, how do we go about distributing it among a population? Should we put a price on it? How high should that price be? Who should be in control of it?
"Superior Iron Man" never got a chance to explore the answers, but these are questions that will become increasingly relevant as advances in biotechnology accelerate. We may not be close to having a product like Extremis 3.0 and it's uncertain whether we'll even develop something like it in the next few decades.
Even if we do, "Superior Iron Man" made one thing clear. We, as a species and a society, are not ready for it.