The greatness of a TV show is often measured in how endearing the characters are. Whether it has dramatic themes like "Mad Men" and "Breaking Bad" or over-the-top comedy like "It's Always Sunny In Philadelphia," TV shows thrive and fail by the strength of their characters.
A show like "King of the Hill" is a good example of this and not just because it has plenty of great characters. The personalities and stories of characters like Hank Hill, Boomhauer, and Luanne are all endearing in their own unique way. I've even gone out of my way to praise Hank Hill on multiple occasions for his work ethic and his unique approach to masculinity.
However, "King of the Hill" is unique in the sheer range of characters it offers, with respect to likability. Characters like Bill Dautrieve and Khan Souphanousinphone have definite flaws, but do plenty to warrant respect. Peggy Hill is a textbook narcissist, but still does plenty to balance it out. Dale Gribble is a paranoid idiot, but he's still a loyal friend and just fun to be around.
There are also a few characters who are just assholes most of the time. While the show goes out of its way to balance everyone to some extent, there's only so much you can do with characters like Cotton Hill and Buck Strickland. I could say a lot about those two, in terms of how they impact the themes of the show, but I'd like to focus on a character who has confounded me over the years.
Of all the colorful characters that make "King of the Hill" one of my favorite shows of all time, Bobby Hill is the one I'm most conflicted about. I've always had mixed feelings about him. I can watch one episode where I have no sympathy for him, but in the very next, he'll come off as one of the most respectable characters in Arlen.
Some of that might have to do with me, as a viewer. When I started watching this show, I was younger and had a lot more in common with Bobby. We were both overwhelmed by the prospect of growing up. We often felt beleaguered by school, adults, and puberty. I related to him a lot more than I did with the adults in the show.
Then, as I re-watched those same episodes as an adult, I saw Bobby in a different light. I had a hard time sympathizing with his struggles in certain episodes. At times, he came off as some immature kid trying desperately to avoid responsibility and hard work. In one episode, he became a full-fledged panhandler.
At the same time, Bobby had moments where he genuinely shined. While I would argue that the series finale was his finest hour and the culmination of his growth, he also had other moments in which he stepped up to do something awesome. He was, in my opinion, the most confounding characters in the entire show.
Now, after having watched and re-watched every episode of "King of the Hill," while also having the benefit of my own personal growth, I feel like I can appreciate Bobby's character in a new way. In terms of the bigger picture, Bobby Hill represents an important theme in the show. Specifically, his story revolves around someone torn between adulthood and childhood.
While "King of the Hill" has many themes, Bobby's were often tied to his youth and that youth was often the catalyst for his misadventures. When the show begins, he's 11-year-old. By the time it ends, he's 13-years-old. These are some formative years in a boy's life and the show takes full advantage of that.
In the first several seasons, Bobby definitely carries himself as a kid. His behavior is distinctly childlike, from using his dad's golf clubs to hit dog shit to taking part in a camping trip in which he accidentally kills an endangered animal. Then, over the course of the show, his stories evolve. He starts getting interested in girls and sees the effects of puberty on his best friend. At times, he's more than a little overwhelmed.
In some cases, he wants to be an adult. He even enjoys the maturity and status that comes with it. In others, he actively avoids it, clinging to his childhood and the carefree innocence that it entails. Granted, there are times when he just wants to be lazy. At one point, he states outright that he prefers taking baths because he doesn't like standing for so long.
However, there are plenty of other instances in which he sees the rigors of adulthood and doesn't find it the least bit appealing. It doesn't help that he's had some very unpleasant experiences with the adult world, which includes one in which he ran out onto a racetrack because of an asshole boss. After an experience like that, who wouldn't long for the more sheltered life of childhood?
To some extent, it's not entirely Bobby's fault that the adult world is so overwhelming. His laziness doesn't help, but there are times when Hank's uptight parenting skills actively contribute to the problem. The only reason he had that aforementioned job at a racetrack was because Hank tried to teach him a lesson about hard work and it taught him the wrong lesson, entirely.
On top of that, Peggy often babies him in ways that reinforce how much easier and carefree it is to be a child. Whether it's cutting his hair or giving him one of Hank's old trophies, she often makes childhood feel a lot easier and safer, albeit indirectly. Bobby gets so many mixed messages throughout the show that it's easy to see why he's often so conflicted.
Like most themes in "King of the Hill," the nature of the conflicts fluctuate. There is a sense of progression for certain characters, but there's also a general consistency over the course of the show. Joseph and Luanne are very different by the final season when compared to the first season, but Bobby's journey is left somewhat ambiguous.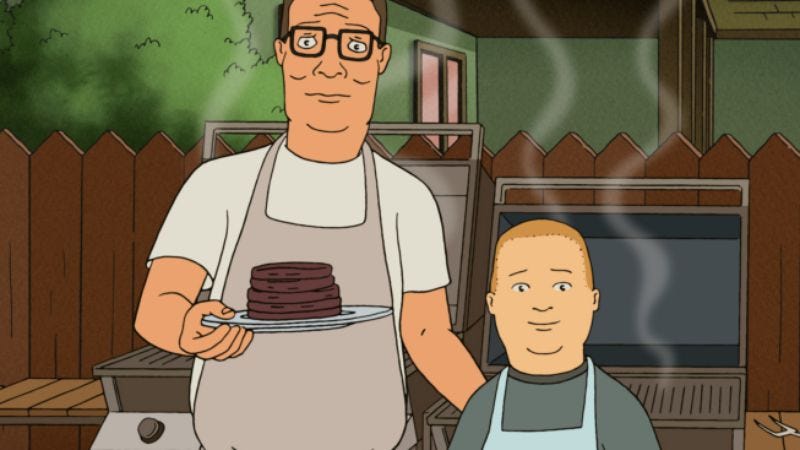 By the end of the show, he finds a skill and a passion that he wants to pursue. In the same way Hank has a passion for propane and propane accessories, Bobby discovers a passion for grading the quality of steaks. It's a passion that requires both hard work and a level of maturity the likes of which he hasn't pursued before. It also makes for a powerful moment when he and his dad finally get to share in a mutual interest.
At the same time, he still carries himself like a kid. Even within that final episode, he gets overwhelmed by the pressure placed on him by other adults. While he managed to overcome the pressure, there's still a sense that he's not entirely ready for the adult world. At the very least, he's not quite as reluctant to pursue it.
Bobby Hill's journey, struggling between childhood and adulthood, is just one among many compelling plots in "King of the Hill." His journey has many setbacks and absurdities, but it still feels real and relatable. For an animated show that includes eccentric characters in fictitious settings, it's quite an achievement.
Hank Hill often says his boy ain't right. On some levels, that might be true. In the grand scheme of things, however, the show demonstrated that Bobby Hill was as right as he needed to be when struggling between childhood and adulthood.