Every so often, I get news that excites me like a kid in a candy factory. It doesn't happen often these days. As adults, it's hard to get too excited when bills, the news, and traffic do plenty to dampen your spirits. Then, it happens and your world is better because of it.
This past weekend, I got a much-needed dose of that excitement. At Disney's annual D23 Expo, Marvel Studios announced that they're making a live-action Ms. Marvel TV show for their Disney+ streaming service. As someone who has praised Ms. Marvel's comics and her contributions to female superheroes, I freely admit I jumped for joy when I saw this.
I know the news surrounding Disney hasn't been good lately, given what has been happening with Spider-Man. I also know they're in a bit of a transitional period after the conclusion of "Avengers: Endgame." Despite these issues, Marvel Studios and their Disney overlords still want to make money. They've got plenty of high-profile movies on their slate, but this could end up being a bigger deal.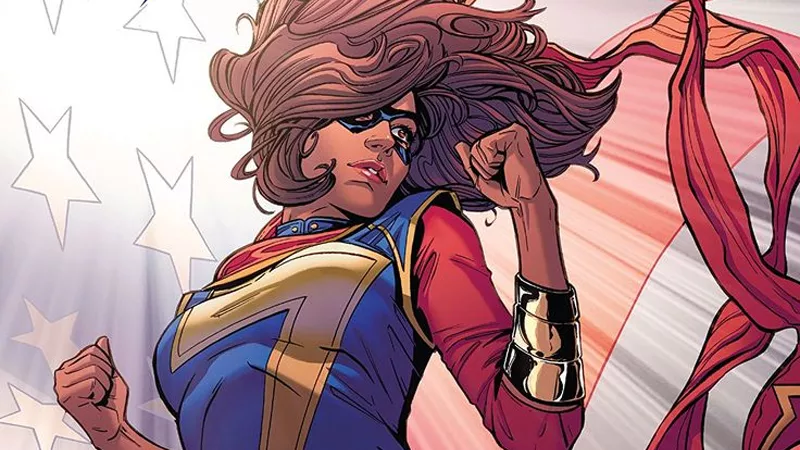 I say that as an unapologetic fan of Ms. Marvel and all things Kamala Khan. I also know that Disney is looking for any possible edge to promote their new streaming service and take a bite out of the market share that Netflix currently dominates. I admit I wasn't planning on subscribing. Shows about She-Hulk, the Scarlet Witch, Vision, and Moon Night sound fun, but not enough to justify the cost.
That all changed with Ms. Marvel. As far as I'm concerned, she's the only reason I'll be getting or keeping a Disney+ subscription. There's a lot to unpack with this announcement. I doubt I'll cover all of it here, but for now, I'd like to take some time to articulate the extent of my excitement.
To that end, I'd like to share five things I hope to see in this upcoming series. Kamala Khan is one of those characters who can capture the heart, soul, and spirit of the superhero genre. Her entry into the Marvel Cinematic Universe couldn't be better. These are just some of the things that could make it even more marvelous.
---
Number 1: The (Many) Quirks That Make Kamala Khan Lovable Any TV show, comic book, movie, or video game involving Kamala Khan must make its first priority to capture the essence of what makes her so endearing. Being a superhero is only small part of her overall story. What makes Kamala great is the many little things that define who she is.
She's not just a teenager who gets superpowers and decides to start fighting criminals. She's a self-professed fangirl. She loves playing video games, eating gyros, and writing fan fiction. These quirks are small, but numerous. They're real things that people in the real world can relate to. That makes it easy to understand and appreciate her passions.
When I first read about Kamala in "Ms. Marvel #1," I immediately grew to like her. She came off as the kind of girl I would've been friends with in high school. She presents herself as someone who behaves how you would expect a teenage girl to behave in a world where superheroes existed. She has a good family, a good heart, and an adventurous spirit. How can you not love that?
She's also an outsider and not just because she's a Pakistani Muslim girl living in Jersey City. Like most teenagers, she's uncertain of her place in the world. She struggles with real issues, even before she gets superpowers. Those issues stay with her, even as she develops her superhero identity. It makes her easy to like and even easier to root for.
A TV show can't just focus on her beating up bad guys and making witty one-liners. Plenty of other superheroes already do that, some better than others. It has to highlight, if not belabor, the distinct traits that have helped make her one of Marvel's most successful female characters. There's a lot to love and with a TV show, there's plenty of room to explore it.
---
Number 2: Relatable Teenage Melodrama (Compounded By Being A Superhero)
Along with the traits that make Kamala Khan so lovable, there's also the unavoidable battle that is teenage melodrama. Everyone faces it. Superpowers don't make you immune to it. The last two Spider-Man movies have made that abundantly clear. A TV show provides more time and flexibility to flesh out that melodrama.
In the first few issues of Ms. Marvel's comic series, which I highly recommend, she deals with a lot of teen angst and uncertainty. In fact, that sentiment is the very thing that prompts her to defy her parents and sneak out at night to a party that would ultimately end with her getting superpowers. In a very literal sense, teenage melodrama helped make Ms. Marvel who she is.
She's not sure of where she fits in. She clashes with her parents. She argues with her friends. She also is starting to have feelings about other boys, which have made for some wonderfully sweet moments. She deals with all of this on top of being a superhero.
Like a young Peter Parker before her, these different aspects of her life often clash. One tends to undermine the other and it does plenty to overwhelm her at times. That often brings out the best in her and any TV show would be wise to present those moments.
---
Number 3: The Family And Supporting Cast That Help Make Her Who She Is
Like every major hero in the Marvel Cinematic Universe, Ms. Marvel's greatest strengths often stem from her supporting cast. Tony Stark wouldn't have achieved what he did without Pepper Potts. Carol Danvers wouldn't have accomplished what she did without Nick Fury and Goose the Cat. Kamala Khan is no different.
In "Ms. Marvel #1," we learn plenty about Kamala's supporting cast. She has two loving parents who tend to be overprotective of her. She has an uptight brother named Aamir, who tends to intrude into Kamala's personal life more than most siblings. She also has a friend/love interest in Bruno who had a front-row seat in seeing her become Ms. Marvel.
Each one of these characters helps shape Kamala into who she is, before and after she gets her powers. They support her, but they also complicate her efforts. While none of them have to die for her to be the hero she strives to be, they all make their on contributions to her story. In the same way Superman's parents guided his heroic journey, Kamala's friends and family informed hers.
Unlike Superman, Kamala endured a pretty rocky road to establishing herself. However, at no point did her creator, G. Willow Wilson, give the impression that her friends and family were just background decorations. They all care for her. They worry for her. They all want what's best for her, even when they're rarely on the same page.
A TV show featuring Kamala has to capture at least part of that family/friend dynamic. Even a fraction of Kamala Khan's supporting cast from the comics can do plenty to make for a rich, engaging TV show.
---
Number 4: The Struggles (And Triumphs) Of A Growing Hero
There's no getting around it. Kamala Khan screwed up more than once when she started off her superhero career in the comics. While she managed to save one life the first time she used her powers, she ended up getting shot the second time. Even before that, she struggled to master her powers in ways that were both understandable and hilarious.
It's a critical part of every superhero's journey. With new challenges come new struggles. Some of those struggles devolve into outright failures. Even the best heroes fail sometimes and Kamala had more than her share in the comics. Any TV show that tells the story of her journey cannot and should not gloss over those struggles.
With Kamala, however, the struggles matter even more than the triumphs. While many heroes may lament at their failure, Kamala tends to get a lot more animated. She's passionate about what she does and has a tendency to wear those passions on her sleeve. It's part of what makes her lovable. It also reminds everyone that she's still a teenager. She's still growing and maturing.
One of the things I love most about Ms. Marvel comics is seeing her grow with each passing story. The first dozen issues had more growth for Kamala than the last 100 issues of Amazing Spider-Man. Along the way, there were missteps, heartbreaks, and victories. They all just made me want to root for Kamala even harder and if a TV show can accomplish that, it'll do plenty to justify a Disney+ subscription.
---
Number 5: A Vision For Young (Idealistic) Heroes In A World That Needs Them
From the beginning, Kamala Khan connected with fans like me because she radiated this ideal spirit that a lot of people once had in their youth. Time, age, and watching too much news has a way of crushing that idealism over time, but most of us still remember why it was so important to us.
As Ms. Marvel, Kamala carried herself as the kind of young, idealistic hero that many of Marvel's traditional heroes grew out of years ago. The comics, themselves, became jaded as the very act of heroism gained major complications, both from events within the stories and influences from the real world. That's part of what made Kamala a breath of fresh air.
She might be young, naïve, and impressionable, but she's also exactly what we need right now. The MCU just suffered some devastating losses. The world, as a whole, is still recovering from the events of "Avengers: Endgame." This world still needs heroes. Even though it still has plenty, it doesn't have someone like Ms. Marvel.
She can be the hero that emerges from the chaos of this broken world and shows what dedicated heroes can accomplish. She can show everyone that, even in the face of heavy losses and broken hearts, there's a place for pure, uncorrupted heroics. You don't need to be a billionaire playboy genius philanthropist, either. You can just be a teenage Pakistani American girl from Jersey city.
---
I cannot overstate how excited I am for Ms. Marvel to get her own show. I imagine I'll be writing about it a lot once it comes out. There's a lot I hope to see for this show, the comics, and the MCU. If Marvel Studios can capture even a fraction of what makes Ms. Marvel great, then the future of that world and ours will be that much brighter.