There are certain people who just love giving advice, but overestimate the quality of that advice. Usually, their heart is in the right place. They genuinely believe they have something to offer and are willing to share it. Sincere or not, though, their advice doesn't always line up with their expertise.
When it comes to advice about something as expansive as sex, everyone likes to think they have a unique skill to offer. Ask anyone who isn't a priest, mullah, or monk and they'll claim to have the secret to a satisfying sex life, especially after a few beers. More often than not, those secrets are just a bland mixture of common sense and basic anatomy.
For the more advanced stuff, you need to find people who really do have expertise. When you want to learn more about building houses, you go to an architect. When you want to know about finances, you talk to a licensed accountant. Following that same logic, if you want advanced advice on sex, then you should consult a porn star.
No, that's not the basis of a dirty joke or a kinky anecdote. I'm as serious as a rug burn on a newlywed's honeymoon. A satisfying sex life is a major ingredient to a satisfying life, in general. It's also the kind of advice that's more than a little awkward to get from your parents or family members. As such, porn stars are uniquely qualified to help.
Granted, porno sex and actual sex are as different as drag racing and your typical morning commute. Sure, porn can be a great way to spice things up, as can reading sexy novels. It shouldn't be your sexual baseline any more than Ron Jeremy should be the baseline for penis size.
Even if porn is essentially a Photoshopped version of sex, those involve have more experience with sex than 99 percent of us ever will. You don't have that much experience without gaining some level of expertise. That's why I've compiled a few tips from famous porn stars, courtesy of the fine folks at Women's Health Magazine and Maxim.
Beyond the advice, I'd also like to highlight its merits. Porn stars may engage in the kind of sex that most people without fake tits or a nine-inch cock can only dream of, but experience is experience. That's why their advice should carry more weight than most.
---
Porn Star Sex Tip #1: Alternate Between Foreplay And Intercourse
This one comes courtesy of Jessica Drake, a veteran porn star that most men will claim not to know, but are definitely aware of. It's also my favorite sex tip ever and one I try to employ in my sexy novels at every turn.
I've already made my love of foreplay known, but it's one of those things that's worth belaboring. Using it in conjunction with all the juicier bits of sex makes for a potent combination. With it, the physical act of sex gains a whole new dimension.
It becomes intense, emotional, and even a little exhausting. A porn star knows all those things in their work, but it works just as well for ordinary people. A little sex here, followed by some foreplay, followed by some more sex, and followed by even more foreplay doesn't just mix it up. It turns up the heat, the energy, and everything else that goes into sex.
If you only follow one tip from one porn star, make it this one. You and your lover will be glad you did.
---
Porn Star Sex Tip #2: Talk Dirty
This is another one of those tips that uniquely appeals to aspiring erotica/romance writers. I kind of have to have my characters talk dirty in order to set the tone, build the passion, and create drama.
Porn stars have to use it too. It's how they keep a scene hot and sexy to improve the overall experience. Again, this comes from Jessica Drake, who is known to have as dirty a mouth as any porn star can claim. However, that kind of talk isn't relegated to porn stars and erotica/romance writers.
A big part of great sex involves communication. Talking dirty, while not the most refined form of conversation, helps convey your desires. Sure, it can get vulgar and crude at times, but that kind of rhetoric is uniquely appropriate for the bedroom. Also, crude and vulgar also tends to be blunt and easy to understand. It might just be the easiest way for lovers to communicate their desires so it makes sense to use it.
---
Porn Star Tip #3: Listen To EVERYTHING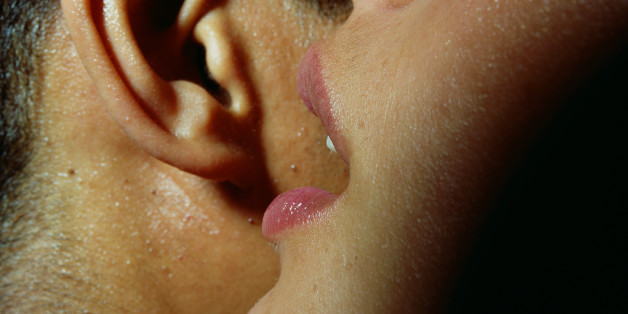 This tip is deceptively simple, but exceedingly important. It comes from a male porn star named Ryan Driller. You might not recognize the name, but if you've been on the internet for more than a year, you've probably seen his face or his penis. The man has acted in both straight and gay porn so he knows how to tend both sides of the field.
Unlike dirty talk, though, this kind of listening involves more than just getting the right moans out of your partner. When Ryan Driller says listen to everything, he means everything. That means listening to your partner's breathing, their heartbeat, and the way they react to every move you make.
Even with dirty talk, some people are going to struggle to convey their wants and needs in the bedroom. Sometimes, you have to be the one who listens to those subtle queues and make the most of them. Sure, it's more work, but the end result is a more satisfied partner who think you can read their mind. Is there any other kind of work that's more worth it?
---
Porn Star Tip #4: Make Your Lover Feel Desired
This is one of those sex tips that should be common sense, but is easy to forget in the heat of the moment. It's also another one of those tips that takes center stage in erotica/romance novels like mine. However, in the real world, that sentiment becomes an afterthought all too often.
This tip comes from Veronica Vain, who doesn't have the same pedigree as Jessica Drake, but still has enough experience to know the value of desire. Porn stars may make their living having crazy kinky sex with people they don't have any emotional connection with, but they still have feelings. They still share in basic concepts of desire.
Making your partner feel desired is another one of those things that takes work. Again, it's the kind of work that's worth doing. It gives depth and meaning behind the basic mechanics of sex. Put in that work and those actions become more than basic. The more desired your partner feels, the more they'll desire you. Everybody wins and has orgasms. That's as big a win-win as you'll ever get.
---
Porn Star Tip #5: Pay Attention To Your Needs
This is one more tip from Jessica Drake. Like I said, she has a lot of experience. As such, she has a lot of intimate wisdom to share. This is also a tip that most other porn stars tend to give, on and off the camera. Porn stars don't always get to prioritize their needs any more than a baker prioritizes theirs when they're making a cream pie. Actually, that might not be the best terminology for this discussion.
Whatever the case, the nature of a porn star's work means they know the value of their needs better than most. They also know that taking care of those needs can add to the spectacle, as many porn scenes and sexy novels. This is one of those tips that works as well in real life, as well as porn and novels.
Sure, it's important to put in the work, as I've stated with other tips. However, that doesn't mean doing all the work. Sex is supposed to be mutual. Sex that involves one person doing everything while the other just lays there is barely a step above masturbation.
Meeting your needs is an important part of sex, although it's not the only part. However, taking care of them helps ensure that everything else after that is just a bonus. When used in conjunction with the other tips, it can make for one hell of a bonus.