Whenever I talk about football, the NFL, and how much I love it, I usually do it to lighten the mood. Sure, sometimes football inspires talk of some less pleasant issues, but in general I try to avoid them and focus on the parts that make my Sundays so enjoyable.
Then, the real world has to come around and shit all over it, compelling me to talk about it when I'd rather be talking about my sexy novels or movies involving Sophie Turner and Jennifer Lawrence. I wish I could resist that temptation, but as many of the characters in my sexy novels can attest, that's not always possible.
Unless you were in a coma under a rock inside a cave on Mars, you probably heard about the mass protests conducted across the NFL last Sunday. What exactly were they protesting, you ask? Well, that's a hard question to answer and the fact that it's hard to answer is pretty telling, in and of itself.
Officially, the protests were a stand against social injustice and a response to some trash talk by some high-ranking government official whose name I refuse to say, primarily because I don't want to give him more attention than he deserves. Unofficially, it was the rhetorical equivalent of two colliding shit storms that only succeeded in creating a bigger storm.
There are many ways to protest injustice, corruption, and everything Gordon Gekko stands for. One of the perks of living in a relatively free society is that you get to attempt and experiment with a variety of ways. Sometimes petitioning works. Sometimes viral videos work. Sometimes just being Mr. Rogers and talking to people with unwavering kindness works.
Unfortunately, there are far more ways that fail instead of work. That's just the nature of the world we live in. What Colin Kapernick did last year and what multiple NFL teams did last week succeeded to the extent that it raised awareness. While awareness is an important part of the process, especially in the era of the attention economy, that doesn't mean that it achieved its goals.
More than anything else, it divided people within two tribes. In one, Colin Kapernick and the NFL are patriots in that they're protesting in the name of the justice that the flag and the national anthem stands for. In the other, Colin Kapernick and the NFL are self-absorbed, virtue signaling drama queens who are disrespecting a symbol that many brave Americans fought and died for.
These are two irreconcilable ideas that kill any substantive conversation. They're seeing the same picture, but interpreting it in wildly different ways. Instead of highlighting the egregious disparities in how the justice system treats certain minorities, it's now a discussion about who has the a more patriotic hard-on for all things American.
That begs and important question. Which interpretation is right and which side is wrong? Who can truly say they're being more patriotic than their counterparts? Well, here's where it gets tricky and where I'm probably going to upset both sides. Bear with me, though. I promise I'll try to inject some substance that both sides can use to further their cause.
First, I'll answer those two questions definitively. I don't expect everyone to agree with my answer, but I suspect I've already upset both sides already so I won't bother making excuses.
"Both sides BELIEVE they're true patriots. Both sides BELIEVE their opponents are anti-America. Neither side is inherently RIGHT, but BOTH are valid in their beliefs."
I know. It sounds like I'm talking out of both sides of my mouth and a little out of my ass. Ignoring the influence of my ass, here's where I'm certain I'll upset both sides of the debate.
Regardless of how patriotic you feel, the American flag and the national anthem are symbols. No matter how universal you think they are, symbols are always subject to interpretation and those interpretations are rarely, if ever, agreed upon by every person in a society. Just look at all the symbols whose meaning has wildly changed over the centuries.
It's because of this subjectivity that it's possible for two people to look at it and interpret extremely different messages. That's how one side can look at a flag and see the beauty of America. That's how another can look at a flag and see the ideals America stands for and realizing that the people haven't lived up to those ideals.
It seems impossible, but when you remember that irrational, tribal nature of the human species, it makes sense. In that context, the NFL and its players are patriots for telling Americans that they have not lived up to the ideals their flag stands for. The people booing them are patriots too for pointing out how they're disrespecting the symbols and traditions that bind society together.
In either case, both sides can't claim to be entirely objective. Those claiming that the NFL players are spoiled and using their positions of power to divide people probably wouldn't feel that way if they were protesting something they agreed with. Change the message and the context and suddenly, they're on the same side.
Again, it's an irreconcilable disagreement, as is often the case with such extreme tribalism. There's nothing either side can do to convince the other that they're the true patriots. It's a downright tragedy because racial injustice is an important issue if we want to improve as a society. Once it becomes a discussion about who is more patriotic, then the protests and outrage behind them no longer matters.
That finally leads me to the practical part of this article. If you're bummed out or frustrated at this point, then I thank you for sticking with me this long. I imagine some of you already hate my guts and think I'm trying to solicit money from George Soros and the Koch brothers.
I promise you I'm not doing this to win any favors with one particular political agenda. The suggestion I'm about to offer is being offered free of charge. Sure, I'll kindly request that you buy one of my books or make a donation, but I won't expect it. I'm still offering free insight into fixing a major problem.
With that said, and knowing that nobody in the NFL or their critics are listening, here's how you protest social injustice effectively. It can be accomplished in one easy step.
"Make the protest easy, fun, and rewarding to join."
I know that sounds easy on paper and for once, it kind of is. Granted, it's not the same kind of spectacle as Colin Kapernick's protest, but that's kind of the point. It shouldn't be that kind spectacle. It should be something else. Moreover, it should be fun.
The best example I've seen in recent years is the ice bucket challenge that briefly swept the nation a few years ago. For a brief time, celebrities and ordinary people alike participated in a fun show of solidarity that helped raise money for a worthy cause, namely the treatment of ALS.
It worked too. The ALS Association reported a record $3 million in donations because of this goofy ploy that was fun, easy, and entertaining to join. If it worked with ALS, why not racial injustice?
I'm not saying people should usurp the ice bucket part. I think the ALS folks have already branded that. Instead, protesting racial injustice should involve something different. Maybe it involves hugging someone, popping a balloon, or hitting yourself with a pie. It doesn't have to be big. It doesn't have to make sense. It just has to be fun, easy to join, and make people feel better about themselves.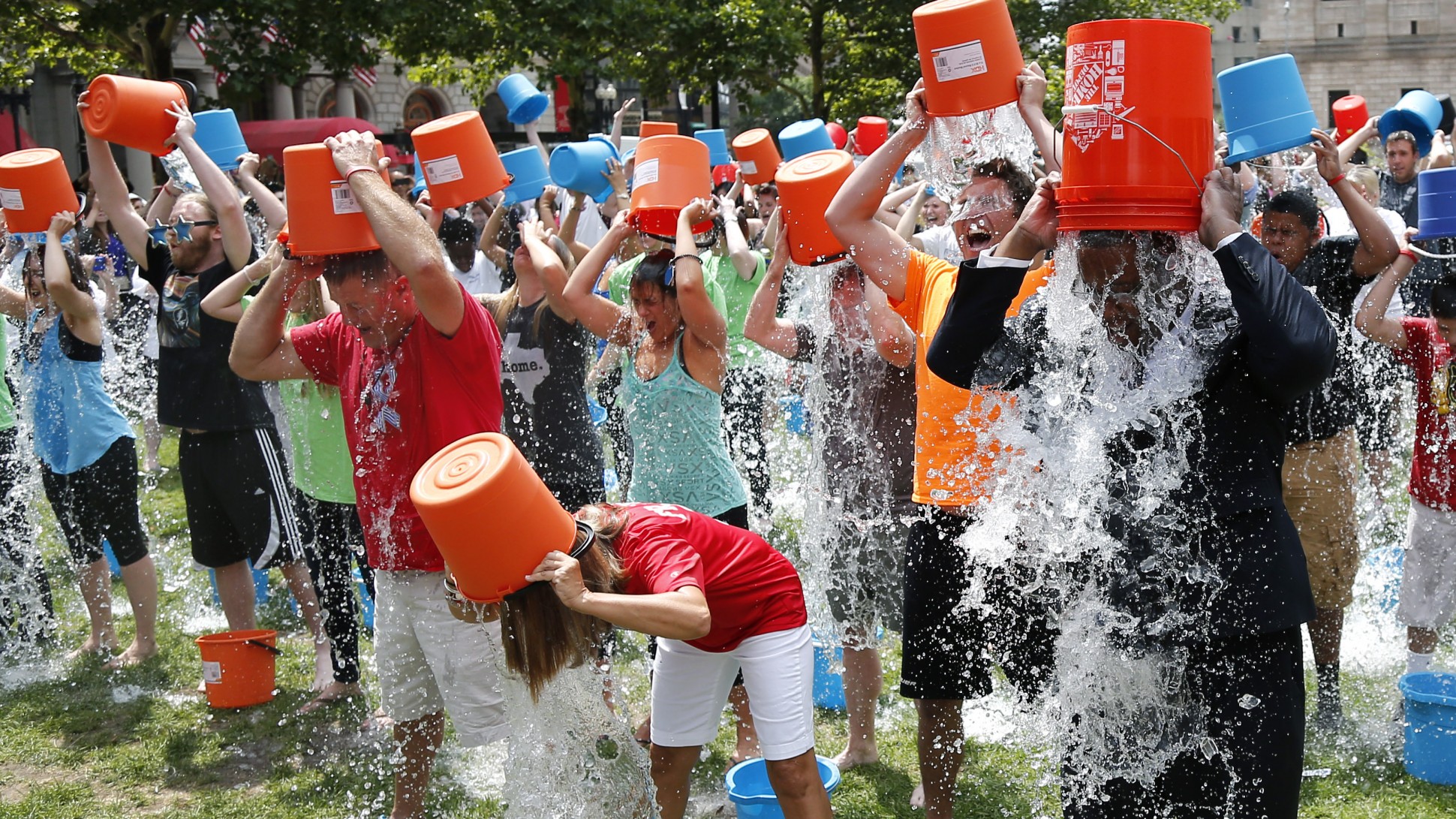 Think of it as a way to weaponize the power of virtue signaling, making people feel better about themselves by doing something inane. In this case, there would be some substance behind it. In addition to the inanity, there would be a donation to organizations like the ACLU, Big Brothers and Big Sisters, or The Sentencing Project. It doesn't have to be much, but if it's more than zero, it helps.
If Colin Kapernick had taken this route instead of protesting the national anthem, would he be the poster child for all that is wrong with professional athletes not named O.J. Simpson? I don't know, but it would attract more attention for the right reasons.
It would make his stand against racial injustice matter. It would get people to participate rather than remain numb or indifferent. Now that kneeling for the anthem has just become this never-ending argument about who's the real patriot, the protest no longer matters. However, I don't think it's too late to change that.