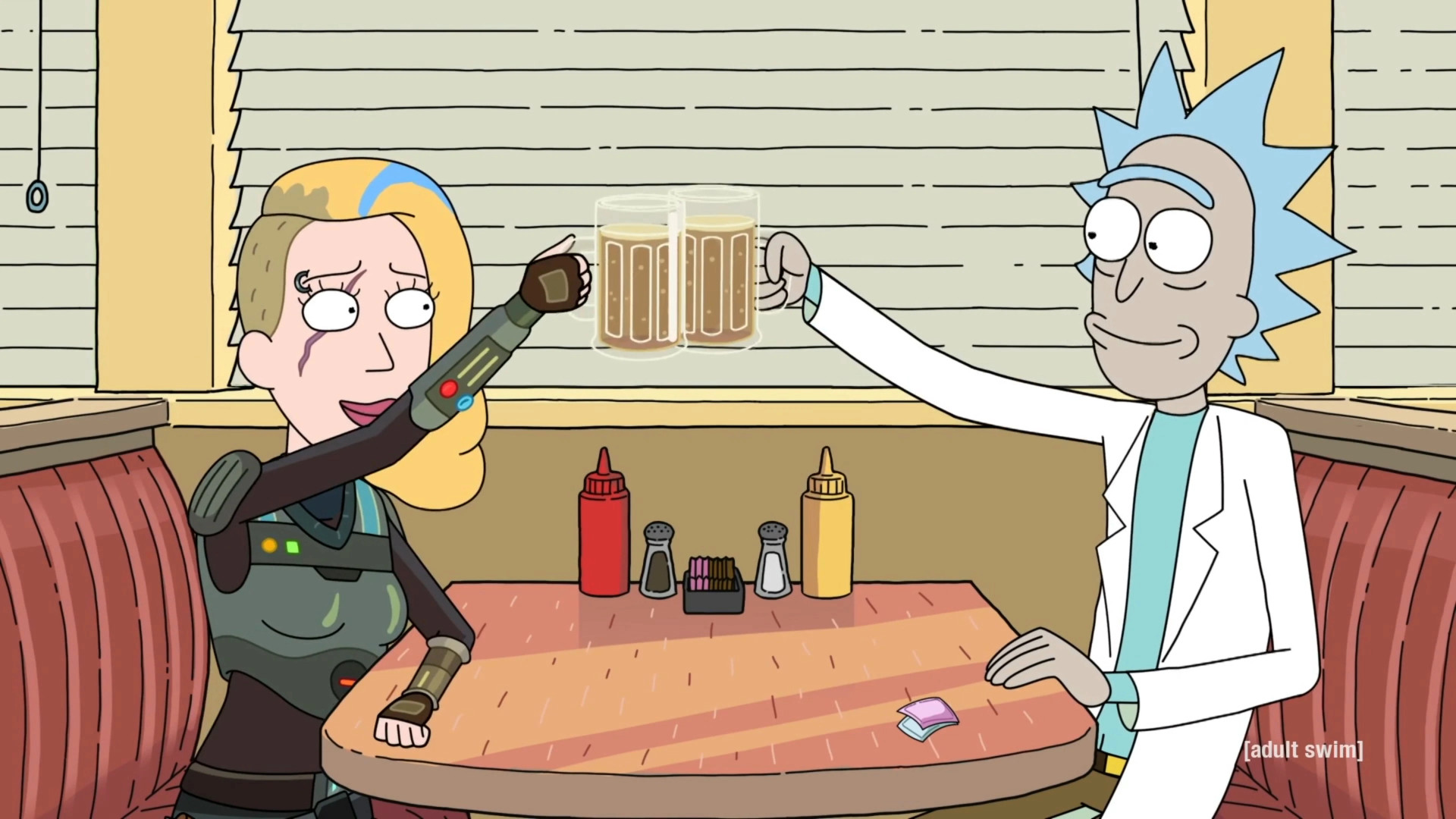 For any show, the difference between a good season finale and a great season finale isn't just how much it leaves you wanting more. It's making you want more and feel something more than impatience for new episodes. Most shows don't go that extra mile. They're content to just build a little excitement for the next season.
However, "Rick and Morty" isn't most shows. After four seasons, that's abundantly and hilariously clear.
Recently, the show aired its season 4 finale, "Star Mort: Rickturn of the Jerri." For a show that was delayed for so long, and subject to a lot of criticism for its fan base, it had a lot to live up to. It would've been easy for it to falter, given the current state of the world.
That didn't happen, though. This remarkable, quirky, eccentric show found a way to cap off season in a profoundly satisfying way. For a show that's raised the bar for a lot of things, from sci-fi tropes to fart jokes, that's saying something.
The synopsis of the episode has many moving parts. It starts with an invisibility belt and the return of Beth's clone from "The ABC's of Beth." From there, it quickly turns into a bloody brawl between Rick, his family, and a newly formed galactic federation, courtesy of Tammy and a rebuilt Bird Person. I won't spoil all the details. I'll just say that there's a lot of bloody brawls, spilled bear, and shameless promotion of wrangler jeans.
Trust me. That makes sense by "Rick and Morty" standards.
As a finale, it wasn't quite as groundbreaking as "The Wedding Squanchers," but it had a much more dramatic impact than "The Rickchurian Mortydate." It also helped that the episode built on the continuity established in previous seasons, namely "The ABC's of Beth." It took an open question as to whether Beth was a clone and turned it into a more complex story.
Personally, I had mixed feelings about this episode when it began. However, those feelings quickly changed as the episode unfolded. By the end, I felt like this episode and this season, as a whole, achieved something special. In the context of larger "Rick and Morty" lore, it gave new depth to the show and its characters.
More than anything else, the last few minutes of the episode furthers a trend that began at the end of Season 3. It was subtle for a while, but now it's very overt.
Rick Sanchez is losing control over his family.
By that, I don't mean he can't influence them. He's the smartest man in the multiverse. He literally has any number of methods for doing that. The issue here is that they no longer need him.
Since the show began, Rick has asserted himself as someone his family needs to some extent. Morty needs him to grow, both in terms of strength and capability. Beth needs him because she needs her father's approval. Jerry and Summer need him, by default, since Beth and Morty need him.
Control matters to Rick. It matters a lot. If he's not in total control of his world, then he can't handle it. He values being able to do anything at any time with his genius. Throughout the show, he demonstrates capabilities that are almost god-like. Hell, at one point in this season, he actually fights a god.
However, he can't do any of that to the degree he wants without maintaining control. This is perfectly demonstrated in the episode, "The Old Man and the Seat." It's an episode with a similar ending, in terms of tone. In that episode, Rick is left by himself, berated by other holograms of himself. He's sad, alone, and miserable. It's not quite as dark as the ending to "Auto Erotic Assimilation," but it sends the same message.
Rick Sanchez is not well.
He's broken, damaged, and flawed.
He's a terrible father, a bad friend, and hates himself.
He's miserable, despite being the smartest, most capable being in the universe.
He can manage all that through the connections he has with his family, on top of his copious alcohol consumption. However, as season 4 has unfolded, we see his family drifting further and further apart. It's not that they're pushing him away. They just make it clear that they don't need him. To Rick, that's even worse than being pushed away.
Whereas season 3 began with Rick having almost complete control over his family, Season 4 ends with him losing it. It raises an intriguing question.
What does Rick Sanchez do when nobody needs him anymore?
This episode even teased a distressing answer. Tammy points out that when Rick is alone, he's not a threat to anyone other than himself. Without Morty or his family, he's lacking and it shows in how much he gets his ass kicked. It hints that without his family, Rick Sanchez loses a part of himself that he can't replace, even with his genius and alcohol tolerance.
It'll be interesting to see if this trend continues in Season 5, whenever that may come. It'll also be interesting to see how it effects other dangling plot threads, namely Evil Morty. A more broken Rick Sanchez is sure to be a more dangerous and unstable Rick Sanchez. Given how big an asshole he can be at times, it's hard to sympathize with him. However, "Star Mort: Rickturn of the Jerri" managed to make us feel for him.
I'm already looking forward to the next season.
Until then, wubba lubba dub dub!