It's official now. Thanksgiving is over. The leftovers are mostly gone. That means for the next few weeks, the holiday spirit will revolve entirely around Christmas and Christmas-like festivities. There's no more complaining about seeing holiday decorations too early. At this point, the time is right to get into the swing of things.
Whether you celebrate it or not, there's no avoiding it. The season is upon us. We see it in commercials, holiday specials, holiday-themed food, and holiday music. By now, we've all probably heard Mariah Carey's "All I Want For Christmas Is You" at least a dozen times on the radio.
Without a doubt, Christmas is my favorite time of year. It always has been. As a kid, my family always did so many wonderful things around Christmas. Some of my fondest childhood memories took place around Christmas. As an adult, I found entirely new ways to make it memorable. I've every intention of keeping that tradition, especially once I find the love of my life.
Chief among those traditions is my approach to gift giving. Talk to anyone in my family and they'll tell you the same thing. When it comes to giving Christmas gifts, I go above and beyond. I'm not the kind of guy who will be cheap or thoughtless. I'm also not the kind of guy who puts in minimal effort, stuffing cheap crap into bags and slapping tags on it. I am willing to put extra time and money into holiday gift giving.
It doesn't matter if I'm buying for my parents, my siblings, my friends, or my nieces and nephews, who are all still kids. I make it a point to give them gifts that are special, memorable, and meaningful. From what I get into how I wrap them, I make sure every gift I give on the holidays conveys a sense of love and sincerity.
For that reason, and in hopes of inspiring others to go the extra mile this Christmas, I'd like to share my unofficial guide, of sorts, to gift giving on the holidays. It's not a science, but it's not some wild crap shoot either. You can give awesome gifts without being rich, psychic, or possessed by the spirit of Santa Claus.
These are simple tips and tricks that I've learned from years of successful gift giving. I sincerely hope they help enhance your holiday experience, both with respect to giving gifts and inspiring the right spirit for this time of year.
---
Tip #1: Be Proactive And Listen Along The Way
This may seem too obvious, but I'll say it anyways. When it comes to Christmas shopping, you don't want to procrastinate. I know that's easier said than done. I know there's a reason why people feel inclined to procrastinate. Given everything that goes on during the holidays, people have even more excuses.
However, this is one effort for which you really want to be proactive. That means planning or at least contemplating your gift giving schedule around Halloween. It may sound too early, but trust me. It pays off.
This past year, I began browsing Amazon, Ebay, and all the usual retail outlets around mid-October, putting together lists of potential gifts for loved ones. I didn't buy anything at that point. The idea wasn't to buy it all at once. That's actually not a good strategy. The best recourse, in my experience, is to have a long list of possible gifts. It's just a matter of selecting the right gift for the right person.
You won't always know that in mid-October. You might not even know that until mid-December. That's where the listening part comes in. As early as Labor Day, start listening to your friends and family. Get a sense for what they want or need. You don't have to be obvious. A little tact goes a long way.
Then, once Thanksgiving comes around and every major outlet starts throwing big sales, you already have a list of gifts to work with. Take advantage of those sales and you'll even save money in the process. There is literally no downside to being proactive during the holidays, which is why it's probably the most important tip I can give for the holidays.
---
Tip #2: Be Transparent With Loved Ones For Their Gifts (And Yours)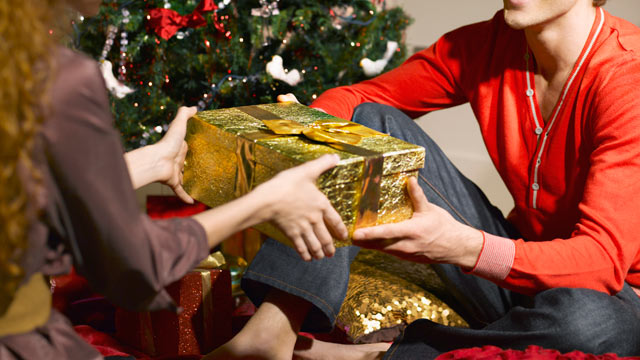 This tactic is a bit more subtle, but it pays off in the grand scheme of things. Sometimes, in order to glean what your loved ones want for Christmas, you have to start by letting them know what you want. Most of my friends and relatives agree. I'm very easy to shop for on the holidays.
That's not just because I maintain an Amazon Wish List and that most of my requests involve comics, video games, and accessories that rarely cost more than $50. I'm hope and honest about what I want them to get me. I'll go so far as to text them multiple links to items I want. When you're that easy to shop for, people are more willing to return the favor.
This has helped a great deal with loved ones who rarely give me any clues about what to get them. Some are just difficult to shop for because they claim to not want anything. Some are genuinely sincere about that. However, they know I'm still getting them something. It can either be just some random thing I guess on or something they can help make meaningful.
Sometimes, it takes a few years to get that sort of rapport with a loved one, but it's worth doing. Trust me. When you find that right gift for that someone and see their reaction, it makes the holidays that much more special.
---
Tip #3: Find Meaningful Gifts (Which Need Not Be Expensive)
This is another tip that seems logical, but is easier said than done. That whole notion that it's the thought that counts isn't completely wrong, but it still has some merit. Meaningful gifts are the best kind of gifts to get someone. It can have both sentimental and material value. If you really care about someone, you want this gift to send a message. Giving it meaning always helps.
Years ago, a friend of mine got his girlfriend an iPod mini. It was simple. It didn't seem that meaningful at first. Then, I found out he engraved a quote from his girlfriend's mother on the back. That quote made that gift more meaningful than anything else he could've given her. Needless to say, that was a memorable Christmas and my friend is still with that same woman.
Giving a gift greater meaning also doesn't mean buying something expensive. Some of the most meaningful gifts I've ever given cost less than $20, but they were extremely personal and they sent a message to the person I gave it to. They got that message loud and clear. Our Christmas was better because of it. You can put a price on a lot of things during the holidays, but you can't put a dollar value on genuine sentiment.
---
Tip #4: Know When (And How) A Gift Card Is Appropriate
This is a somewhat controversial topic among gift-giving circles. There's this notion that if you really care about someone, you never give them a gift card. Gift cards are great for birthdays or for people you can't always see very often, but there's a taboo with respect to giving them as a Christmas gift. I don't entirely agree with that.
In general, I don't give gift cards. I treat it as a last resort, but it's still an option. I just try to make it more than just a socking stuffer. You can give greater meaning to a gift card. One year, I included a gift card with a Christmas card that has a poem I wrote in it. That poem helped give greater value to the gift card. It made the gesture personal. It showed that I cared and it got the point across.
In the right circumstances, gift cards can totally work. When someone can't be there for the holidays or is still new to the family, as is often the case with in laws and extended family, a gift card can go a long way towards establishing a rapport. I find that it's a useful starting point with someone, but it shouldn't be the endpoint.
Personally, I hope the taboo surrounding gift cards fades in the coming years. With more and more shopping being done online, I think gift cards are a lot more practical today than they were when I was a kid. The rules surrounding them may change, but for now, a gift card should remain a last resort when shopping for a loved one.
---
Tip #5: Make A List (And Check It More Than Twice)
That old adage about Santa having a list and checking it twice isn't just a memorable song lyric. It's a very practical tool for keeping track of your holiday gift giving. I maintain a list on my phone that has everyone I buy a gift for, as well as some ideas on what to get them. I constantly update that list over the course of the year and I let people know when they're on it.
When the time comes to start buying, I use that list to track what I buy, who I buy it for, and how they react to it. This list, which can get a little bloated at times, acts as both a reference and a guide onto how I perform every Christmas. Given the size of my family and the amount of gifts I buy, it helps to keep track of who gets what. It also helps to identify a certain trend in terms of what certain loved ones like.
Over the years, those trends have helped me refine my gift giving skills for certain people. I learn their tastes. I learn what makes a gift meaningful to them. Most importantly, I keep track of it. Don't expect to remember all these little quirks over the course of a year.
Keep a list. Check it constantly, especially around mid-November. It'll ensure you know what to look for and who to get it for when the time comes. It also acts as a way of noting ideas that come to you for certain people. On more than one occasion, I'll randomly see something online or in a store that I know someone would love for Christmas. I make a note of it and it pays off in the long run.
---
I hope this helps everyone in their gift giving efforts this season. As I write this, I'm proud to say my shopping is done. I have my presents ready and wrapped for my loved ones. I look forward to seeing their reactions on Christmas morning. I hope everyone else can enjoy a similar holiday experience.