Last year, I explored the idea of children being raised by intelligent robots. For the most part, it was a thought experiment. I approached it in the context of a technology that won't be implemented anytime soon. Robotics technology hasn't advanced to the point where it can properly mimic human-like behaviors, although Boston Dynamics is getting pretty damn close.
We also don't have an artificial intelligence that could properly mirror human levels of intelligence, let alone basic parenting skills. Even when our technology gets to that level, it'll probably still be a while before people start trusting it with children. Most people today probably recoil at the idea of a robot raising their kids, even if it were programmed with all the best parenting skills.
I tend to share that sentiment. While I'm generally of the opinion that technology will be a net positive, even for something as potentially dangerous as artificial intelligence, the idea of any non-human system raising kids just doesn't seem workable. Recently, I've had to reassess that notion.
Over the past couple years, some close friends and relatives of mine welcomed their first children into the world. I've been lucky enough to share in some of these monumental moments. I've watched these kids grow from newborn infants into adorable toddlers. Some already know me as their awesome uncle.
While I could spend all day describing how adorable they are, I've noticed something remarkable in their growth that no generation before them has experienced before. It has to do with the way in which they interact with technology. I would even argue it's gone a step further than basic interaction. It's almost a bond at this point.
I first noticed when I saw a kid who wasn't even two-years-old use his mother's smartphone. Granted, he didn't use it to do anything too fancy, but he was able to open apps, interact with icons, and do more than just put it in his mouth, which counted as a major feat for him.
He wasn't the only one, either. You don't have to look far to see videos of infants using tablets. Some use it better than others. I've met some who use it better than many adults. If you need further proof, check out this video of a two-year-old operating an iPad back in 2010.
Not surprisingly, this has already caused concerns among parents, teachers, and doctors. There is genuine, legitimate concern about what these devices are doing to the minds of young children. While the research on this impact is still ongoing and inconclusive, the proverbial genie is out of the bottle. These devices exist, kids are using them, and they're using them quite well.
I believe this has implications beyond causing yet another moral panic about how strange new technology affects children. Make no mistake. There will be a moral panic. I know because I lived through something similar when I was a kid.
Back then, the big fear was about television. Parents, teachers, and doctors were genuinely concerned about all the time kids were spending watching TV. Some went so far as to claim that they were letting TV raise their kids. I question whether these people understood how a TV worked.
Television is an entirely passive technology. You turn it on, pick a channel, and that's all you can control. Until recently, it wasn't very interactive. As a kid, I just saw it as another form of entertainment, like comic books, video games, and sports. These tablets that kids are using now are considerably different.
These aren't devices that just flash colorful images in front of a kid to entertain them. Kids actually interact with these things. They can guide and manipulate what happens on the screen. Many tablets offer applications specifically tailored for children and can be valuable learning tools. A TV show can only do so much to teach a kid skills. An interactive application can do so much more.
At the moment, most of these applications are basically interactive games. Once artificial intelligence enters the equation, the potential changes considerably. Robot pets are becoming more sophisticated, operating on a level that makes it easier to establish a genuine bond with them. The same goes for virtual assistants. They were once a novelty. Now, they're a mundane feature of most gadgets.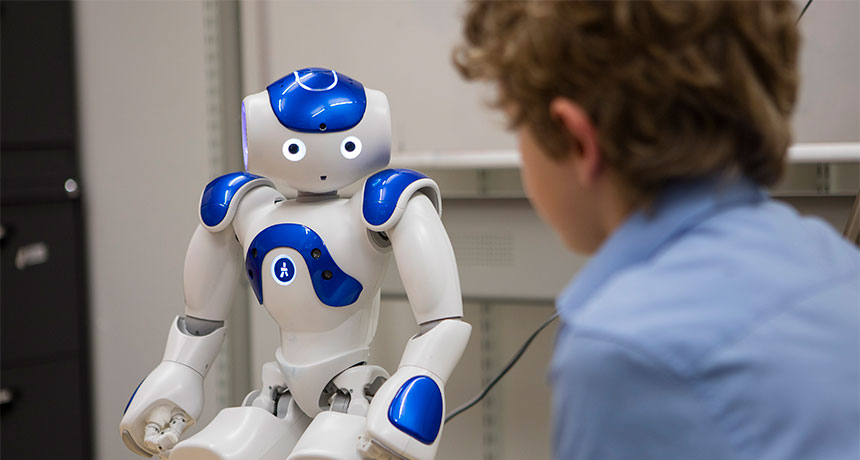 The kids being born today are entering a world where these same assistants are growing alongside them. They're getting smarter with each passing day. At some point, they may become a more trustworthy source of information for kids than parents. Given the tendency of parents to lie to their kids, even if it's for their own good, this could be a game-changer for kids and parents alike.
Going back to some of the kids in my own family, I've seen signs of this change. Some kids get genuinely upset when you take a tablet or smartphone away from them. They'll react stronger than they would if someone took a treat or toy away from them. It gives the impression that these devices aren't just toys to them. They're something so much greater.
That has potential benefits and drawbacks. In terms of benefits, these devices and the applications they utilize could help children learn faster and more effectively at young ages. Just being able to effectively utilize a smartphone or tablet is a useful skill in almost any profession. A kid who literally grew up with this technology is going to have an edge over their elders in that respect.
There will still be costs. Kids who grow up around these devices and the connected world they link to could be prone to less-than-positive influences. They'll be surrounded by the forces of outrage culture, online harassment, fake news, and professional trolls. It's hard enough for adults to deal with these kinds of issues. For young kids who grew up in this system, it could be even harder.
At the moment, there are too many unknowns. One way or another, this technology exists and kids as young as one are capable of using it. They're growing up with it. They're bonding with it. The same goes for the technology itself. As it evolves and advances, it may get to a point where it's a greater authority figure than any parent. At that point, robots raising kids might seem entirely natural.
I don't claim to know how it will play out. At times, I do worry about the kids in my family or the kids I may have at some point in my life. However, I still tend to be optimistic about how this technology will impact kids. As scary as it may be to think about technology raising kids, let's not forget that there are still plenty of dumb parents out there whose kids can only benefit from this.