How does anyone go about meeting impossible expectations for an iconic mythos with an insanely passionate fan base? Hollywood may be in the business of delivering fantasy on a scale that defies imagination, from talking animals to snakes on a plane, but even movie magic has its limits.
That brings me to "Star Wars: The Last Jedi," by far, the most anticipated movie of 2017. It's predecessor, "Star Wars: the Force Awakens," kick-started a new trilogy on the foundation of the first one. Granted, it did so in a way that was very safe, very measured, and extremely low-risk. However, by all accounts, it worked.
With "Star Wars: The Last Jedi," that approach just isn't viable. The story set up in "Star Wars: the Force Awakens," as well as the inherent differences in the characters involved, requires that there be at least some degree of novelty in this movie. The key is not pushing it beyond the point where it loses the magic that makes "Star Wars" special.
Before I try to judge just how much or how little "Star Wars: The Last Jedi" stayed on target, to so speak, there's one point I want to make before I go any further. It's probably the most important point for anyone assessing this movie, especially in the context of its iconic predecessors.
"Star Wars: The Last Jedi" is a GOOD movie.
I'm okay saying that with a straight face because by the standards of story, plot, spectacle, drama, heart, and emotional impact, this movie checks all the right boxes. It has so many powerful elements to go alongside its epic, sci-fi backdrop. There are memorable moments, iconic characters, and scenes that'll brighten your day.
There are times when the movie gets your heart racing, regardless of whether this is your first "Star Wars" or you've watched "The Empire Strikes Back" a million times. There are also times when the movie drags, but with "Star Wars," there's a grading curve the size of 15 parsecs. Those high standards are bound to skew any review of "Star Wars: The Last Jedi."
While I'm willing to call this movie good, if not great, by those lofty standards, I still won't put it in the same category as the original trilogy. I wouldn't put it in the same category as the Jar Jar-fueled failure that was "The Phantom Menace," either. This movie dares to be much more ambitious than "Star Wars: the Force Awakens" and that's a good thing. Its ability to realize this ambition, however, is a very different story.
The movie hits the ground running. Like "The Empire Strikes Back," this movie puts the Resistance led by Princess Leia in the same dire position we saw the Rebel Alliance in the original trilogy. Even though they scored a major victory at the end of "Star Wars: the Force Awakens," it didn't stop the First Order from continuing their ascent.
For much of "Star Wars: The Last Jedi," the Resistance is on the ropes and on the brink of annihilation. Every moment counts from the moment the iconic screen crawl ends. There's always a sense of action and tension. It makes clear from the beginning that this is the kind of movie where you'll want to push your bladder capacity to the max.
This makes the movie exciting at every turn. It's even exhausting, at times. However, it's definitely a strength. When there are epic space battles, secret missions, and tense moments between characters, that strength only grows in terms of scope and scale. If you like adrenaline in your movies, "Star Wars: The Last Jedi" is basically made for you.
Usually, that kind of action comes at the cost of character development. Remarkably, this movie manages to avoid that. The respective stories of Rey, Finn, and Poe Dameron each continue in their own unique way. They each carry with them a great deal of importance for the overall story and they all come off as characters who are easy to root for and love.
Some do far better than others. Poe Dameron definitely benefits most from having more face time in this movie. Unlike "Star Wars: the Force Awakens," he has much more influence over the direction of the plot. He stands in stark contrast to everyone around him, from Finn to Princess Leia. If there were a Poe Dameron fan club, then this movie would be their favorite, by default.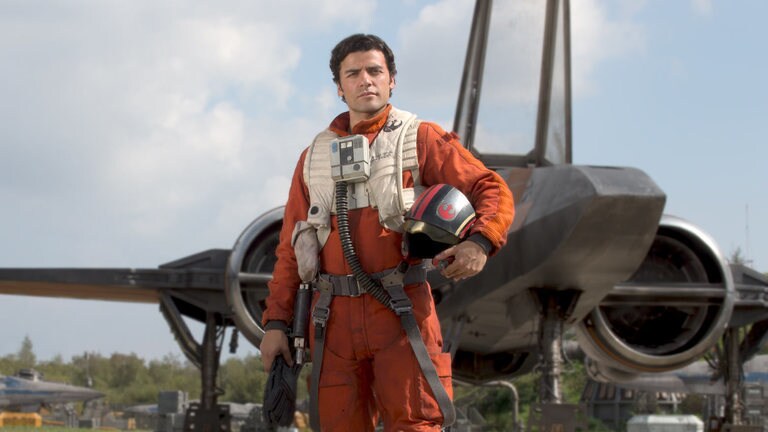 The other characters shine in their own ways, as well. Finn's story is compelling in that it picks up where he left off. He's still very much a reluctant participant in this conflict, much like Han Solo before him. He has his share of opportunities to run from or confront his past. His struggles in making those decisions help strengthen his character even more.
With Rey, though, it's a bit more complicated. In fact, I would go so far as to say that "Star Wars: The Last Jedi" made it much harder for her to establish herself as an icon within the "Star Wars" mythos. The mystery of where she came from, who her parents are, and why she's so strong in the Force really fall flat. However, she still finds plenty of ways to be compelling.
This brings me to parts of "Star Wars: The Last Jedi" that I think fell flat. I won't say they didn't work completely, if only because nobody like Jar Jar showed up. However, there are flaws in this movie that keep it from achieving the kind of iconic status of its predecessors.
If this movie has a major flaw, it has to do with how it handles Kylo Ren and Supreme Leader Snoke. These two were set up in "Star Wars: the Force Awakens" to be the new version of Darth Vader and Emperor Palpatine. However, the way their story plays out is very different and not necessarily in a good way.
Part of what made Darth Vader such an iconic villain was how far he fell to the dark side and how he managed to fight back, despite Emperor Palpatine's influence. It's clear that Kylo Ren is on a similar dark path, but there's never an explanation as to how Supreme Leader Snoke corrupted him. There's not even a sense of who Snoke is and why he reached out to Kylo Ren in the first place.
That lack of context makes many of the events surrounding Kylo Ren seem somewhat empty. He makes clear that he's on a dark path and he wants to pursue that path to the utmost. Rey, in her need to see the light, tries to connect with him. It helps make for some of the most dramatic moments in the entire movie. However, without a greater context, they don't have the kind of impact that made "The Empire Strikes Back" so great.
That still doesn't stop Kylo Ren from stealing the show in his own way. Towards the end, he ends up going much further than Darth Vader or any Sith ever dared. More than anything else, "Star Wars: The Last Jedi" establishes Kylo Ren as the ultimate adversary for Rey, the Resistance, and the entire galaxy. There's no redemption for him. There's no chance he'll come back to the light. Even Princess Leia acknowledged that.
It's a huge departure and a very different direction that is somewhat new to the "Star Wars" mythos. Some fans may see that as a bad thing. Others may see it as a good thing. Personally, I think it's good because it clearly sets this trilogy apart from the others. It makes clear that this trilogy is not going to follow the same patterns as the others. That's exciting in some ways, but jarring in others.
Overall, I consider that approach a net positive for "Star Wars: The Last Jedi." There are a few other minor flaws. Some of the newer characters, like Rose Tico, don't really do much to endear themselves to the audience. They don't pull a Jar Jar, though, and completely derail the story, either.
There's a lot more that could be said about the flaws "Star Wars: The Last Jedi," but those flaws are petty in the sense that they stem from the simple truth that this movie is not "The Empire Strikes Back." Those expecting it to be that way are setting themselves up for disappointment. Those expecting similar themes will be disappointed too.
"Star Wars: The Last Jedi" doesn't try to be "The Empire Strikes Back" and that's a good thing. It tries to succeed in its own unique way and by most measures, it succeeds. The movie never drags. It never gets confusing or chaotic. Every story and sub-plot manages to come together in a fairly concise manner. It has polish and focus, as well as moments that are just pure fan service.
Again, this movie is not going to be as iconic as "The Empire Strikes Back" and that's worth belaboring because, if some of the fan reactions to this movie are any indication, that's what a lot of people were hoping for. Unlike "Star Wars: the Force Awakens," this movie took chances and dared to do something different. In terms of expanding the breadth of the "Star Wars" mythos, those chances paid off.
More than anything else, though, "Star Wars: The Last Jedi" establishes the importance of maintaining hope in the face of the most dire situations. So much of this movie is spent with the good guys on the brink of defeat. At times, it seems as though they're just delaying the inevitable. That makes the hope they inspire that much more special.
That's what makes "Star Wars: The Last Jedi" a great movie experience. It doesn't just expand the story of an iconic mythos. It does it in a way that inspires hope. Given how fragile hope often is in the real world in the face of some pretty grim headlines, that kind of hope is more important than ever.