As a general rule, I try to stay away from overblown media outrages. It's not that I don't have an opinion on them. It's just that in my experience, peoples' attention spans are so damn short and their outrage is so damn selective that it's just not worth the time. I'd much rather dedicate my energy to something more productive, like writing novels that make men and women horny for all the right reasons.
However, there are certain outrages that I feel obliged to address. If said outrage involves comic books, superheroes, and people who whine about insanely petty issues, then I'm going to make my opinion known. I love comic books and superheroes. I hope I've made that abundantly clear on this blog. I'll continue belaboring that love for as long as I must.
So when someone decides to throw a hissy fit that gives comic book fans like me a migraine, I'm going to take notice and I'm going to have an opinion, especially if said hissy fit involves something petty.
So what has people whining, bitching, and moaning at superhuman levels this time? Well, it all has to do with a comic book cover for an upcoming series called "Invincible Iron Man."
It's not actually the main cover for the book. It's what we in the comic world call a variant, meaning there's only so much that are printed. They're basically a gimmick for comic collectors and since they can be pretty damn awesome, most comic book fans don't mind. I certainly don't.
This one in particular is actually a variant cover exclusive by J. Scott Campbell, a very talented and highly respected artist among comic book fans. This one was actually done for Midtown Comics, a premier comic book store in New York City that I make it a point to visit every time I go there. So of course it's special and of course it's going to carry more weight than others.
So what's the controversy? Well, before I reveal that, let me show you the cover. If you can immediately spot the outrage, then I think you're already part of the problem so this blog post won't affect you. If not, then bear with me because it's going to get even pettier than you think.
Not bad, right? Good colors, good lines, and a generally upbeat tone. It depicts Riri Williams, a young African American woman who will be taking the role of Iron Man for a while. Those of you who only know Iron Man from Robert Downy Junior's depiction in the Avenger movies may be confused. Trust me, it's actually more confusing than you think.
I won't get into the reasons why someone else is taking over Iron Man. I'll just note that this happens a lot in comics. Every now and then, an established character will either die or go MIA for a while so someone else can take up the mantle. It's been happening a lot lately because Marvel has been seeking more diversity in its heroes.
Riri Williams is hardly the first. Last year, they did the same with Wolverine. The former Wolverine in the comics died and was replaced by his clone/daughter, Laura Kinney. By and large, it was a success. It generated little to no controversy. Even comic book fans shrugged it off. Who better to take over for Wolverine than his own daughter? It's a beautiful thing.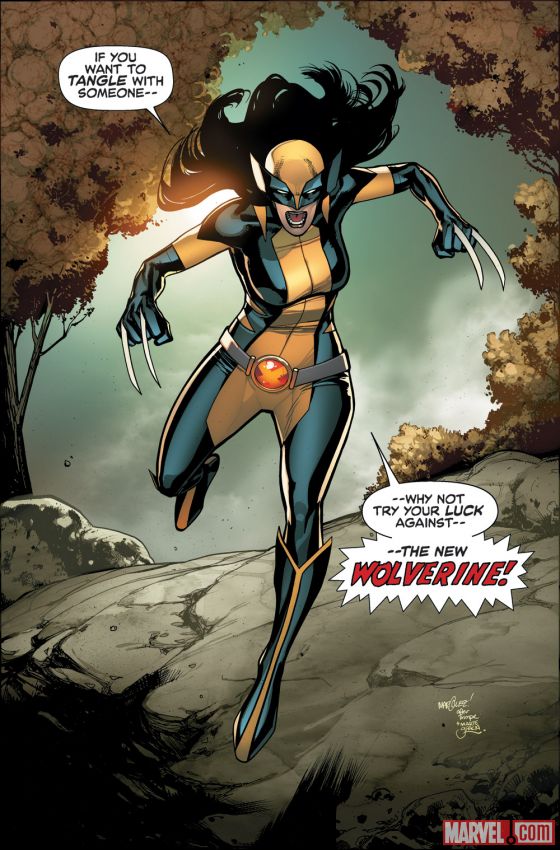 So what's up with this cover surrounding Riri Williams? On the surface, it's the kind of cover that appeals to comic book fans who want a simple, visually appealing hook for a comic. It's a visual medium, after all. Shouldn't it be pretty to look at?
For some people, being pretty is some horrible affront to all that is good and just in the world. How is it terrible unjust? Just look at the cover again. Look at how sexualized it is. No seriously, look at it. Is this piece of artwork really so overtly sexual that a generation of children will be scarred for life by seeing it?
I try to be fair and understanding in all major controversies. I really do. This time, however, I have to fight the urge to bang my head against a brick wall. Is this what really qualifies as being too sexual lately? Is this comic book cover, in an era where the hardest of hardcore porn is available with a simple google search, just too damn sexy for public consumption?
Sadly, enough people whined about it to prompt Marvel to pull the cover from the market. It's a victory for those who are so fragile, so weak, and so petty that they can't stand the idea of any form of media being the least bit sexy. For anyone who is just a fan adding more beauty to this deranged world, it's the equivalent of a tequila hangover.
This isn't the first time people have lost their shit over a comic book cover being too sexy. A few years ago, those same puritanical, overly petty types lost their shit over this cover for Spider-Woman #1.
That cover is by Milo Manara, an artist with a history of creating artwork that is overtly pornographic. Is it the best style for a superhero comic that's marketed to adults and kids? Probably not. At the very least, there's some merit behind the outrage here. It doesn't take an overly petty person to look at this cover and see that it takes too much inspiration from Nikki Manaj videos.
Again though, how petty do you have to be to think Riri Williams in this cover is too sexual? Yeah, she's a teenager and she shows off her mid-drift. News flash people, teenagers dress like that. Anybody remember Madonna? She was a teenager at some point too a million years ago and she dressed like this.
Have we really regressed that much since the 1980s? Are we really returning to a time when a woman exposing her mid-drift is on the same level as flashing her tits at a bus full of kindergartners? I know outrage is usually selective and petty to some degree, but this is a world of internet porn and Honey Boo Boo. I think that kind of pettiness is obsolete.
Again, here's the cover one last time. Again, this is Riri Williams, a young African American woman who is about to become a superhero. Look at it closely.
She's not wearing a thong. She's not wearing a bikini. She's not even wearing a dress for crying out loud. She's just wearing what you'll probably see high school kids wear around the beach, a mall, or anywhere they want to show off how many sit-ups they've done. If J. Scott Campbell wanted to make an overly sexy cover, there are many other ways he could've done it.
Except he didn't. Some may argue that Riri's bodily proportions are wrong and unrealistic. Some would much rather have her look like someone we would probably ignore if she walked into a coffee shop in New York. These are the same people who don't seem to mind Photoshop being used on fashion magazines or breast implants being used by porn stars. Once again, they have to be extremely petty and selective with their outrage.
I can stand people being petty. I can stand people being outraged over dumb shit. We're a flawed species. We're bound to act stupid for obscenely stupid reasons. However, when that stupidity is given credibility, I have a problem with it. I doubt this will be the last such problem, but it sets a sad and dangerous precedent. It means that those who whine and complain loud enough will have their childish arguments taken seriously.
We don't take children seriously when they whine about not being able to eat candy for dinner every day. Why should we take them seriously with this? Trick question. We shouldn't.