Some shows have one particular episode that you can watch again and again while still enjoying it. Great shows have multiple episodes like that. By that measure, "Daria" is greater than most. Even by the standards of late 90s animation, the show stands out in so many ways. It's one of those rare shows that has aged remarkably well and feels more relevant now than when it originally aired.
I've already praised "Daria" for its unique approach to shedding a critical light on a world full of lies, half-truths, and fake news. I've even singled out a single episode for how the show handled a sensitive issue like mental health. These are issues that have only become more relevant since the show went off the air.
In that same spirit, I'd like to highlight another episode from the show that highlights another major issue. It also happens to be my favorite episode and the one I've probably re-watched the most. That episode is "Lucky Strike," the sixth episode of the fifth season. On top of being one of the funniest episodes of the series, it also has some of the shows best moments while still tackling a major issue.
The issue, this time around, is education. It might not be the kind of a hot-button issue that makes for major headlines, but it's still as relevant as ever, especially if we're referring to the American education system. It's not hard to find stories about just how bad it is, especially when compared to how other industrialized countries do it.
It was a big deal in the 90s and early 2000s, as well. Fittingly enough, this episode aired just a few months before the passage of the No Child Left Behind Act, which has been the cornerstone of the American education system. While reasonable people can debate how well it has or hasn't worked, "Daria" has already made one of the most effective arguments about what constitutes good education.
The premise of the episode begins with a teacher strike, an issue that has become distressingly common in recent years. Lawndale High's notoriously uptight principal, Angela Li, short-changes a group of teachers who are underpaid, under-appreciated, and have to deal with uninterested idiots like Kevin Thompson and Brittney Taylor. By any measure, they have a very good reason to strike.
Never one to concede defeat or express genuine concern for student aptitude, she keeps the school running by hiring substitute teachers, some of which demonstrate limited qualifications at best. One even showed an overtly creepy attraction with one of the female students. This leads to Daria getting roped into teaching a class.
As it just so happens, the class she's teaching is the same class that her sister and unapologetic popularity whore, Quinn, is in. Given how Quinn has spent almost the entire series denying she's even related to Daria, it's a great opportunity to make things awkward. Daria makes more than a few quips about it in her own wonderfully misanthropic way.
However, when it comes to actually teaching the class, Daria does something that sets herself apart from most substitutes. Even if she's only doing it to mess with her sister, she takes her role seriously. She shows a genuine desire to teach, but she doesn't use the same approach as the rest of her teachers. She utilizes her own unique way.
It helps that the class is an English class. Daria is a voracious reader. That is established in the first episodes of the series and belabored on multiple occasions. It also helps that the assignment is simple. The class is reading Romeo and Juliet, a story that almost every high school English class reads at some point. In terms of substitute teacher gigs, it's as standard as it comes.
I remember reading this play in high school as well. I don't remember it fondly, though. In class, we would just read through each act, do a few assignments in a textbook, and take a test at the end. Most of the time, the test involved multiple choice or short answer. There were only right and wrong answers. That was really all there was to it.
Daria's approach is different. Daria doesn't just teach from a textbook. She has the students read the play, but not so they can get the answers for an assignment. She takes the time to help them appreciate it. When one of her air-headed students doesn't appreciate a particular part, she helps put it into a more relevant context. It doesn't just work. It makes the story feel like something other than an assignment.
It's an approach that anyone who loathes standardized tests can appreciate. I've made my disdain for standardized tests known before, but it's not a personal peeve on my part. There is legitimate research that indicates that standardized testing is not a good way to educate kids.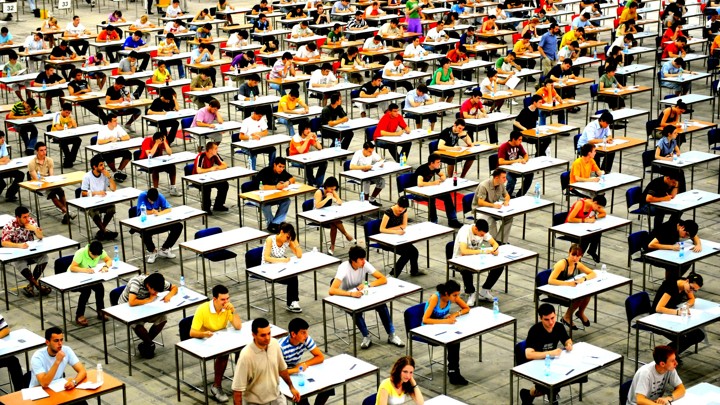 Teaching kids to take a test is not the same as teaching. They're learning how to memorize answers for a test. That's not real learning. You can memorize all the answers for a particular test, but not know why those answers are correct. For someone like Daria Morgendorffer, who places a high value on thinking for yourself, this approach just doesn't work for her.
For everyone else, the test is the only thing that matters. For the always-superficial Quinn, that's her primary concern. She laments about how her sister might screw her over or worse, undermine her popularity. It's such a burden that actually reading the play and knowing what it's about barely registers.
Then, in one of Daria's finest moments, she further deviates from the traditional educational model and gives her class a simple essay test. There's no multiple choice or short answer. She just gives them a simple question.
What is Romeo and Juliet about?
That's it. The only requirement is that they write at least 250 words and support their answer. For those who didn't care enough to read the play, like Quinn's equally-superficial posse, the Fashion Club, it's the worst possible scenario. For Quinn, who actually read the play, it was easy.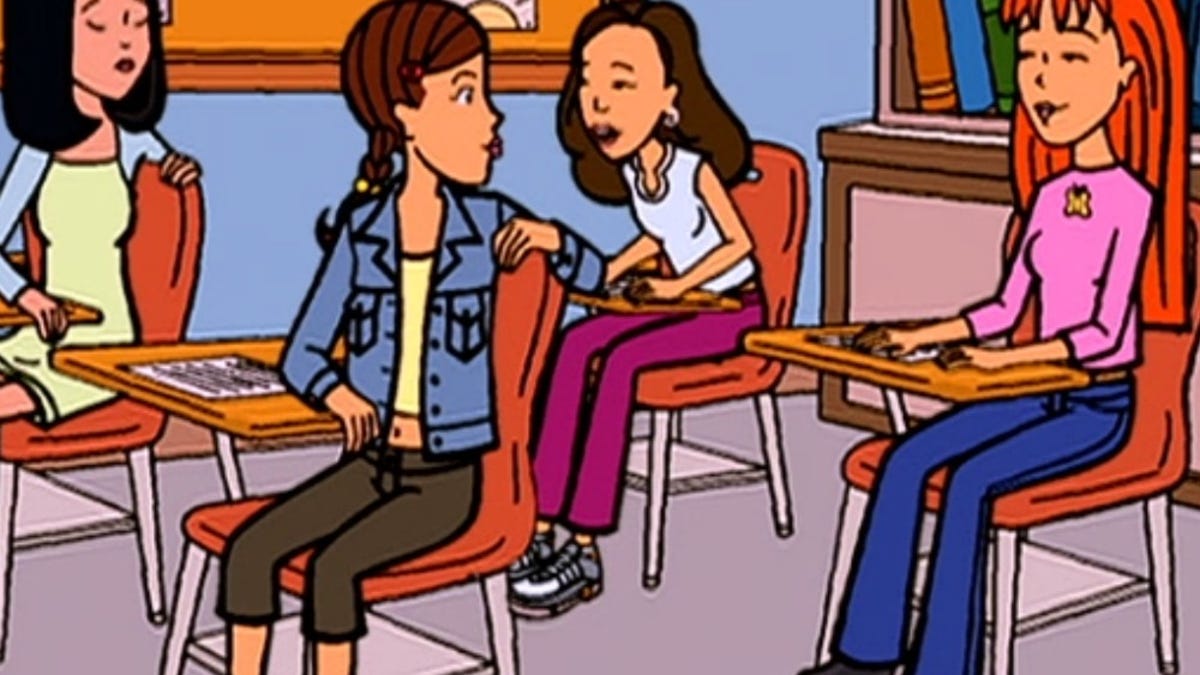 In fact, it was because of that test that Quinn also had her finest hour. In one of the few moments of the show in which she's actually likable, she defends Daria's approach to teaching to the entire class. Then, in another pivotal moment for the series, she admits that Daria is her sister.
In addition to this critical moment of personal growth, Daria shows that she truly values people who think for themselves. Even when one of her students makes an objectively foolish comment about Romeo and Juliet, she still gives him a good grade because he actually tried to back it up. For her, that's more valuable than simply knowing the difference between Paris and Tybalt.
Her approach is even appreciated by her students. Keep in mind, these are the same students who show little to no interest in class throughout the show. They are, like most teenagers, not that big on having to be at school for seven hours a day, learning things they don't want to learn about. Daria understands this and tries to make the class less tedious. It's something even an air-headed teenager can appreciate.
It's also a valuable lesson that has real-world applications. Some places have even applied Daria's approach, to some extent. Countries like Finland have a system that doesn't rely so heavily on standardized tests. Not surprisingly, Finland's education ranking is significantly better than the United States and by a significant margin. Daria would've actually fit in with that system.
It's not just because that system eschews standardized tests. It actually emphasizes teaching a student how to think and reason. A test isn't going to reveal that. On top of that, teachers are better-educated and well-compensated in places like Finland. They would not have had to strike like the teachers in this episode.
In some respects, Daria showed how much better someone could teach a class if they didn't have to deal with the constraints of the current system. It even helped that the Principal Li was more focused on outwitting the teacher union than she was with teaching students. Without those constraints, Daria managed to teach a class in a way that her students appreciated.
Between that moment and the moment she shared with her sister, "Lucky Strike" accomplishes a great deal. Daria has a chance to shine and makes the most of it. On top of that, she demonstrates that it is possible to educate a room of disinterested teenagers in a way that's genuinely effective.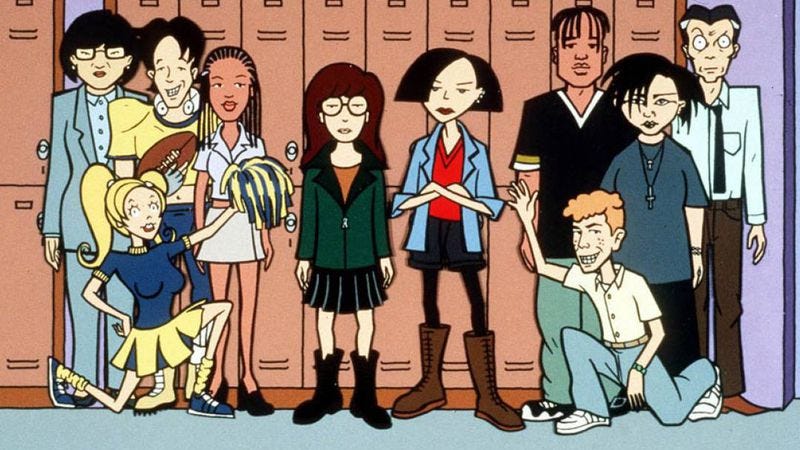 There are many other moments in "Daria" where major complications, and the many absurdities they entail, get cut down by the show's distinct brand of misanthropic humor. Daria rarely sets out to make big statements, be they about the educations system or our flawed understanding of mental health. However, she still finds a way to make her point and never crack a smile.
That's why Daria is so lovable. It's also why we need wisdom like hers more than ever.