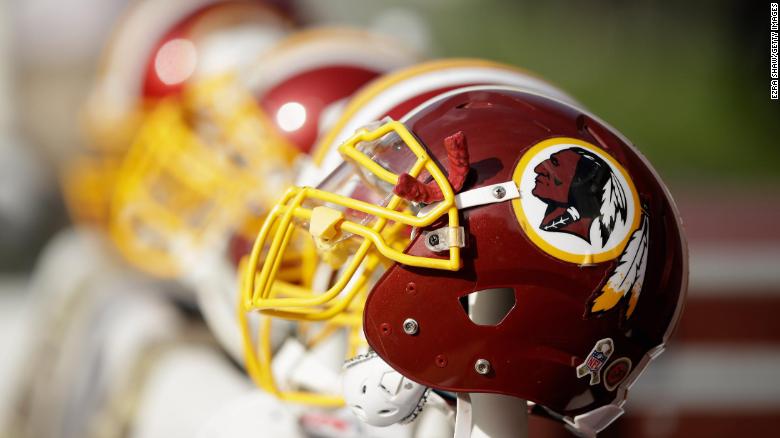 It's really happening.
I doubt anyone expected it to happen in their lifetimes, but after years of protesting and pushing, it's finally happening. The Washington Redskins are changing their name. As someone who has followed NFL football his entire life and knows way too much about the history of every team, I am genuinely shocked. I really didn't think this was going to happen, especially with how stubborn the owner of the team has been.
Shocked or not, it's happening. The Washington Post announced it and the team made it official. They are changing their name.
Washington Post: Redskins To Retire Team Name
In an interview July 4, Coach Ron Rivera – who is working with owner Daniel Snyder to choose a name – said he hoped the new name would be in place by the start of the 2020 NFL season. Others have said it will be revealed as soon as within two weeks.

Two people with knowledge of the team's plans said Sunday that the preferred replacement name is tied up in a trademark fight, which is why the team can't announce the new name Monday.
Many are already celebrating this victory. In the battle against offensive sports mascots, this was the equivalent of Goliath. It's one thing to get a publicly funded college to change their name. It's quite another to get a private multibillion dollar sports franchise with an 80-plus years history. It's a huge feat. Let's not deny that.
Granted, it's a feat that only happened once money became a factor. This was not done for moral reasons or because someone made an impassioned plea. This was a business decision done for the sake of doing future business. If there's any lesson to be drawn from this endeavor, it's that. Moral arguments do nothing. Money does all the talking.
It's because of that, I suspect this is one of those issues that will still divide people. No matter what the new name is, people are still going to see them as "that team that used to be called the Redskins" or "that team that used to have a racist moniker." Even though the team eventually did what some saw as the right thing, they'll still be scorned because they didn't do it soon enough.
That's just the world we live in. The people who protested the name aren't going to say "thank you." They're more likely to say, "It's about damn time you racist piece of shit. Now, suffer for the rest of your life while we shame you, your children, and everyone you ever associate with and take it with a goddamn smile."
That might be hyperbole, but that's the power of outrage. It's kind of addictive. The idea of turning anger into kindness, friendship, and harmony just feels like a bridge too far. People do get bored with outrage eventually, but only because they find something else to direct it towards.
That being said, I have a question to all those who are celebrating this feat. I want to ask that same question to everyone who passionately protested this name for years, protesting its racist connotations and use of caricatures. It's a sincere, simple question that I hope people seriously contemplate.
What real, tangible benefit will changing the name of a football team accomplish for Native Americans communities in the long run?
The key word in that question is tangible. I'm aware of the various studies regarding the psychological impact of Native American mascots and caricatures. I'm willing to give them the benefit of the doubt on this. However, psychological impacts don't always translate into tangible impacts. You can feel and think all you want. If you don't do anything with it, then the impact never goes beyond brain chemicals.
As I write this, nearly a quarter of Native Americans live in poverty and the unemployment rate on many reservations is around 40 percent. That's a trend that has not improved substantially in recent years, regardless of how many or how few mascots a sports team uses. The Native American community has a host of other critical issues to deal with that include, but are not limited to:
Violence against Women and Children
Native Americans are Less Educated
Poor Quality Housing
Inadequate Health Care
Unable to Exercise Voting Rights
Native Language is Becoming Extinct
Limited Financial Institutions in the Native Communities
Natural Resources Exploitation
These are complex issues. I'm certainly not equipped to discuss them in detail. Some are more urgent than others, but plenty involve real, tangible impacts on a community. A lack of adequate health care, decent housing, and good education all incur tangible impacts. That's beyond dispute. How will changing the name of a football team affect any of these issues?
I'm not being facetious. I genuinely want to know how much or how little that changing the name of an NFL football team will impact Native American communities in a tangible way. I don't doubt that some will feel better about not having a football team with a racially insensitive name, but is that the only extent of the impact? Does that impact justify all the time, energy, and resources that went into this effort?
Please don't answer that question now. Preferably, I'd like someone who is in touch with the Native American community to answer at least four years from now. By then, there will have been enough time for the impact of this event to play out. Whether it's a decrease in poverty or an improvement in life expectancy, it should be clear by then. If it isn't, then that poses another question.
Was all that effort to change the name of a football team a quality use of time and resources?
Again, that's not a facetious question. I ask this as someone who really wants to know just how much a football team's name actually impacts a large number of people within a minority community. I don't expect to get clear answers now, but I hope they become clearer in the next few years. I also expect those answers to raise even more distressing questions.