I've been trying to avoid the increasingly bleak news surrounding the ongoing health crisis involving the Coronovirus/COVID-19. I tried offering a more optimistic outlook a while back, but that post has since aged like spoiled milk and rotting cheese.
Make no mistake. This is a crisis. Not even Tom Hanks is immune to it. As I write this, several areas near where I live have confirmed new cases. There's talk of schools closing and major events being cancelled. After the NBA suspended its season, anything is possible at this point.
We may soon face the possibility of being stuck at home, frantically washing our hands and trying to wait out this crisis. After the disease, the biggest threat is the boredom that inevitably comes with being cooped up inside for too long. Having endured many blizzards in my life that kept me stuck at home for days on end, I can confirm that this is a real possibility.
Thankfully, I learned from an early age that video games are a great way to alleviate boredom. There's only so much TV I can watch and so many shows I can binge. With TV and movies, you're not always engaged. It's too passive. It's easy to get anxious and tense. With video games, you have to stay engaged in order to play. It's a good distraction, as well as a good way to pass the time.
It also helps that games have come a long way since the days of Super Mario and Donkey Kong. The games I played as a kid got me through blizzards. For an extended quarantine, the might not have sufficed. However, games these days are bigger and more complex than ever. Some are so big that they become a massive time-suck. You could lose days on end playing these games and never know the snow outside had melted.
Since this crisis will likely take longer to pass than a blizzard, I'd like to offer a list of video games that should help pass the time and combat boredom. Please note that none of these games are MMOs or games that require a constant internet connection. That's to accommodate those who don't live in places with good internet. Some of these games are only available on PC, but most are available on consoles in some form.
We're in uncharted territory with this crisis, but crippling boredom is sure to make it worse. While you're waiting out the worst of this crisis, please consider using these games to tide you over in the meantime.
---
1. Elder Scrolls: Skyrim
The world of the Elder Scolls franchise is a vast, magical place and Skyrim is by far the most extensive. If you're a fan of fantasy games, or the fantasy genre in general, you will lose yourself in this game for all the right reasons. It's not just a game about slaying dragons and fighting monsters. That is part of the story, but there's so much more to do.
There are side-quests galore. There are unexplored lands. There are magical items to gather, refine, and improve. There are personal connections to foster and develop. You never run out of things to do in Skyrim. It's less a game and more a customizable fantasy world that you get to explore through a character you create. Such an immerse experience ensures you'll have hours of fun. Just be careful with mods and cheats.
---
2. Mass Effect Trilogy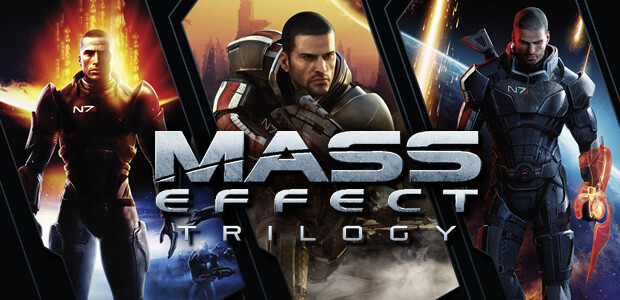 For fans of sci-fi, the world of Mass Effect is every bit as rich as Elder Scrolls. Specifically, I'm referring to the Mass Effect Trilogy, as a whole. I'd even throw in Mass Effect Andromeda if you want to expand it even more. Just make sure you get the version that patches the glitchy graphics.
I've mentioned Mass Effect before when talking about artificial intelligence. I've even cited it as having one of the best romantic sub-plots of any game I've ever played. Those are all great reasons to play this game, but there's so much more to this world. I could spend days on end just writing about it and far longer playing it.
Mass Effect isn't as much of an open world as Skyrim, but it's so rich in scope and lore that you rarely run out of things to do. It's also a game that isn't linear in its story. There are many paths you can take, many choices you can make, and many passions to pursue. It's a game with a great deal of replay value and given how long it takes to get through it just once, you'll rarely be bored.
Also, it has Mordin singing. That'll make any depressing day feel better.
---
3. Civilization Series (For PC Gamers)
This is a game for fans of real-time strategy, history, and fictional politics. It's also one of those games that you don't realize is such a time suck until you see how much you've played it. I know this because I spent an entire summer playing Civilizations III and it felt like the quickest summer vacation of my life.
Instead of shooting and adventure, Civilizations is all about strategy. You found a civilization. You build and grow that civilization from ancient times to the modern world. In the process, you try to dominate over other competing civilizations, whether through war or diplomacy. It's a little complex at times, but it's easy to get into. Before you know it, several hours have passed you by.
There are many entries of this franchise, but I would suggest going with Civilizations IV and V, depending on how good your PC is. Even without online play, these games offer a rich, rewarding experience that you'll get lost in for all the right reasons.
Just be sure to keep track of time. Trust me, you'll forget to eat or sleep if you don't.
---
4. Sim City Series
This game has some personal weight for me. The Sim City franchise has always been near and dear to my heart. Since the days of Super Nintendo, this has been one of those games that offers something different. The goal isn't to destroy or dominate. The goal is to build a city and make it the best damn city you can. It sounds dull, but Sim City makes it both fun and rewarding.
I remember spending hours on end, testing layouts and designs for cities. There are so many ways you can build your own city. Most versions of the games also have scenarios you can take on that test your ability to manage a city through a crisis. Given the recent news, it gives you a certain appreciation for what mayors and governors must endure.
Sim City might not appeal to everyone, but it's a different kind of gaming experience that gets you engaged in a unique way. If you can get into it, you have something that you can enjoy for days at a time.
---
5. Grand Theft Auto 5
I know parents, politicians, religious officials, and people who just don't like fun will hate this. However, when you're stuck at home and fighting off boredom, there's no getting around it. The Grand Theft Auto games are full of violence and sex, but they're rarely boring. Grand Theft Auto V is, by far, the most comprehensive entry into the franchise and the game that will keep you in a permanent state of road rage for days on end.
There's a rich story, but there's also a vast world full of things to do. Many of those things involve sex, murder, drugs, and stealing, but that's exactly why you play a game like this. It's a dark fantasy world built on a foundation of heavy satire. When you need to blow off steam, there's always a worthy target in the world of Grand Theft Auto.
It also has Trevor Phillips. If you can't find entertainment value in playing Trevor Phillips, then you're just being difficult.
---
I hope this helps anyone out there who is caught up in the worst of this crisis. Being cooped up inside for reasons you can't control can be frustrating. No matter who you are, it gets to you after a while. There are many ways to cope, but if you have a computer or a video game console, you have options that should help tide you over. These are just some of them.
Stay safe. Stay calm. Above all, wash your damn hands.