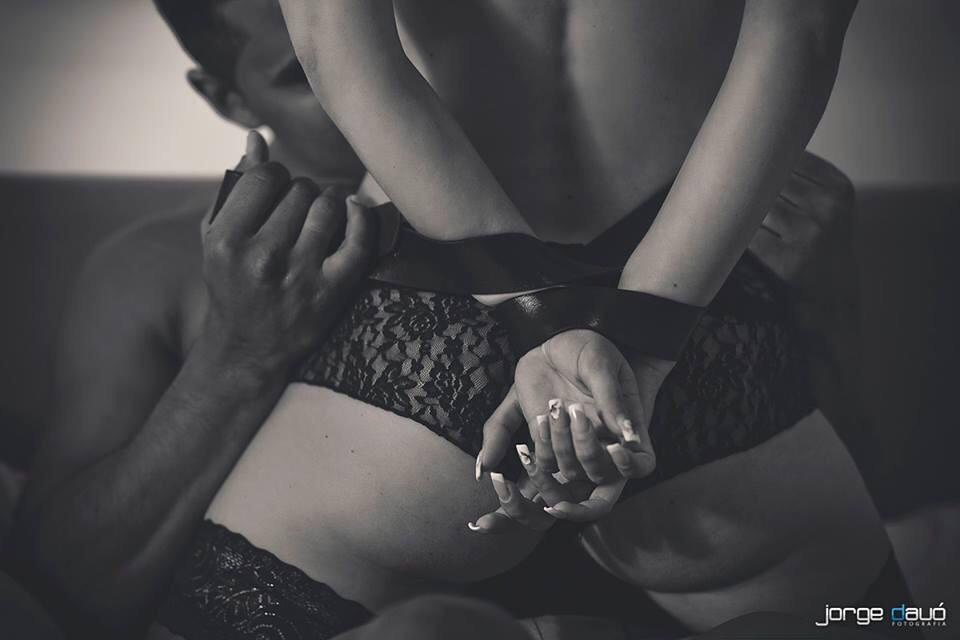 Let's face it, we humans need some semblance of order in our lives. As a species, we just don't function well in chaos. We're a species that will riot in the streets because we're glad our favorite basketball team won the championship. If aliens landed tomorrow, we'd have a very hard time explaining that to them.
Order and authority is a big part of what makes society function. It's a big part of what helps humanity survive. As caveman logic tells us, our brains and bodies are wired for only two things: survival and reproduction. They're wired, designed, and maintained poorly, as I've pointed out many times before, but there are over 7 billion of us surviving and reproducing on this planet right now so we must be doing something right.
This leads me to the wonderful world of BDSM. Yes, I know that sounds like a non-sequiter. Yes, I know that sounds like an excuse for me to talk about overtly sexual topics again. No, I will not apologize for it. I don't think I need to explain myself at this point, nor should I have to.
In reading and writing about BDSM, I've picked up on a few underlying themes. Since my brain works in elaborately perverse ways, I often find myself applying those themes to the world around me. BDSM is no exception. If anything, it's the basic standard.
Earlier this year, I completed a draft of a book called "The Big Game." It's a book that explores various forms of BDSM, but not just because I think readers enjoy the mental image of a star male athlete being whipped in the ass by a sexy female librarian type, although I'm sure that has its own kind of appeal.
In this story, I try to apply the principles of BDSM to a bigger picture. That bigger picture has a lot to do with how we function as a society and how we see authority. Some people inherently flaunt authority. Some people desperately need it. Human thought is incredibly diverse on the subject, but whatever our sentiment, it still affects us.
At its core, BDSM cuts through all the chaff, uncertainties, and formalities. When you read about BDSM or practice it, you know who's in charge. You know who has the authority and who doesn't. It's an extremely simplistic scenario that requires little thought. The fact it often involves sex is just a bonus and a damn good bonus if done right.
In many respects, BDSM takes advantage of the biological wiring that's already in place. There is actual science behind our inclination to obey and conform. A large body of research shows that humans have a genetic and psychological predisposition to obedience and conformity.
When you look at it through the lens of caveman logic, it makes sense. In our caveman state, we can't dedicate all this mental energy into deciding whether or not we should trust or obey someone. That would be like holding a jury trial just to determine who gets to pick the restaurant on a date night. It's a wholly inefficient use of our time and energy.
We need to use those resources for more vital issues like securing meat for the winter and doing enough humping to ensure our tribe has enough people to continue. Natural selection does the rest. That's why nature instills this in our collective psyche. It helps us get along, work together, and survive long enough to get frisky.
However, like most other natural forces within our biology, it's not that fine-tuned. Nature is a blunt instrument and not a scalpel. If our brains and bodies were computers, then they we'd say they had been wired by a drunk office temp with a bad attitude and a knack for laziness. As a result, this vital programming for obedience and conformity lay the foundation for BDSM.
It's in this context where our biological programming for obedience goes to an extreme. The fact those extremes bring some people to orgasm only makes it more powerful. When there's a lot of uncertainty in the world, we naturally look for whatever certainty we can find. As I said before, you can't get much more certain than who dominates who in BDSM.
Submission, dominance, obedience, and authority are all streamlined in BDSM. You don't need to dedicate a lick of mental energy to scrutinize the situation. Everything is perfectly structured. Everything is perfectly laid out. For many perfectly healthy people who are concerned about an unhealthy world, there's a lot of appeal in that situation.
At its core, BDSM acknowledges that we human beings aren't built, physically or mentally, to be complete independent. We need to submit or dominate certain aspects of our lives. It's the only way we can make sense of the world and ourselves. That's a big reason why BDSM experiences are so powerful for some people. It's also a big reason why it has such appeal.
So what does this mean for our future? Well, that's a bit trickier to answer. We like to think we're progressing to a point where we can meet all our physical and emotional needs through technology. That's not entirely wrong, but a big part of those needs is to have some form of stable authority.
As kids, that authority is our parents. As young adults, that authority is our teachers, law enforcement, and fellow peers. As adults, that authority is our spouses, our bosses at work, or our friends. We built our lives around authority. A part of us needs some kind of authority to submit to. Some need it more than others. Most of us need it more than we care to admit.
The future will create all sorts of new uncertainties. With over 7 billion people with countless (often conflicting) needs, we'll need some form of authority to make sense of ti all. I don't know what form that authority will take, but it's an idea I intend to explore.
It's also an idea I intend to make sexy in some strange way, but that should be a given at this point. After all, if BDSM can give authority so much sex appeal, then why not embrace it along with our future as a species?