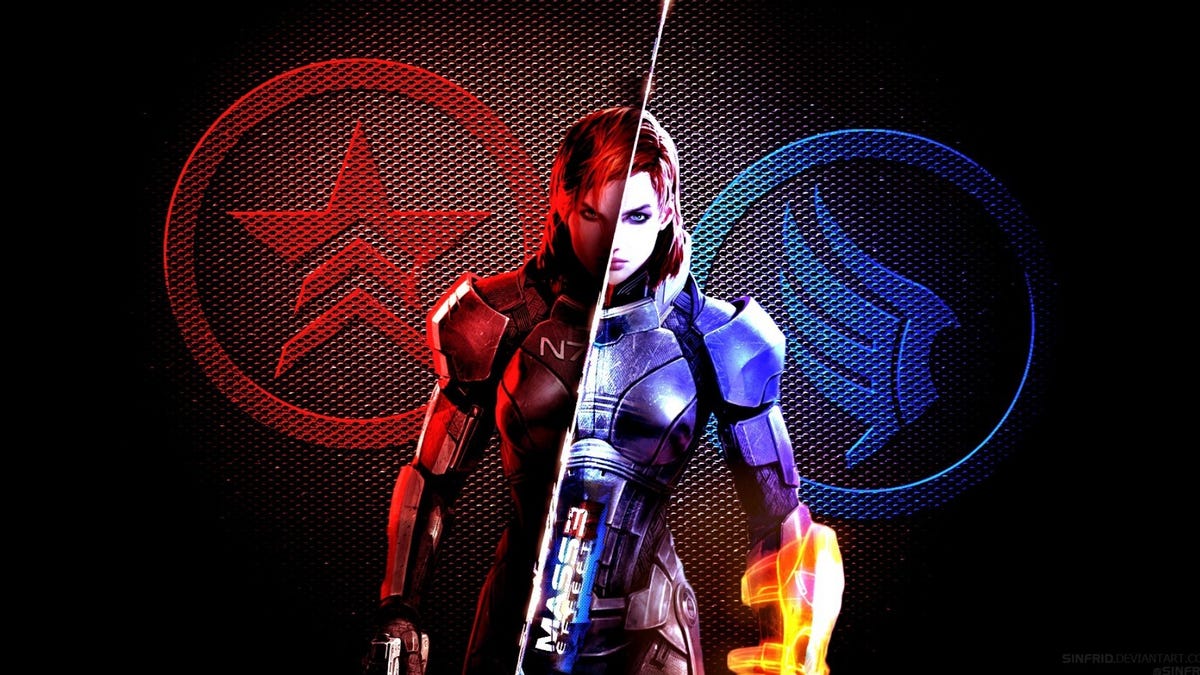 I genuinely believe in the inherent goodness of humanity. I know that's not a popular opinion, these days. I've even tried to remind people of it a few times. You need only look at the news, history books, or headlines from Florida to undermine your faith in human nature. I don't deny that there's plenty of bad, but there's also a great deal of good. Sometimes, you find it in unexpected places.
In this case, the place is the epic space opera that is "Mass Effect." It's not just one of my favorite video game franchises of all time, which I often go out of my way to reference. It's a game that dares to give players a choice in how moral or immoral they want to be. There are plenty of games out there that let you play virtuous heroes and deplorable anti-heroes. This game lets the player decide which path they want to follow.
In the original trilogy, it's called the Paragon/Renegade system. Throughout all three games, you're given choices on what to say or what to do in various situations. Some are inherently selfless and heroic, such as saving the Rachni from extinction. Others are just pure dick moves, like punching a reporter or shooting Mordin.
The path you choose doesn't prevent you from completing the game, but it does affect the story. It also effects the endings of certain games and the plots of others. You can basically play the same three games and forge a very different story. You can be a pillar of virtue and nobility or you can be a total dick who still gets the job done. It's entirely up to you.
I've played this game so many times that I've done both, but I prefer the path of the paragon. It just feels more rewarding at the end, even though it doing so does come at a price throughout the game. Recently, in an article by Forbes that featured one of BioWare's developers, I found out that I'm not the only one who shares that sentiment. In fact, that sentiment is revealing in ways that go beyond the game.
Forbes: You'll Be Surprised What Percent Of 'Mass Effect' Players Chose Paragon
The information comes from BioWare's John Ebenger, who was retweeting a meme on Twitter about how devs give players choices to be evil villains in games, yet people always pick the nice options anyway. And it turns out that's even more true than the meme suggests, as Ebenger laments that with all the work they put into the Renegade content in Mass Effect, that something close to a whopping 92% of players chose Paragon in any given moment.
Those bold parts are my doing. Regardless of your math skills, 92% is not a slim margin. That's an overwhelming majority of players. Given the many stereotypes of gamers, it's somewhat refreshing. When given the choice to be a hero or be a dick, they choose to be a hero.
That's a profound notion because this is a video game. There are no real stakes outside beating the game. Players have no real incentive to be good or evil, but they still choose good. Even when making the renegade choices comes with legitimate advantages, players still go with the way of the paragon. I think that says more about people in general than it does about those who play games like "Mass Effect."
Say what you will about the genuinely evil people in this world. They exist. They make the news. They're the kind of people we can't overlook, but therein lies the critical context. We're aware of such evil because it's so rare. When most of the people are simply making paragon choices, it's not noteworthy. It's considered normal.
As someone who has faith in humanity and loves all things "Mass Effect," I find that genuinely uplifting. It proves to me that most people are inclined to be good and decent. Even if you put them in a galaxy-spanning adventure against rampaging Reapers, they'll still do the right things for the right reasons.
In a sense, Commander Shepard gave us insight into the nature of humanity and showed us that most of us have the heart of a true paragon. That's something worth celebrating and cherishing.