In a world where Heaven and Hell are real, celestial beings exist, and the devil has Tom Ellis' sex appeal, how do you know what is holy and unholy?
How can you be sure that everything you think you know about divinity, sin, and tradition is true?
How can you even be sure that your beliefs are true?
These are just some of the questions that come up in the first three seasons of "Lucifer." Most of those questions were explored, but unresolved. For a while, it seemed like they would go unanswered after Fox canceled the show. Then, Netflix performed and unholy miracle and saved it, releasing a fourth season that continued this devilishly journey.
Having been a fan of the show since it debuted, I set aside large swaths of my weekend to binge-watch all 10 episodes and follow Lucifer Morningstar through the next round of hellish endeavors. Through three seasons, "Lucifer" has crafted a uniquely polished theology that emphasizes individual freedom, personal responsibility, and pursuing desires. I had lofty expectations, to say the least.
Considering the overt sex appeal in some of the promos, I was more than a little skeptical that it could measure up. Without getting into all the juicy details, some of which includes clear shots of Tom Ellis' butt, I'll say without hesitation that Season 4 of "Lucifer" raised the bar for just how divinely great this show can be. I'll also say it succeeded masterfully in expanding both the drama and the theology of the show.
Through 10 episodes these characters that have undergone so much upheaval take huge in their respective story arcs. In doing so, the overall world and the divine machinations that drive it expand. I could write multiple articles about each character, from Lucifer to Chloe to Amenadiel to Ella Lopez, and how they evolved as characters.
However, after watching every episode and taking the time to process it all, I believe that the biggest success of this season of "Lucifer" is in how it refines its devilish theology while deconstructing others. From the first episode to the tenth, the divine and not-so-divine forces guiding these characters acts as the catalyst that makes every other part of this show work.
By far, the biggest upheaval of Season 4, if not the entire show, is Chloe Decker accepting that Lucifer really is the devil. It took three seasons to get to that point. For a while, it was a running gag in that Lucifer was so overt about his identity. Chloe, like everyone else, just didn't believe him. Now, having seen his devil face and his wings, she can't avoid the truth.
This hits Lucifer almost as hard as Chloe. It adds a huge complication to their relationship, which had been growing deeper since the latter part of Season 3. It changes the dynamics between them considerably. They can't be as coy or playful as they were with Lucifer's devilish persona as they were in previous seasons. At some point, the truth must seep in.
Chloe's initial reaction and eventual acceptance of that persona is incredibly revealing, both in terms of how it impacts her character and how it impacts the theology of the show. After seeing Lucifer's true face, she faces a daunting challenge. This man, who she has grown so very close to, is the literal devil. How can she possibly process that?
All she has to go on are all the stories people tell about the devil. Many cultures offer various histories of this unholy figure. In some, he's a fallen angel. In others, he's evil personified. Whatever his heritage, they all have a similar theme. Lucifer is not one of the good guys. If anything, he's the standard on which all evil is measured.
None of those stories completely mesh with the Lucifer that Chole knows. While she has seen him act in selfish, narcissistic ways, she has also witnessed his capacity for good. He will go out of his way to pursue justice, ensuring nobody escapes righteous punishment. He also has an admirable code of honor. He doesn't lie. He doesn't betray the trust of others. He also makes good on his deals.
These personal experiences do not fit the caricature that generations of mythology and folklore have espoused. It leaves Chloe incredibly conflicted. On one hand, she has all these texts and traditions telling her one thing about the devil. On the other, she has her own personal experiences that she has witnessed first-hand. What is she supposed to believe?
It presents an indirect, but powerful criticism about how others perceive God, Satan, and divinity in general. In many respects, it strikes at the foundation of everything anyone ever assumed about the devil. Most of us only ever have these time-tested traditions to go on when we imagine the persona of the devil. How can we be sure any of them are true?
For most people, it's impossible to know. As a result, they live their lives thinking they have a clear understanding of who the devil is and where he fits in any divine plan. The fact that so many of these ancient stories agree that the devil is evil comes off as legitimate proof that he cannot be trusted.
This is where Chloe's work as a detective really pays off. She knows better than most that it is possible for commonly-accepted stories to be wrong. Even before she saw Lucifer's true face, she demonstrates time and again that even the most comprehensive anecdotes can be flawed. That's why she always pursues actual, verifiable evidence.
In the first three seasons of "Lucifer," she sees ample evidence that Lucifer is not evil incarnate. He has plenty of opportunities to do deplorable things and get away with it. He ultimately chooses not to. He even gives understandable reasons, every step of the way. In essence, he gives Chloe his side of the story, which never gets told in religious texts.
It's true that he rebelled against God. It's also true that he ruled Hell and oversaw the punishment and torture of countless souls. However, is that enough to make him evil? Is punishing those who deserve it an evil act? He even made clear in one episode that the punishment isn't technically eternal. People simply endure whatever torment their guilt conjures in a repetitive time loop.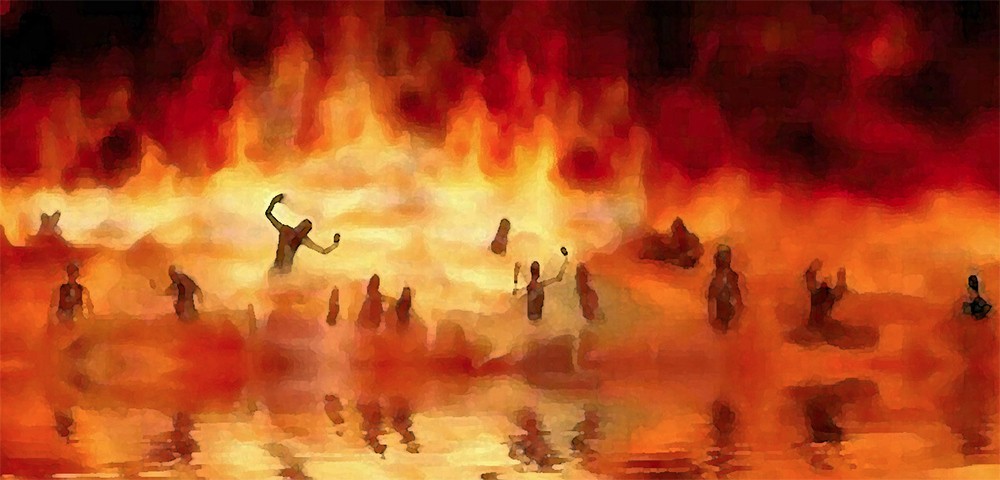 What makes this so revealing, both for Chloe's story and the overall theology of the show, is how it deconstructs traditional notions of evil, the devil, and how people navigate right and wrong. Chloe has to process all these influences, many of which give her conflicting information. Some tell her Lucifer is evil. Some tell her he's not. She's genuinely torn, right up until the final episode.
In the end, the determining factor in "Lucifer" comes back the individual. In both this show and the comic that inspired it, the individual is ultimately responsible for making that choice and shouldering the responsibility. It reflects the heart of Lucifer's rebellious persona. From the first episode to the dramatic climax of Season 4, it's all about what an individual chooses.
There's no divine will to choose for us.
There's no divine plan that guides us.
There's only what each individual chooses to do and the consequences of those choices.
The way Lucifer goes about it seems selfish, at times. He and others like him freely pursue their desires, unconcerned with how they offend traditional notions of civility or decency. When there are consequences, they don't avoid them. It effectively builds an entire theology around individual empowerment and personal desire.
For most of the show, Lucifer is the embodiment of that theology. In Season 4, it's Chloe who best reflects this sentiment. She is the one who decides whether to accept Lucifer for who he is. She has to sift through all the competing traditions, assumptions, and influences to decide for herself. On top of that, Lucifer must make similar choices about who he is and his place in the world.
By the end of Season 4, both Lucifer and Chloe make critical decisions that have a truly heart-wrenching impact. They're each perfect personifications of a theological journey centered around the individual. Whether that individual is human or a celestial being doesn't matter. Their choices are still the most powerful acts they can ever perform.
There are plenty of other ways in which this theology manifests. The parallel story surrounding Amenadiel and Dr. Linda involve some very weighty choices, as well. Ella Lopez and Dan "Detective Douche" Espinoza face their share of touch decisions as well. There are also the choices made by Eve, who is by far the most colorful addition to Season 4.
Then, there's Mazikeen. She's just awesome all around and has been since Season 1.
There are many other plots, concepts, complexities to explore with "Lucifer." Season 4 does more in 10 episodes than the past two seasons, combined. It doubles down on notions of individuals charting their own spiritual path, pursuing their own desires, and taking responsibility for their actions. The results are dramatic in both a holy and unholy context.
There's still plenty to build upon. While I won't spoil the end of the final episode, I will note that it lays a solid foundation for Season 5. At the moment, it's not clear whether Netflix will pick it up again. However, Tom Ellis himself has stated that there's still more story to tell. Given the rich mythology the show has conjured in four seasons, I totally believe him.
Fittingly enough, the devil is in the details and there are still plenty of details to explore.