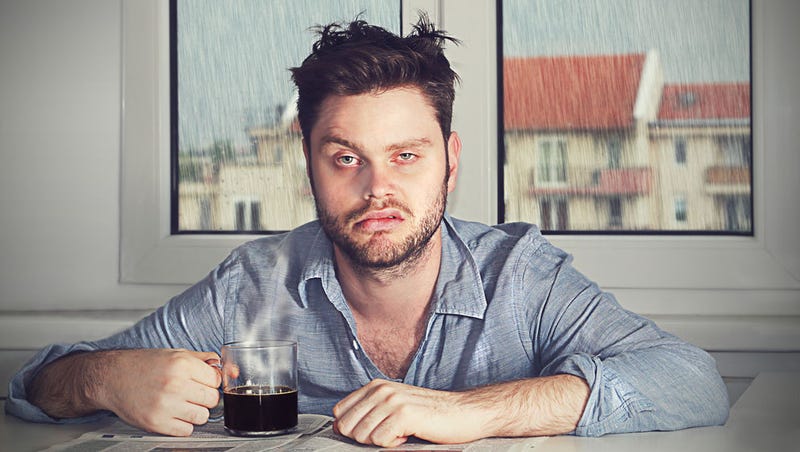 This post may be a day late, but I feel like it's one of those posts that needs to be said. It doesn't just apply to the holidays, the time after the holidays, or the time in between holidays. This could very well apply to any day of the year, but some more than others. Anyone who has had a day where comfort comes in one too many glasses of wine, bottles of beer, or shots of whiskey knows what I'm talking about.
Yes, I'm talking about hangovers. For some people, the mere mention of the word is enough to trigger reflexive dry heaves. Some say hangovers are God's way of letting us know we're having too much fun. I think they're more a harsh reminder that our bodies are woefully imperfect hunks of flesh that can't always handle our vices.
I've certainly experienced the joys of a fun night followed by a painful morning. The worst hangover I ever experienced came after an NFL preseason game of all things. I watched the game with some buffalo wings and a fresh bottle of Jack Daniels. For me, this is perfect football food and I was excited about how the game and the upcoming NFL season.
Unfortunately, the game was kind of crappy. The team I was rooting for really stunk. Naturally, I found myself reaching for the Jack Daniels after each lousy play. Then, like an unplanned one-night-stand, one thing led to another. Before I know it, the entire bottle of Jack Daniels is empty. Yes, I said the entire bottle.
Naturally, I became very drunk. I became so drunk that I could barely stand up and I started dancing to the music on commercials. So while it may have been a lousy game, I still found a way to have fun that night.
The next morning, however, was not so fun. I emerged from a restless sleep feeling like a truck hit me and then an entire team of elite kick-boxers took turns kicking my head. It was bad, to say the least. I threw up at least twice and didn't leave my bedroom until 4:00 p.m. the next day. I don't know if it could've been worse, but it was pretty damn bad.
So, with that painful experience in mind, I'd like to share some hangover remedies. Now make no mistake. There is no miracle cure for a hangover. You can't just down a bottle of whiskey and expect to be all upbeat and chipper the next morning. Hangovers are a product of biology, chemistry, and sub-par human physiology. As anyone who went through abstinence only education knows, you can't fight biology.
You can still make things easier for yourself. There are ways to at least ease the symptoms so you don't feel like you lost a cage match with an angry gorilla. With help from the fine folks at WebMD, here are some of the ways you can ease your hangover agony:
Consume Prickly Pear before you drink
Eat a good meal and drink plenty of water before you start downing shots
If possible, drink clearer alcohols like vodka and gin since they tend to incur less severe symptoms
Don't smoke, which is not only considerably worse for you, but will augment the symptoms
Down a light drink the next morning to alleviate the symptoms, but don't overdo it because that'll just make the symptoms worse
Make sure you have ibuprofen and Pepto-Bismol handy in the morning
Again, none of these are miracle cures. You may still feel like shit, even if you do everything on this list and try a few folk remedies from your crazy uncle. At some point, the agonizing process of a hangover has to run its course. Like teenage hormones, you can't fight it. You just have to endure it.
I hope this helps everybody get through some rough days in 2017. If you want some more less proven remedies, check out this video from WatchMojo. I want to help people with this blog. Alleviating a hangover may not seem like much, but once you experience one, you'll appreciate the sentiment.