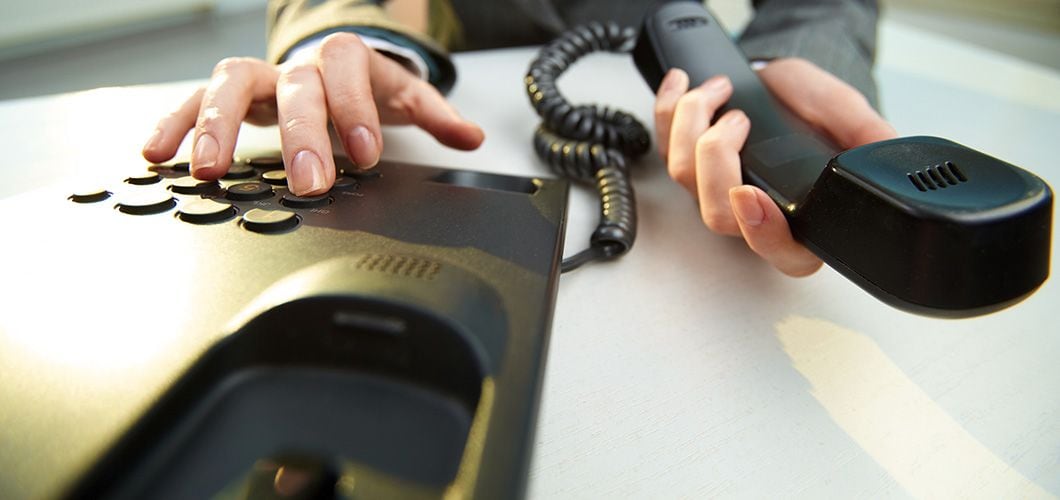 There's a lot of hate in this world. People hate others in such horrible ways for all the wrong reasons. It's so damaging, destructive, and dehumanizing on so many levels. Hate is what causes otherwise decent people to commit gross atrocities against others. We should do whatever we can to reduce the amount of hate in this world.
All that being said, I fucking hate telemarketers.
Seriously, fuck every telemarketer on this planet.
There aren't many targets of hate that are fully deserving of such hatred. Telemarkters are a select few. They're right up there with spammers, hackers, and whoever keeps making insurance commercials. I still believe we should have compassion for our fellow humans, but if you're going to hate anyone, hate telemarketers.
I bring this up because I've had more than my share of run-ins with them. Lately, there has been quite an uptick in both robocalls and telemarketers. Even though I repeatedly and angrily ask that I be put on the "Do Not Call" list, it doesn't seem to stop them. They still call me and they find ways to make it seem like the call is coming from a local area.
We may not agree on much, as a society. Can we at least agree that these telemarketers are the fucking worst?
Now, I think I understand why there's been such an uptick lately. In my area, there has been a noticeable uptick in people wanting to move in. I happen to live in a region where a lot of smaller, non-luxury style condos are going up and they're located near some large retail centers. Since the pandemic, these types of units have been selling fast because they're further from the city, they're cheaper, and we have great internet. I've yet to see a unit stay on the market for more than two weeks.
Naturally, I'm getting a lot of calls from telemarketers asking if I'm willing to sell my current home or refinance. Most of them are pretty generic. Some are robocalls and some are just people trying to get my info. I hate every one of them, but at least with telemarketers, you can tell them to fuck off.
This leads me to a recent incident that I'd like to share. It involves a telemarketer who called me just after I'd gone to the gym and was still sore. I was not in the mood for their bullshit.
That didn't stop them from calling.
It never stops them from calling.
However, rather than just hang up or cuss them out, I decided to mess with them this time. As soon as I realized this wasn't a robocall, I decided that if I'm going to be annoyed by this shit, I might as well have some fun with it. How I went about that might have been in poor taste to some extent, but I don't feel bad about it.
It went a little something like this:
Telemarketer: Hello! Am I speaking to Jack?

Me: Um…yes? Who is this?

Telemarketer: Hi! My name is [Asshole] and I'm with [Bullshit Company Name]. How are you?

Me: I'm fine. What's this about?

Telemarketer: Well, we're calling because we're interested in helping you sell your house. We have…

Me: Really? WOW! That's incredible! This is really something else. Please [Asshole], can I speak with your manager?

Telemarketer: Uh…what?

Me: Your manager. I'd love to speak to your manager right now. Because this is just so amazing.

Telemarketer: Why? What for?

Me: Well, I did not ask for this call. I did not consent to this call. And now I want to speak to your manager to tell them what an incredibly amazing asshole fuck you are. Please, transfer me. I'll wait!

Telemarketer: Um…he'll call you back.
Was I a little mean? Yes, I probably was.
Was I overly vulgar? Yes, I definitely was.
Do I feel bad about anything I said? No, I do not.
Again, I did not authorize this call. I did not consent to this call. I have repeatedly put my number on the "Do Not Call" list. These assholes still called me and wasted my time with this bullshit. As far as I'm concerned, if they're not going to do the decent thing and respect my request, then I'm not going to bother being decent with them.
To whoever was on the other end of that call, I don't apologize. I regret nothing. Fuck you. Get a job that doesn't require you to harass people.
To anyone else who has ever fucked with a telemarketer, please share your experience and join me in hating these assholes like they deserve.