It's horrible! It's corrupting an entire generation of children! It's turning good, decent people into snarling beasts! We must do something about it! We must call the authorities, hold rallies, and widely condemn all those who dare introduce something like this into our society!
What I just wrote is a basic summation of everything that angry, terrified, deeply offended advocacy groups feel towards everything from rock music to violent video games to MTV to the Simpsons to Game of Thrones. Pick out any piece of media from any period in history. Chances are you'll hear these arguments from crowds of angry parents/priests/politicians.
It's a battle that's as old as the first cave-painting of an erect penis. Parents, priests, and politicians work tirelessly to guard impressionable children and adults from that which they consider obscene. How do they know it's obscene? How do they even measure it? Ask 100 people and you'll get 1,000 different answers.
They'll claim they have to protect us from that which is obscene. They'll say that if we spend too much time looking at or pursuing obscenity, it'll distract us from our social responsibilities like working the fields, paying taxes, pumping babies so that we have more workers, and fighting the wars that powerful political types want us to fight.
Granted, they probably won't say that overtly, but it is sort of implied. More often than not, there are all sorts of strange and poorly-defined layers towards what some consider obscene. The end result is usually the same. Those who fight it inevitably try to censor it, which can either backfire horribly or inspire a whole host of unintended consequences.
By and large, obscenity often involves two common themes: sex and violence. That's not surprising. Sex and violence are basically the peanut butter and jelly in the sandwich that is human history. If we're not obsessing over sex, then we're violently fighting one another for control of resources, land, and the ability to hump who we want to hump.
While understandable, the debate today tends to be ridiculously skewed. There's a lot of violence in the world. Nobody denies that. There's also a lot of sex in the world. The mere fact there are over 7 billion humans on this planet is proof enough of that. However, when it comes to priorities, for some reason sex has gained a more obscene reputation than violence.
The best proof of that occurred a long time ago in a forgotten period known as 2005. It was a strange time. For some reason, America elected George W. Bush to a second term, flip phones were in style, and Yahoo was still relevant. It was a strange time indeed.
It was also a time when we lost our collective shit over the idea that there was a poorly rendered sex mini-game hidden inside a best-selling video game. Yes, it actually happened. Apparently, poorly rendered sex is considered obscene. Try saying that with a straight face for a moment and then get back to me.
It was called the "Hot Coffee" scandal. It emerged from a game called Grand Theft Auto: San Andres, the best-selling game of its time. This game was rated mature and it was already controversial for all the gratuitous violence it had, which included the ability to murder hookers and blow up cars with a machine gun. However, that's not what put it over the edge. What made it obscene was two characters having consensual sex. The horror!
It's been over a decade since then and I'm still struggling to wrap my head around it. I get that the game was mature rated. The violence and the plot is not for children, the faint of heart, or anyone who voted for Rick Santorum. However, the notion that consensual sex between two people is that obscene? I need a moment to process that.
I don't think there are enough moments in the entire history of the known universe because it still fails the basic tenants of common sense, logic, and the fundamental forces of life. Violence can be pretty damn obscene. Anyone who has any experience with war or crime understands that. With sex, however, there's a much broader spectrum.
On one end, you have two consenting adults in love, in the heat of passion, having sex in bed surrounded by candles with Barry White music playing in the background. That's not obscene. That's how a good chunk of the human race is created. It involves love, passion, pleasure, and the creation of life. You can't get less obscene than that.
On the other end of the spectrum, however, you have the kind of depraved sex acts that would make even "50 Shades of Grey" fans vomit. There are extreme, perverse sexual proclivities that do leave scars, both physical and psychological. Those kinds of acts can be pretty obscene, but for the most part, they don't kill or mutilate someone. At worst, they just make some people wish they were dead.
With violence, the spectrum is a lot less broad. There aren't too many forms of violence that cause pleasure, create life, or make for good Playboy centerfolds. Violence, by definition, hurts people. It can be small and petty, which isn't all that obscene. A slap in the face is about as obscene as a kiss on the cheek.
However, this is not reflected in media. If anything, the media and the culture surrounding it is downright schizophrenic when it comes to classifying violence and sex. Since I referred to video games earlier, I'll cite another example.
There are a lot of mature-rated games with horrific violence. It's not just Grand Theft Auto, but games like Doom, Wolfenstein, and Call of Duty do little to censor the blood and guts. Even so, you can buy most of these games at a Wal-Mart on Black Friday.
There are also lesser-known games that basically just involve players fondling, caressing, and having sex with beautiful woman and/or men. They're not big on story, but that's not their core appeal. Nobody dies and nobody gets hurt. There's just a lot of gratuitous sex.
However, those games can't be found in Wal-Mart. Those games are rated A for Adult, which means they can't be sold in major retailers. That's what it takes to be considered obscene. Kill and maim whoever you want, but God help you if you show two consenting adults having sex.
This schizophrenic disconnect on sex and violent extends to novels, a medium more relevant to my profession. As an erotica/romance writer, I understand that the stories I write are considered obscene, seamy, or dirty compared to your basic Stephen King novel. Even when nobody dies in my novels, they still have that reputation.
It's a confusing and frustrating dynamic. It also becomes even more frustration when sex and violence become mixed. We see that all the time in slasher movies, which go out of their way to punish any character that dares have sex in a way the Catholic Church doesn't approve of. We're seeing it manifest in other ways, especially with the success of Game of Thrones.
If ever there was a perfect storm that embodied this twisted dynamic of sex and violence in media, it's Game of Thrones. Whether you read the books or watch the hit HBO series, you see plenty of both. There's a lot of killing, murder, and war. There's also a lot of sex, nudity, and general depravity. It appeals to both of these primal forces, but one still takes precedent over the other.
This is not lost on author George R. R. Martin. He gets a lot of fan male and, presumably, a lot of pictures of naked women. He doesn't gloss over the violence and sex in his story. He understands they're both part of the themes he's exploring. However, even he sees the distinct difference when people choose to get more upset over the sex and not the violence.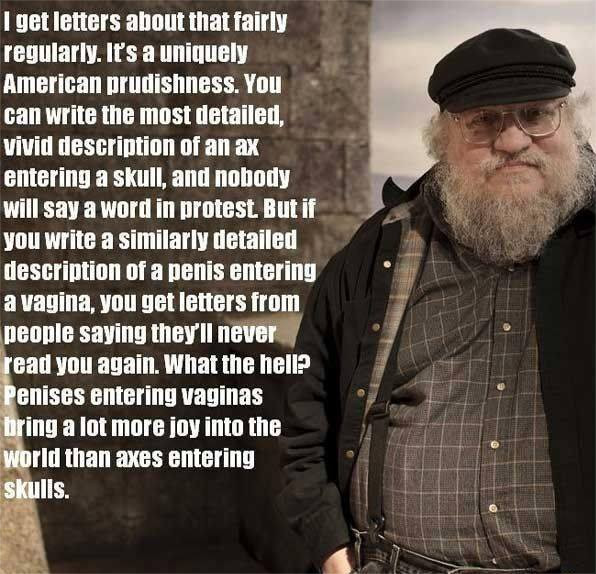 Now this is not to say that society's concerns about sex aren't warranted to some degree. As I've pointed out before, there were legitimate reasons to be weary of sexual promiscuity throughout history.
Human civilization, particularly the one we crafted when we entered the agricultural revolution, developed around a system where there were strong economic and survival pressures to discourage people form doing too much humping for fun. The system required that we know our kids are biologically ours. The system required that we have lots of babies to work the fields and fight the wars.
Even as we moved away from farms and fields, we still needed to be anxious about sex because too much of it would spread disease. It really wasn't until the 20th century with the advent of antibiotics and modern contraception that many of these concerns became less dire.
Today, there are still consequences for rampant and unrestrained promiscuity, as various PSAs and sitcoms have shown. However, these consequences aren't nearly as bad as the rampant violence and crime that still plagues this world. These days, two consenting adults having sex, regardless of their marital status or intentions, does little to no harm to anyone or society in general, but it's still considered obscene.
I try to be more optimistic about the future of this twisted culture of ours. I try to be optimistic about the future in general. I do hope I live to see the day where erotica/romance novels like mine aren't considered obscene by a sizable chunk of the population. At some point, even Rick Santorum supporters have acknowledge that gratuitous violence is more obscene than consensual sex.
It may take a while. We are a slow, cumbersome species that resists change when it's not convenient. We've spent hundreds of years in a prudish, uptight society that still believes we need to pump out babies to work the fields and fight the wars while avoiding horrible diseases. Society isn't going to lighten up overnight. It's an ongoing process and one I hope my sexy, non-obscene novels will help.