For nearly three decades, our society has had an unspoken, but clear understanding. For something to become culturally relevant, it has to be mentioned "The Simpsons." Whether it's a major plot on something like boy bands or a subtle joke about a classic novel, it's not truly a mainstream idea until it shows up on "The Simpsons."
I happen to be among the demographic who have always lived in a world where the "The Simpsons" existed. I honestly cannot remember a time when this show wasn't on the air or relevant in some ways. For a show that has been on the air for nearly 30 years, it's remarkable just how much impact it has had, despite so many changes in trends, culture, technology, media, and tastes.
There have been controversial moments, though. I still remember how controversial it was when John Waters voiced a gay character on the show. That was considered controversial in 1997. Looking back on it, I can see why. The more recent controversies, however, are a bit harder to understand.
That brings me to Apu Nahasapeemapetilon, Springfield's lovable Indian owner of the Kwik-E-Mart. I say he's lovable because, for the most part, he's one of the show's most colorful side-characters and for the right reasons. He's smart, he's got a unique personality, and he's undergone plenty of growth over the years.
However, according to a documentary by Indian comedian Hari Kondabolu called "The Problem With Apu," this established character on an iconic TV show is contributing to a serious social ill in the world. The fact that Apu exists is a factor in the many causes of social injustice, racism, and bigotry. He's almost as bad as video game characters being too sexy. If I could write that with more sarcasm, I would.
With all due respect to Mr. Kondabolu, who lives a minority in a country that has a spotty history with race to say the least,  I sincerely question his method for picking certain battles. There are many serious issues surrounding race relations in America and throughout the world. Those issues have all sorts of complexities and nuances to them.
Instead of scrutinizing those, however, he singles out a popular cartoon character to make his point. Even That doesn't just undermine the serious issues he discusses in that movie. It ensures that his point will get lost in the collective groans of those who bemoan political correctness.
I know that whining about political correctness has become a source of whining in and of itself, but there is a continuum of sorts that separates serious issues about representation in the media from outright trolling. The separation isn't always clear, but in the case of Apu and Mr. Kondabolu, it's too petty to be subtle.
The idea that Apu is now problematic, a word that has gained a lot of frustrating connotations in recent years, sends an indirect message that I don't think Mr. Kondabolu wanted to send. It's not that racism and bigotry aren't important issues. It's the idea that anyone who enjoys "The Simpsons" and appreciates characters like Apu are somehow on the same level as old school, George Wallace level racists.
For most reasonable people, that notion is both insulting and absurd. Again, I doubt that's the direct message Mr. Kondabolu was saying, but that's the subtext of the message he sent with that documentary. "The Simpsons" and the people who enjoy it are somehow bad people and contributing to a problem.
Understandably, both fans and the creators of the show aren't going to respond with homemade chocolates and hugs. Even though the creators promised to address it, the way they did so did not involve an extended apology about how the show has depicted Apu and paying massive reparations for all the hurt feelings it has caused.
Instead, they worked it into a side-plot in the episode, "No Good Read Goes Unpunished," wherein Marge tries to rewrite her favorite book so that it's free of anything that might be considered offensive in 2018. As many in Hollywood and the media are finding out the hard way these days, that's next to impossible.
It all culminated in a moment where Marge and Lisa partially broke the fourth wall, Deadpool style, and indirectly confronted the controversy by basically saying that there's not much you can do when old characters who weren't offensive at first become offensive years later. Those characters exist, as do their stories. Lisa flat out asks to the camera, "What can you do?"
It's a very relevant question that Mr. Kondabolu isn't able to answer. In fact, I don't think the question has an answer. At the very least, the scene didn't mock him directly or discount his feelings. It was surprisingly even-handed for a show that regularly mocks popular trends. This is how the scene that played out.
Needless to say, that response rubbed plenty of people the wrong way, included Mr. Kondabolu. According to Entertainment Weekly, this was his response.
"Wow. 'Politically Incorrect?' That's the takeaway from my movie & the discussion it sparked?" wrote Kondabolu. "Man, I really loved this show. This is sad." In another tweet, he said, "In 'The Problem with Apu,' I used Apu & The Simpsons as an entry point into a larger conversation about the representation of marginalized groups & why this is important. The Simpsons response tonight is not a jab at me, but at what many of us consider progress."
I want to be sympathetic to Mr. Kondabolu's feelings. I really do. However, the problem with his response is that he didn't even try to answer the question that Lisa asked. She asked what can you do. He just whined that this response wasn't the one he wanted from the show. On top of that, he didn't even try to explain what he'd hoped to hear.
This why I find his protest of Apu so empty. It's also why I find a lot of complaints about offensive characters or stereotypes so asinine. It's not enough that someone is offended. They basically set it up so that there's no way for them not to be offended. They present a problem with no solution. If they offer one, it's vague and easy to move the goalposts when someone doesn't respond to their satisfaction.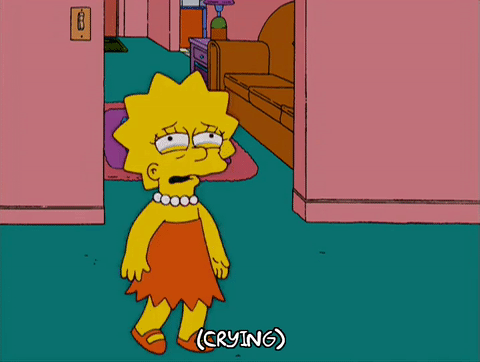 For Mr. Kondabolu, he doesn't just move the goalposts, though. He essentially tries to play an entirely different game on an entirely different field and expects everyone else to know the score. Even by scrutinizing the content of his own documentary, Mr. Kondabolu reveals just how misguided his arguments are. In another article by Entertainment Weekly, this was his justification for singling out Apu.
As Kondabolu made clear in his film, the problem with Apu extends beyond a brown character voiced by a white actor; the problem was not just with The Simpsons, but with its viewers, the drunk idiots on the street who call any South-Asian person "Apu" and who repeated "Thank you, come again," as a mocking refrain.
I highlighted those bold parts because they're the most revealing part of Mr. Kondabolu's argument, as well as the greatest flaw. He links the depiction of Apu to the "drunk idiots" who harass people like him of South-Asian descent. From his perspective, the problem isn't the drunk idiots doing the harassing. It's the cartoon character.
In that context, it's understandable why even a bleeding heart liberal like Lisa Simpson, a notable lover of cartoons, wouldn't take up Mr. Kondabolu's cause like she has so many others. It's not just empty. It completely overlooks the actual source of the problem, namely the drunk idiots.
Are they drunk idiots because they watched "The Simpsons?" Are they drunk idiots towards people of South-Asian descent because of Apu and the stereotype he represents? Well, if that's the argument Mr. Kondabolu is going to make, then he's got a much bigger problem. "The Simpsons" are full of so many other stereotypes that to single just one out as "problematic" isn't just asinine. It's petty.
Homer Simpson is a stereotype of a dimwitted, drunk middle class working stiff.
Lisa Simpson is a stereotype of a whiny, bleeding heart liberal social justice lover.
Marge Simpson is a stereotype of a nagging housewife.
Groundskeeper Willie is a stereotype of an angry Scotsman.
Barney Gumble is a stereotype of a fat, drunk alcoholic slob.
Cletus Spuckler is a stereotype of a white trash hillbilly.
Luigi Risotto is a stereotype of an Italian chef.
Fat Tony is a stereotype of an Italian mobster.
I could go on, but with nearly 30 years of characters, "The Simpsons" has such a huge cast of characters that there's no way I could list every character and the stereotype they represent. In fact, it's because "The Simpsons" has so many characters and so much history that it's possible to find a character that embodies an offensive stereotype of some type. The only requirement is that you have to be really petty.
That's what Mr. Kondabolu had to do. He had to get really petty to single out Apu, which also required he ignore the real, non-animated people who were harassing minorities. Again, none of this is to say that racism and harassment aren't problems. They are. However, when highlighting this issue requires a level of pettiness that involves singling out cartoon characters, then there's something wrong with that approach.