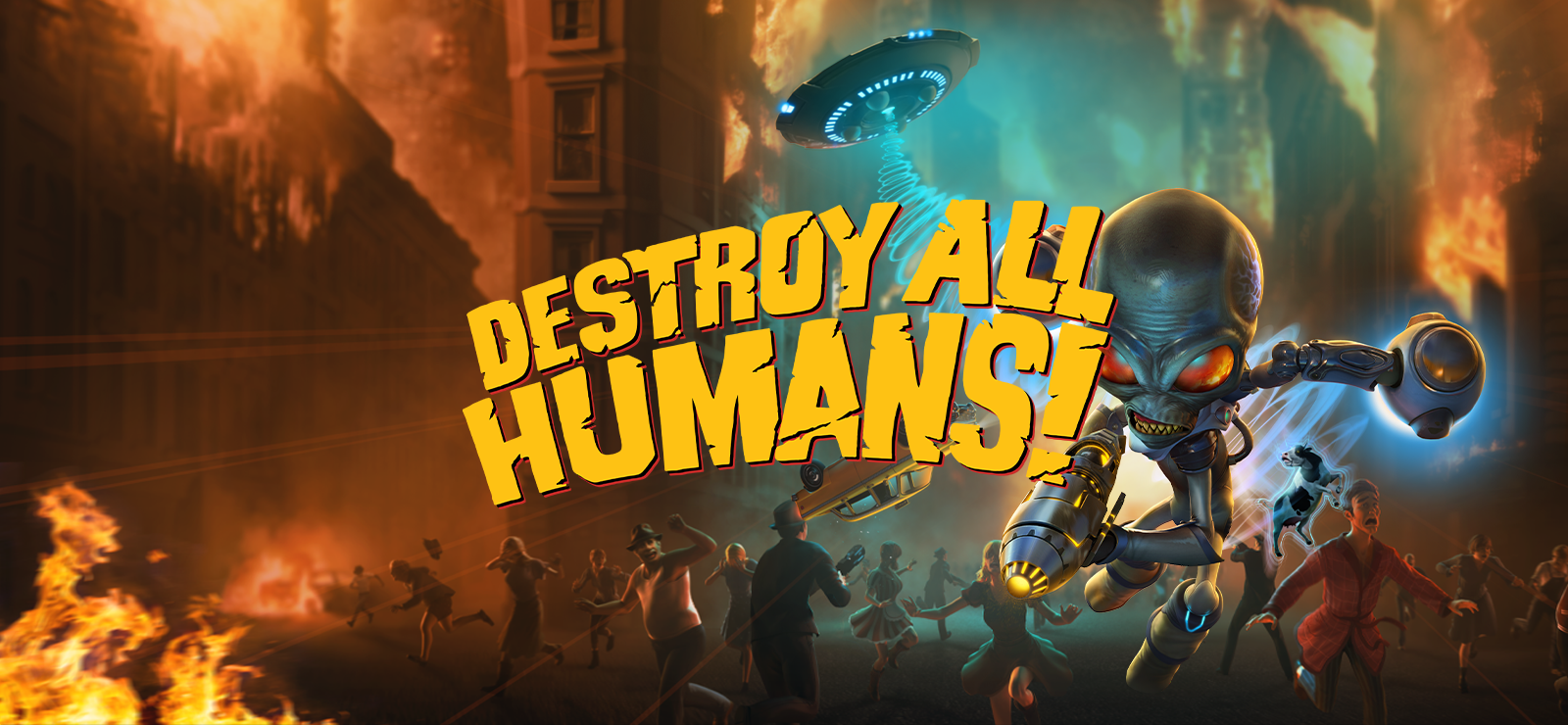 The world is in serious situation. We've never felt less safe, less certain, and less hopeful in generations. There's a good reason for that. Between a global pandemic and the distressing rise of authoritarian populists, these are genuinely scary times. Finding reprieve from that world has never been more valuable.
For that reason, "Destroy All Humans," a colorful remaster from an equally colorful video game from the mid-2000s, might be the most precious reprieve you can get for under $50 these days. In a year when pools are closed, concerts are cancelled, and movie theaters are going bankrupt, this is the kind of game we need right now. It's so seriously unserious that it works better now than it did in the mid-2000s.
The premise is as absurd as it is fun. You play an alien named Crypto-137, a member of the highly advanced Furon race. You're sent to Earth in 1959 after your predecessor, Crypto-136, dies on a mission and is captured by the United States Government. You're job is to infiltrate Earth, study the humans, gather DNA, and eventually take the whole planet over.
This is not "Independence Day."
This is not a story about humanity rising to the challenge and triumphing over an overwhelmingly advanced opponent.
In fact, humanity in "Destroy All Humans" are so cartoonishly ignorant and childlike that they hardly seem worth conquering at times. Being able to infiltrate, manipulate, and destroy them with advanced alien technology isn't that great a challenge, logistically speaking.
That doesn't stop the game from being wildly fun. You're not a hero or a villain. You're not part of some complex, convoluted story that requires deep introspection on right, wrong, and everything in between. "Destroy All Humans" is basically the perfect antidote to those still fuming over "The Last of Us Part 2."
You're part of an alien race. Conquering Earth and subduing humanity is just a necessary effort for the good of the Furon race. Along the way, you do encounter humans who are more challenging than others, namely the Men In Black rip-off group, Majestic. They provide much of the game's puzzles and challenges. However, most other characters are ignorant caricatures that rip off every 1950s tropes.
On top of that, there's plenty of crude humor and innuendo. Yes, that includes anal probes and cow shit at times. "Destroy All Humans" is not a game that tries to redefine its humor for 2020 sensibilities. It sticks to the basics and makes them work. You'll laugh. You'll be disgusted. You'll even be offended a few times, but only to the extent that you're part of a species as dumb as humans.
At the same time, you'll have loads of fun.
That's what makes this game worth playing. It's just fun at its most pure and crude. You zap things with blasters. You levitate things with your mind. You use anal probes as weapons. You lay waste to towns and cities in a giant UFO. There is a story along the way, but it's a simple story that only serves to motivate the mayhem.
That's what made the game worth playing when it first came out. Now, this remastered version has provided some updated graphic and improved controls. If you already played the game when it came out on the Playstation 2, you won't see anything you haven't seen before. It's just in glorious HD with a much better color pallet.
If you've never played "Destroy All Humans" and are in need of something to pass the time for the rest of this miserable summer, then you're in luck. This game is pure, unserious entertainment for a franchise that's ripe for rebirth. I highly recommend it and if you can stomach the use of anal probes, you'll enjoy this.
No go forth, stir-crazy gamers of the world. Go forth and destroy all humans!